Watch JUST CEO Martin Whittaker Discuss What Issues Americans Want Companies to Prioritize from our 2021 Issues Survey on CNBC's Power Lunch
JUST CEO Martin Whittaker joined Tyler Mathisen and Kelly Evans on CNBC's Power Lunch today to discuss the latest data insights from our 2021 Issues Report – The People's Priorities.
Every year, we ask the American public to identify what issues matter most when it comes to just business behavior. Those issues become the foundation by which we track, analyze, and incentivize corporate behavior change. This year across demographics – liberal, conservative, high-income, low-income, men, women, millennials, and boomers – there is remarkable consistency in Americans' top priorities for U.S. companies: Pay a Fair, Living Wage; Create Jobs in the U.S.; and Prioritize Accountability to all Stakeholders.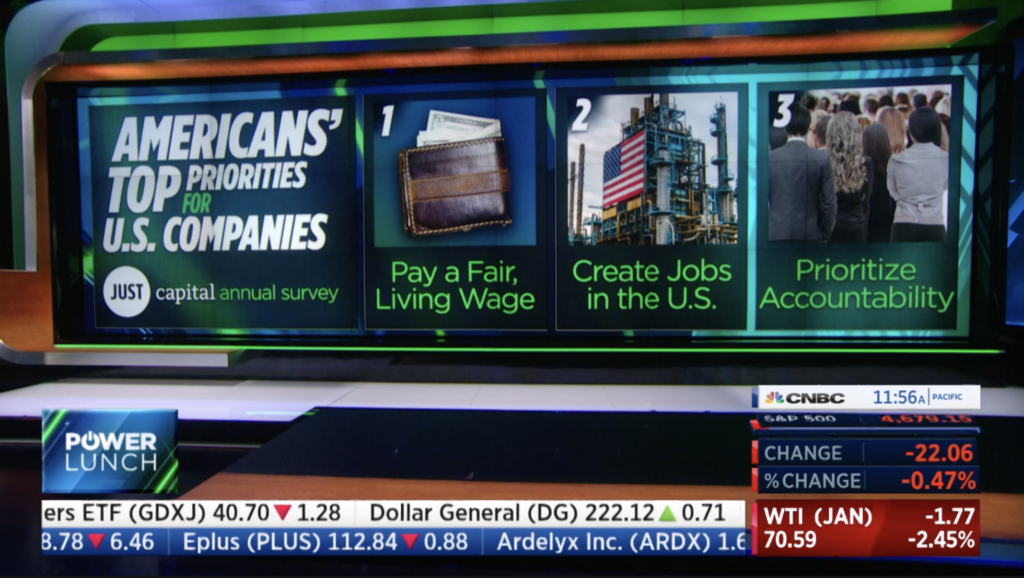 Martin discussed some of the trends driving the shifts in priorities this year and shared how the 20 Issues power our upcoming Rankings of America's Most JUST Companies, including the JUST 100, to be released in January in collaboration with CNBC.
Watch the full Power Lunch segment below.
. @justcapital_ has released its latest survey, highlighting the top issues Americans want companies to prioritize.

CEO @MWhittaker_ joined @PowerLunch to discuss the findings and what it means for both stakeholders and corporations across America. pic.twitter.com/V6AcwAkg1o

— Power Lunch (@PowerLunch) December 9, 2021