Who Employs More Workers in Your State – Jeff Bezos or Warren Buffet?
In 2017, Amazon's impressive efforts in U.S. job creation earned the online retail giant a spot in this year's JUST 100 list of America's Most JUST Companies. Amazon tops the list when it comes to jobs in the United States – an issue which the American people count among their top priorities when it comes to just corporate behavior. We track this issue by looking at two key factors – first, the number of domestic jobs a company creates, and second, the total number of jobs it maintains in the U.S. Amazon's job creation efforts particularly make it stand out, with the company increasing its U.S. headcount by 500% over the last five years, landing it first not only among its fellow retail companies, but of all the companies we rank in the Russell 1000.
Berkshire Hathaway – which ranks 599th in the overall JUST Capital rankings – also boasts impressive workforce numbers, and while it is not currently a major job creator (ranking 341st on our list when it comes to job creation) stands out as the number one company for overall number of jobs in the U.S.
Each company has substantially impacted the domestic job landscape overall, but what does that look like on a regional level? Which company employs more workers in your state – Amazon or Berkshire Hathaway? JUST Capital has created county-level estimates of employment for each company to find out which states offer the most jobs.
Amazon
According to our estimates, employment at Amazon has risen from 67,000 in 2012 to around 272,800 at the end of 2017, due in large part to a four-fold increase in distribution center employment and the company's recent purchase of Whole Foods. At 272,800 U.S. employees, Amazon is the ninth largest private sector employer in America and would rank fifth if its 120,000 seasonal workers were included in this total.
Source: Amazon website, JUST Capital estimates, publicly available web-based job reports
Berkshire Hathaway
JUST Capital estimates that around 282,000 of Berkshire Hathaway's global workforce of 367,700 are employed in the United States, with the bulk of the company's non-U.S. employees working overseas for Berkshire Hathaway companies like Fruit of the Loom, IMC, Precision Castparts, and Shaw Industries.
With 282,000 workers, Berkshire Hathaway ranks as the seventh largest private sector employer in the U.S. and would rank fourth overall if the 112,500 workers at the 4,492 Berkshire Hathaway owned Dairy Queen franchises were included in this total. Under the law, DQ workers are not technically employed by Dairy Queen but rather by third-party LLCs – this is why Berkshire Hathaway excludes them from their workforce.
Source: Berkshire Hathaway 2016 10-k, JUST Capital estimates, AggData, publicly available web-based job reports
Employment Comparison by State
In order to rank Amazon and Berkshire Hathaway employment by state, JUST Capital created facility level employment estimates for offices, manufacturing facilities, distribution centers, stores, and headquarter locations for each company and then totaled them in the tables below: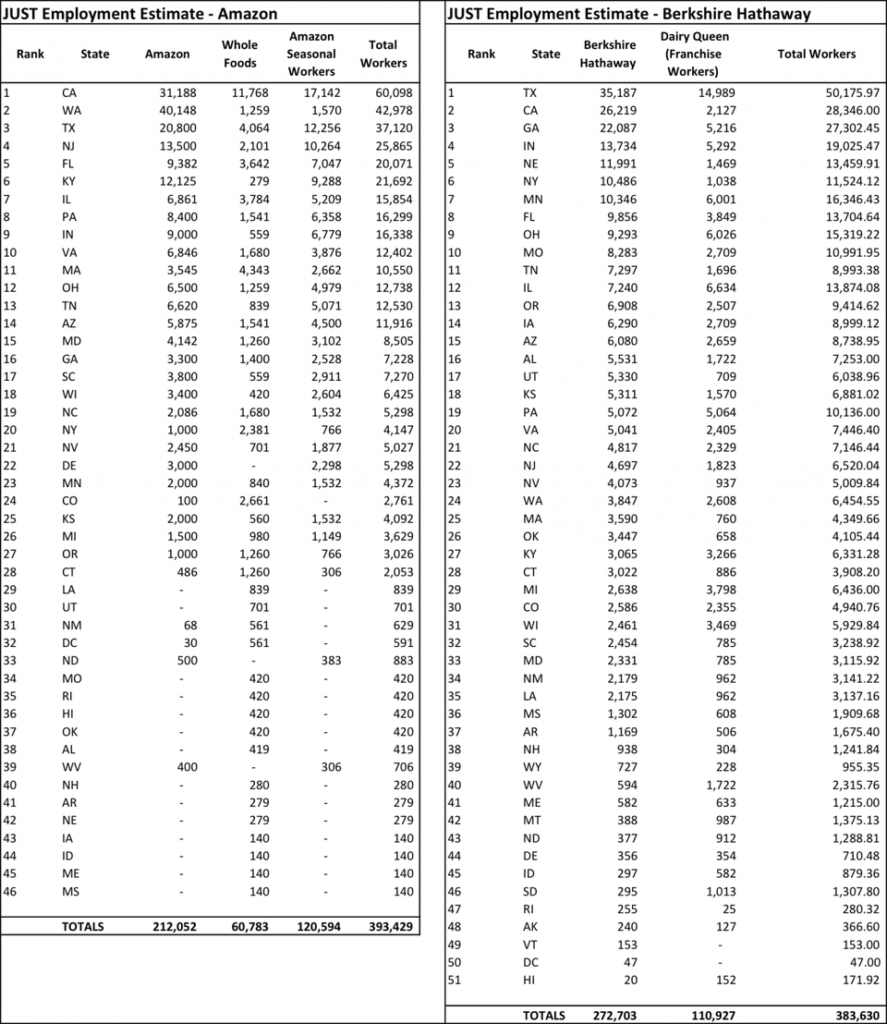 According to JUST Capital estimates, the number one state for Berkshire Hathaway employment is Texas – with 36,594 direct employees at companies like BNSF. Next on the list is California with 27,268 direct employees, Georgia with 22,970 direct employees, and Indiana with 14,283 direct employees.
For Amazon, JUST Capital estimates that California is the number one state for employment – with 42,956 direct employees, in large part because of the large number of Whole Food workers in the state. Next on the list is the company's home state of Washington with 41,407 direct employees, Texas with 24,864 direct employees, and then New Jersey with 15,601 direct employees.

While Berkshire Hathaway had more employees in 2017, Amazon is likely to take the lead in 2018 as the company continues to add new distribution centers and breaks ground later this year on a $5 billion second headquarters that will employ 50,000 workers. JUST Capital will continue to track both companies on their job creation efforts, as well as the total number of jobs each maintains.
This article was originally published on Forbes.com.