Back-Up Dependent Care
Let's look at back-up dependent care first as a critical example, which will be further exacerbated during the most challenging back-to-school season in our nation's history. In a July letter to Congress the Roundtable said, "To help individuals and families manage through the COVID-19 pandemic and beyond, Business Roundtable supports additional resources for childcare providers to ensure greater access to affordable, quality care and early education." 
According to our analysis, 22% of BRT signatories disclosed that they provided additional days of back-up dependent care or more paid time off for caregiving for working families during the pandemic. While BRT signatories are three times more likely than their Russell 1000 peers to disclose this benefit, the overwhelming majority of companies that do not disclose adding or expanding a back-up dependent care policy are most likely leaving working parents in the U.S. without a solution to the ongoing disruptions to their typical care arrangements caused by the shift to remote work and school and childcare center closures. The lack of current government support for the care crisis amplifies the need for employers to help their workers bridge the gap in dependent care in the uncertain months ahead.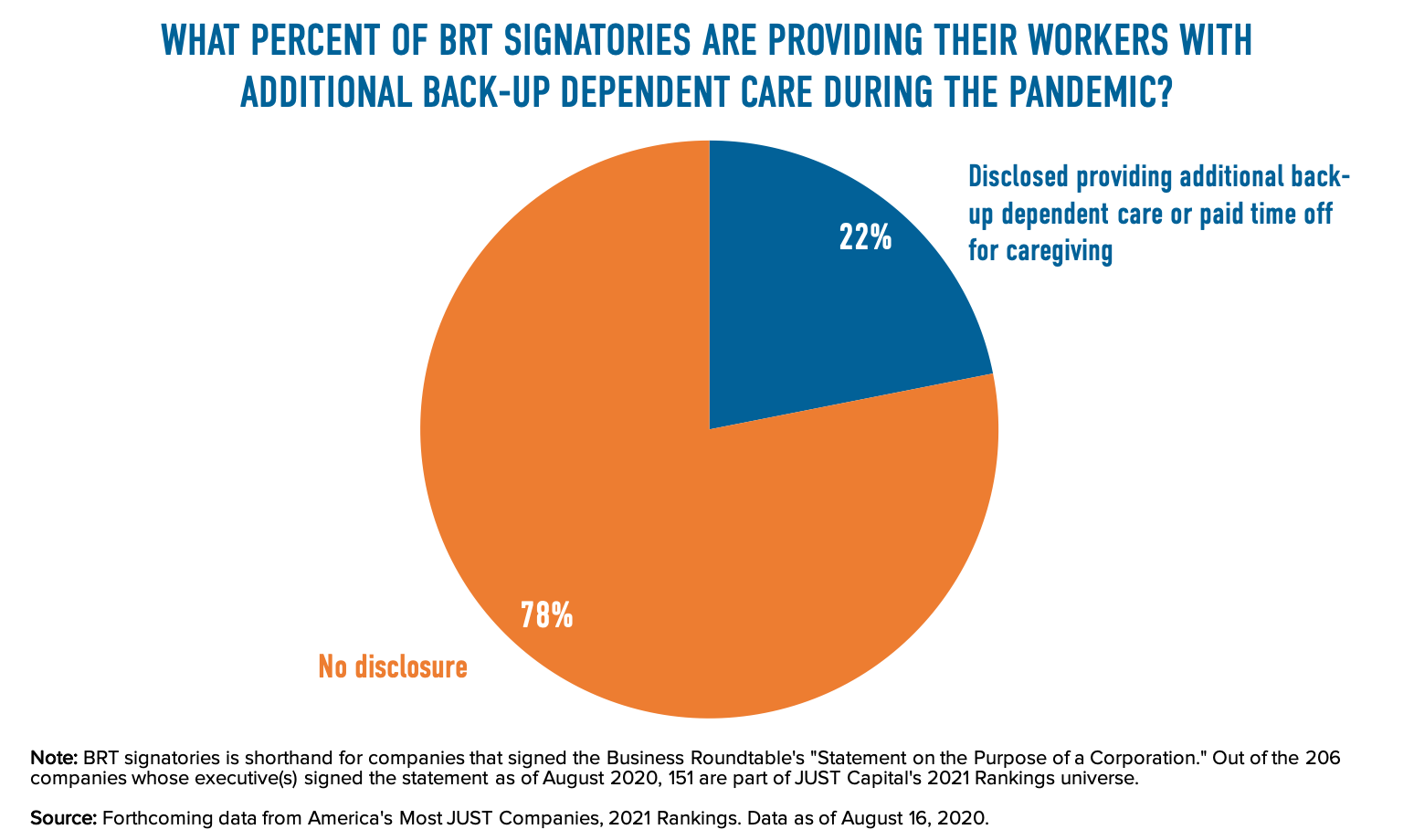 Health and Safety: PPE 
90% of Americans want companies to prioritize the health and safety of frontline workers by providing personal protection equipment (PPE) such as masks and gloves, and 40% of BRT signatories disclosed they are providing their workers with free PPE. According to our analysis, BRT signatories are 1.8 times more likely to have disclosed providing free PPE than their peers. 
With more and more companies reopening and requiring their customers to wear masks, it's clear that the risks remain high for employees in the workplace and the need for PPE and other health and safety measures are increasingly, not decreasingly, important.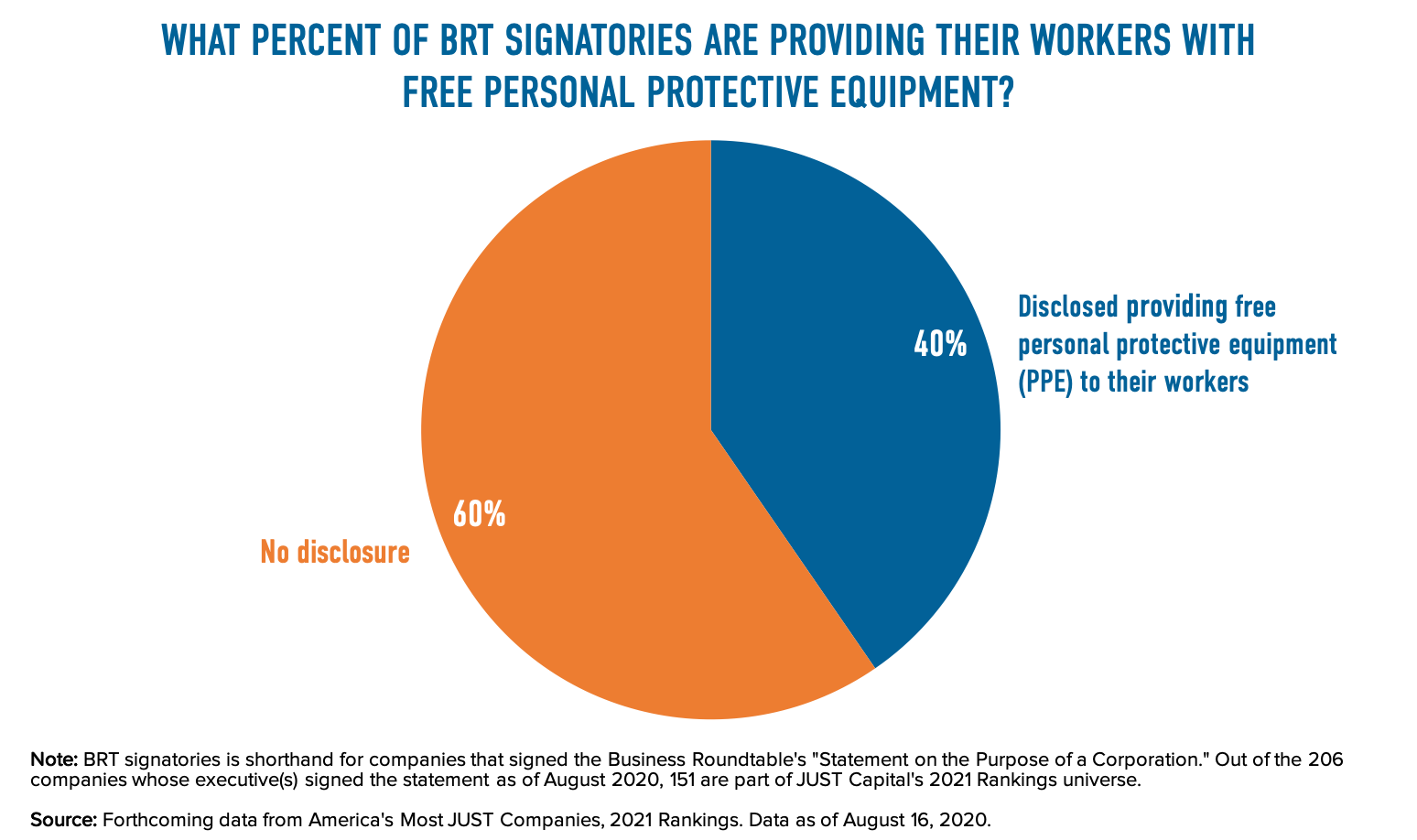 Paid Sick Leave
74% of Americans want companies to prioritize offering 14 days of paid sick leave, 70% want them to continue to offer the benefit into next year, and 36% of BRT signatories have announced a new or expanded paid sick leave policy in response to COVID-19. On average, these companies provide about 14 days of paid sick leave. Based on our analysis, BRT companies are two times more likely than their peers to have offered additional paid sick leave throughout the pandemic. 
We know from a recent U.S. Census Bureau Survey that 71% of adults who didn't work because they had COVID-19 symptoms reported receiving no pay during that period, and only 10% reported using paid leave during their time away from work. This is putting further pressure on corporate America to step up and safeguard their workforces. BRT signatory Home Depot stands out among its peers in the retail sector with the maximum amount of leave we've tracked, offering a generous 24 days.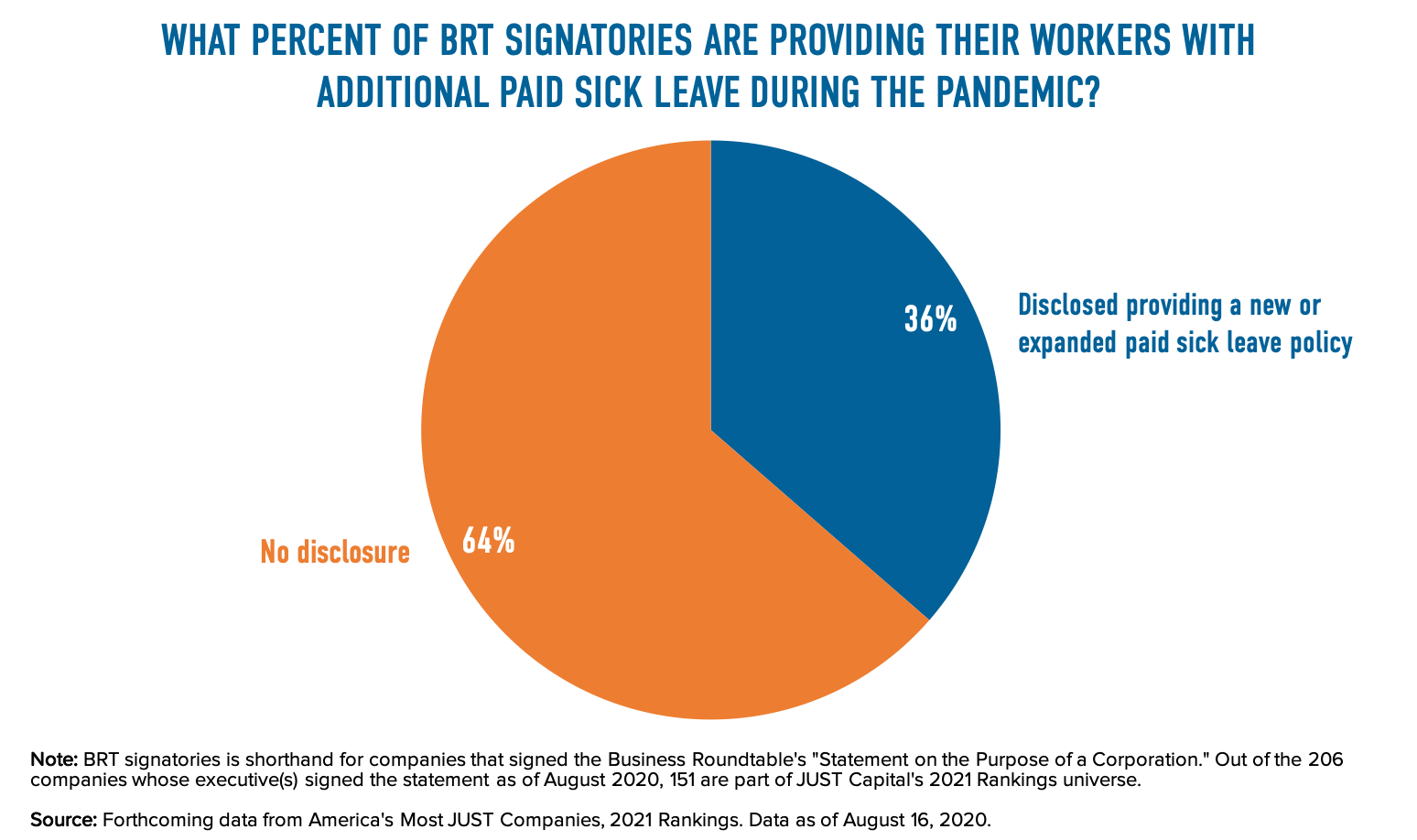 Financial Assistance
77% of Americans want companies to prioritize hazard pay or other financial assistance to frontline workers, and 29% of BRT signatories announced that they were providing some type of financial assistance to their employees. However, just 9% specifically offered a temporary wage increase or hazard pay to their workers, with an average increase to hourly wages of $2.10 per hour. BRT signatories are 1.8 times more likely than peers to disclose providing grants, bonuses, wage increases, or additional overtime pay. 
From our ongoing analysis of Hazard Pay policies we know that two BRT signatories – Target and Tractor Supply Company – also recently announced permanent wage increases for frontline workers. However, many of the companies we tracked – including BRT signatories Amazon, AT&T, Chipotle, and Walmart – have let their hazard pay policies expire despite the accelerating crisis and its increased impact on frontline workers.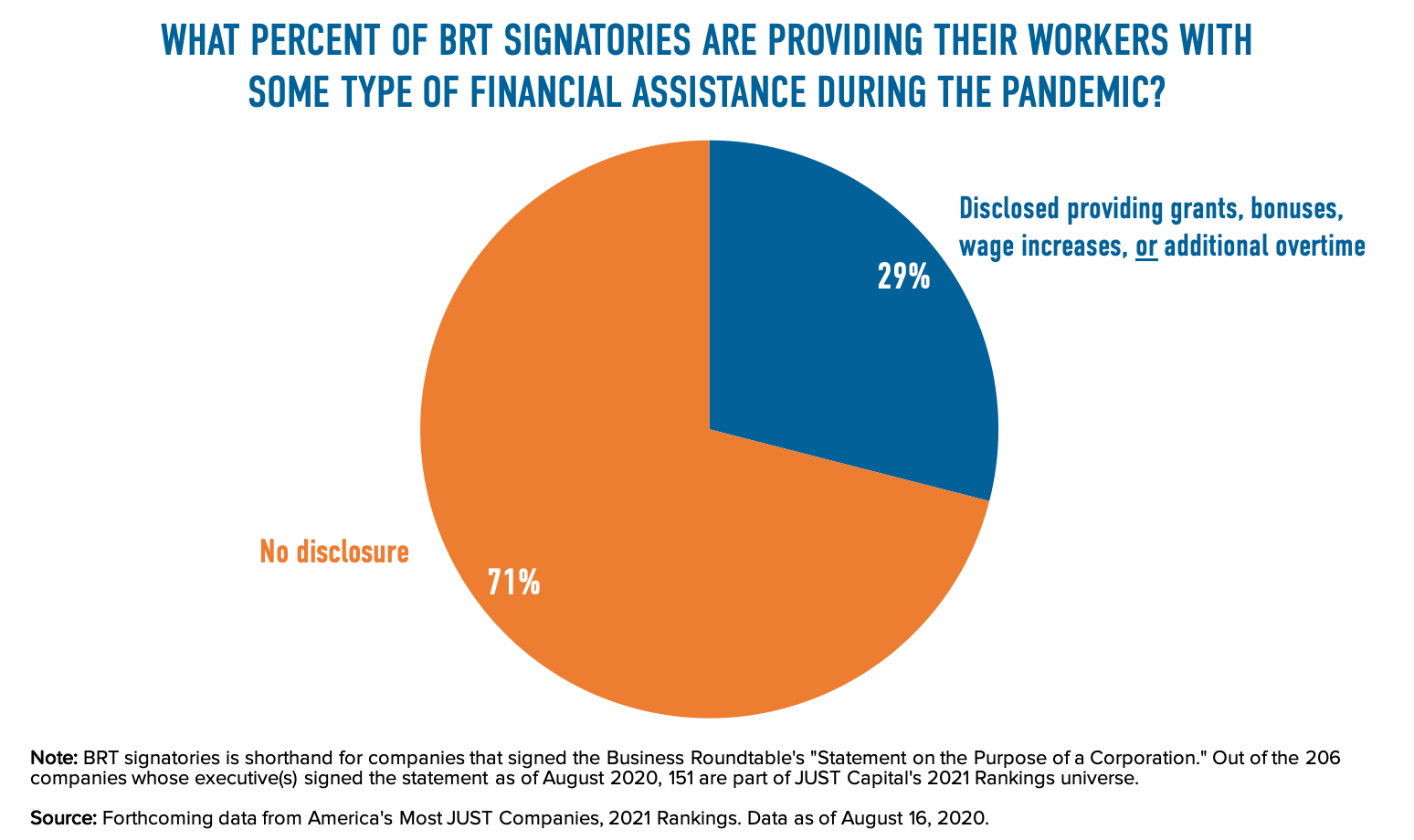 Customer Accommodations
74% of Americans agree that companies should make customer accommodations a high priority during the pandemic, and 54% of BRT signatories announced offering some type of customer accommodation such as reducing prices, deferring payments, maintaining essential utilities available, or providing special accommodations for high-risk customers. BRT signatories are 1.8 times more likely than peers to disclose providing accommodations to their customers during the pandemic.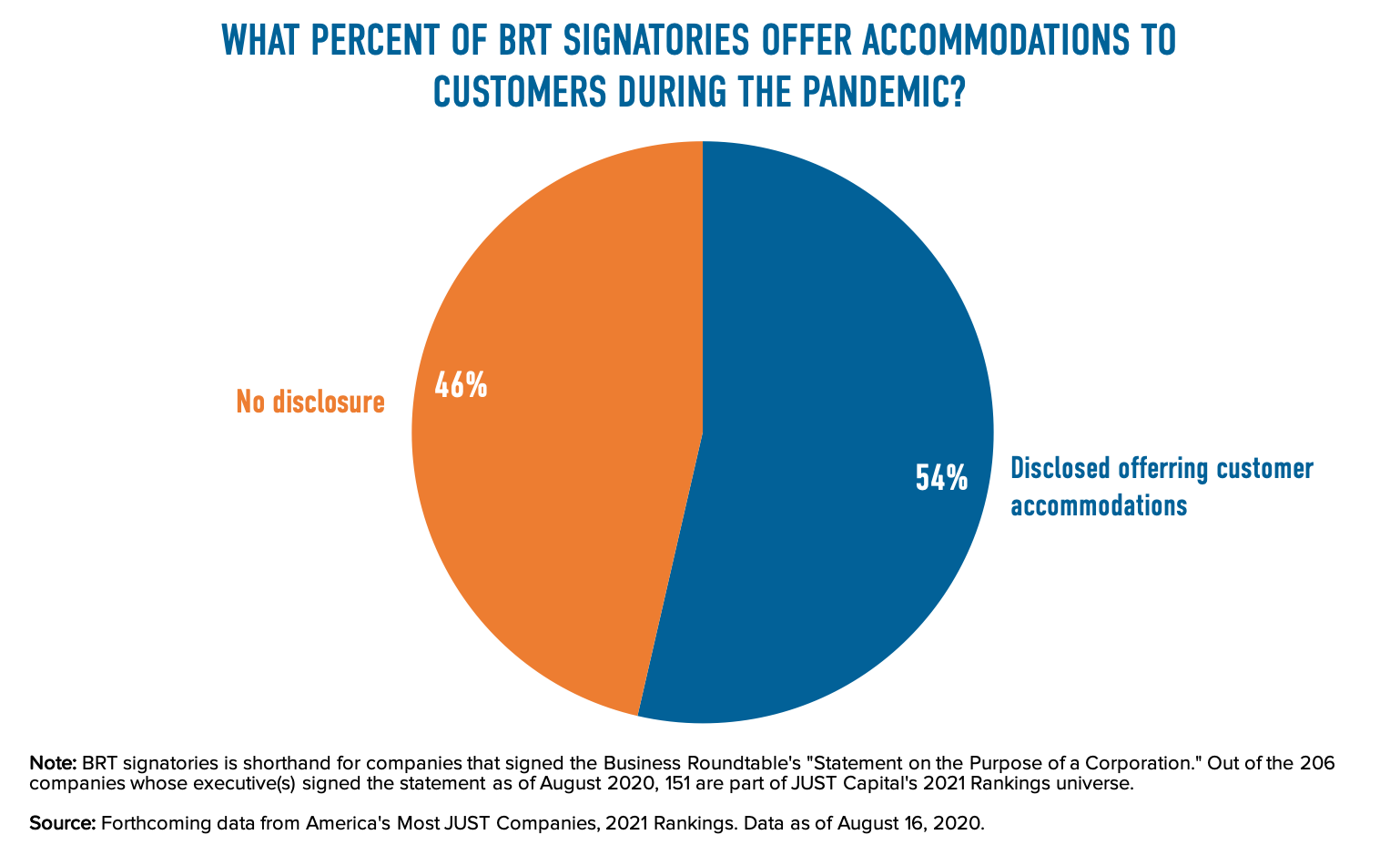 Cash Donations for Community Relief Efforts
90% of Americans expect companies to engage in some kind of community support during the COVID-19 crisis, and an overwhelming 71% of BRT signatories announced making cash donations to help with COVID-19 pandemic relief to support the communities in which they operate. BRT signatories are 1.7 times more likely than peers to disclose that they made financial contributions to community relief efforts during the pandemic.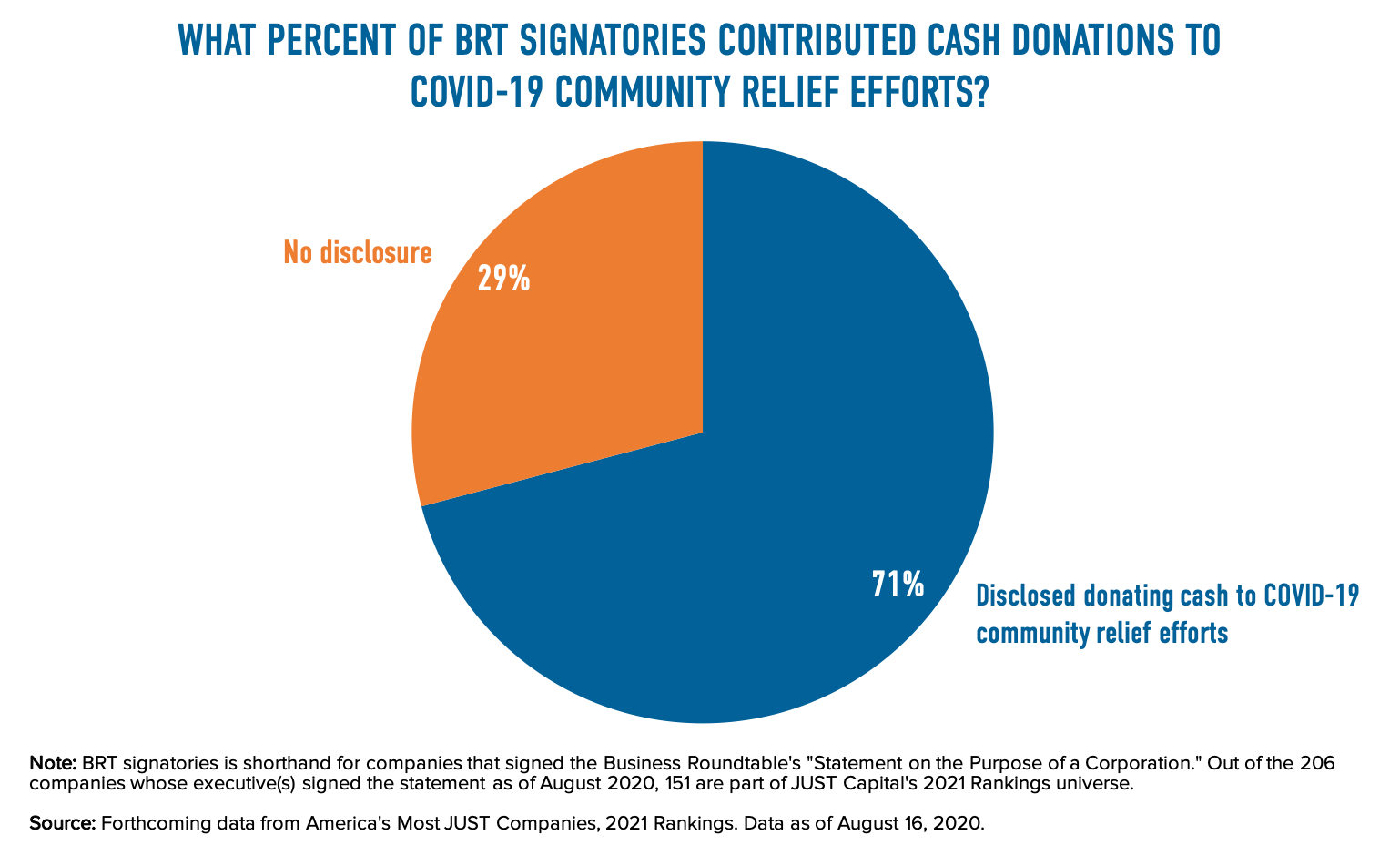 The Takeaway
One year after their landmark statement, questions on whether Business Roundtable signatories – and all their peers across corporate America – are walking the talk of their statements of purpose and commitments to stakeholders continue to be asked. 
Our analysis indicates that, in fact, BRT signatories have responded comparatively well, and appear to be adopting a more proactive stance than many of their peers in the Russell 1000 on some of the most critical issues of the last six months. 
Stepping back to look at the big picture, however, it is clear there is a long way to go before we can say with certainty that the stakeholder model is taking root. For example, throughout this crisis, there have been many reports about corporate America's discouragement of government policies that could advance stakeholder capitalism, including issues like providing paid sick leave to their workers. This contrast of individual corporate leadership but not societal corporate leadership is unlikely to satisfy the public, which we know increasingly sees CEOs as societal leaders and which demands authenticity and consistency of action. 
How companies engage with each other, with civil society, and with government to drive societal leadership on stakeholder capitalism, is the defining issue. Only through this consistency can we create an economy that serves all Americans, ensuring worker health, safety, and financial security not only for the duration of the crisis, but for years to come. 
For additional insights please see:
Methodology Note
Out of the total 206 companies under the leadership of BRT signatories, JUST Capital tracks and ranks 151 of them, which are featured in the analysis above.
This report was written by Kavya Vaghul, Amanda Keating, and Michelle Mullineaux.  Special thanks to Kim Ira and Molly Stutzman for additional research.