American Workers Need Education Assistance. Are They Getting It?
In today's tight labor market, companies are facing high turnover and fierce competition. Across industries, benefits like paid parental leave and career development are becoming more commonplace as companies work to attract and retain talent, as well as reskill employees for an increasingly automated workplace.
Employers are investing in their workers in new and significant ways, and in recent years, more companies are offering tuition reimbursement and other education assistance programs. And with about 60% of the entire civilian labor force without a Bachelor's degree as of 2018, this offering has the potential to transform the lives of workers across the U.S.
According to our recent JUST Jobs analysis on company disclosure related to nine key worker issues, about two-thirds of the largest, publicly traded U.S. companies offer tuition reimbursement to their employees. And, good news –  those disclosing a tuition reimbursement policy also generate an ROE advantage 1.2 percentage points higher than their peers.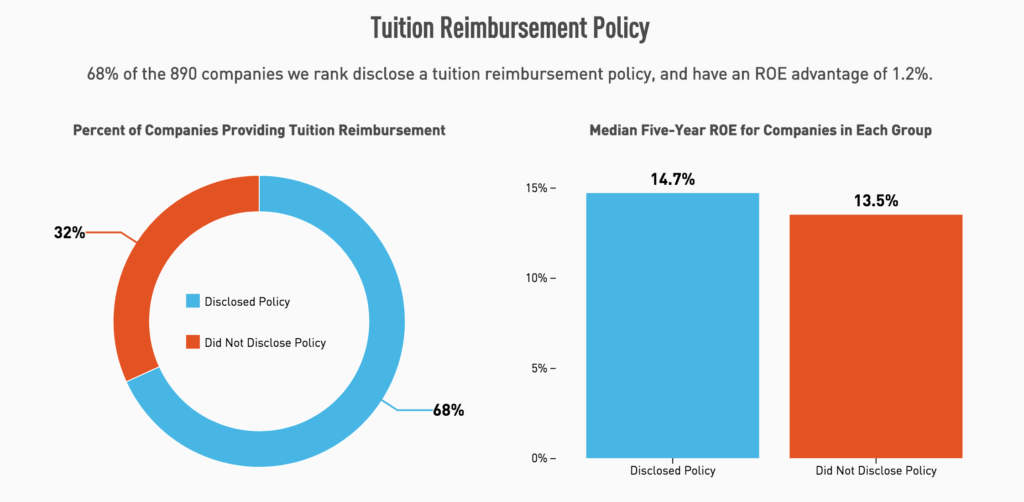 While the majority of companies offer tuition reimbursement to their employees, this benefit might not always reach the workers who really need it – like those on the front lines of traditionally lower wage industries such as retail and restaurants. In 2018, 86% of workers earning at or below the federal minimum wage did not have a Bachelor's degree – typically an entrance requirement for higher paying jobs. 
In these industries, we've found that, interestingly, higher proportions of companies offer tuition reimbursement – with 78% of Food & Drug Retailers and 73% of Restaurants & Leisure companies disclosing tuition reimbursement (while Retail lags behind at 59%). 
However, tuition reimbursement might not ultimately reach the cashiers, servers, call center workers, and store associates earning lower wages on the front lines. Companies like Macy's, Domino's, and Dunkin' Brands offer education assistance only to their corporate staff, excluding front-line workers and hourly associates. Arguably, front-line workers could benefit significantly from tuition reimbursement, gaining access to higher wages and greater economic mobility.
Still, there is a handful of leaders – including Walmart, Starbucks, and H&R Block – ensuring that tuition reimbursement is available to all workers, extending the benefit beyond its headquarters, salaried, and corporate staff. The restaurant industry, especially – faced with the highest quit rates since 2001 – has stepped up to provide better benefits and career opportunities to its workers. Last year, for example, McDonald's announced an initiative – following its windfall from the Tax Cut & Jobs Act – that it would allocate $150 million over five years toward providing almost 400,000 U.S. restaurant employees with accessibility to its education program.
Companies that invest in the education of their workforce are likely to see employees stay longer and move into senior positions more frequently. And as corporate America moves toward automation and the future of work, employers are seeking out more skilled employees. By investing in education, companies can foster the skills they need in their own workforce, focusing on retention and alleviating the high costs of replacing or hiring workers.
With our research showing that tuition reimbursement correlates with a return on investment, it's clear that programs like this can create a win-win for companies and employees alike – both upskilling workers and improving the bottom line. And for companies in low wage industries especially, investments in better benefits and higher wages have the potential to influence not only their workers' well-being and their company's performance, but the overall course of income inequality in our country.
In the coming year, we will continue to track what companies offer around this and other core worker benefits – in an effort to better understand both the state of just business behavior and its impact on American workers today. 
To explore the data and links to all the relevant policies at the 890 companies we analyze, visit the JUST Jobs Policy Tracker, and select "Tuition Reimbursement" from the pull down menu.