Why Paid Parental Leave is Critically Important in Low-Wage Industries
This article features contributions and research from Patrick Oakford, Senior Manager for Programs & Engagement.
In June, Target announced that it would expand its paid parental leave benefits in the coming months – and not just for its salaried headquarter employees, but for both part-time and full-time hourly, frontline workers. 
Their announcement comes on the heels of a set of wage increases from companies in the retail industry (including Target, Amazon, Costco, and Walmart) over the last year – a sign of recognition from companies in this traditionally high-turnover, low-wage industry that a stable, reliable workforce is better for business. The expansion of paid parental leave, too, helps to grow each company's competitive advantage while improving conditions for workers. People don't check their personal lives at the door when they begin their workday – instead, workers with stability and time to care for their families have more time to focus on their jobs when they're on the job.
Under Target's new policy, all staff will receive up to four weeks of paid family leave to care for newborns or sick family members, and starting in the fall, workers in stores and distribution centers will also receive 20 days of in-center child care or in-home backup child or elder care.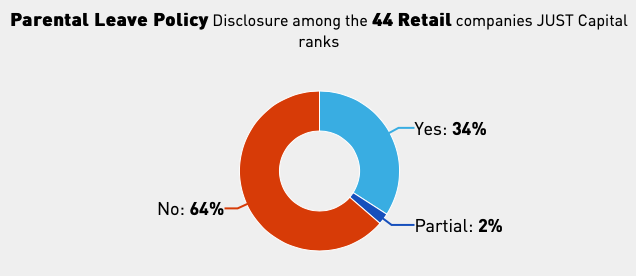 Perhaps surprisingly, low-wage industries – like Retail – are comparatively strong when it comes to disclosing their paid parental leave policies. Based on our recent analysis of workforce policies at 875 of the largest, publicly traded U.S. companies – the Win-Win of JUST Jobs – 28% of companies overall make the details of their paid parental leave policies public. In comparison, 34% of retail companies – like Target, Amazon, and Dollar General – disclose their paid parental leave policies; 39% do so in the Restaurants and Leisure sector – like Starbucks, McDonald's, and Marriott; and a remarkable 67% of food and drug retailers – like CVS, Walgreens, and Kroger – do too. 
Of course, if these policies only extend to headquarters staff, a huge swath of the workforce doesn't have access to care. That's why Target's announcement – which covers employees working on the frontlines of the business in addition to those in headquarters – is so important, and a leading practice for its industry. In Retail and other low-wage industries, workers on the frontlines – typically the lowest paid – tend to fall through the cracks when it comes to benefits. According to the Bureau of Labor Statistics, 93% of low-wage workers and 94% of part-time workers don't have access to paid family leave. Many low-wage workers are left choosing between taking unpaid leave or no leave at all, contributing to economic inequality and financial insecurity. 
The good news is that Target's announcement is part of a shifting landscape for paid parental leave and the treatment of frontline workers more broadly. Increasingly, companies in other industries are extending paid leave to hourly workers, offering robust leave to fathers and secondary caregivers, providing adoption reimbursement, and more. As companies vye for the best talent, many are creating quality jobs for hourly and frontline workers, improving wages and benefits offered to employees. 
JUST Capital recognizes the benefit – to workers and businesses – of quality jobs. Through the support of the Robert Wood Johnson Foundation, the Annie E. Casey Foundation, Surdna Foundation, and others, JUST is launching an initiative to better measure, quantify, and support quality jobs in America today. We are doing additional research and bringing companies together to identify best practices and strategies for overcoming hurdles to implementation. By facilitating collaboration and knowledge sharing among business leaders, we hope to accelerate the spread of quality jobs.   
Companies have a big role to play in creating economic opportunity for more Americans, thanks in part to their tremendous reach and the huge number of lives they can impact through policies like these. Moreover, we've found that it makes business sense, and it's what the public wants to see from corporate America. We'll continue to highlight companies that are leading the way.