Black Americans Have Spoken: Corporations Must Maintain Racial Equity as a Priority and Continue Taking Action
While national conversations around racial justice and equity continue in the months since George Floyd's death, JUST Capital, too, has been conducting nationally representative surveys of the American public on how they expect corporate America to step up during this time. We've found that Americans want companies to prioritize racial equity across all facets of their operations, addressing compensation, hiring, promotion, board representation, and local community relations.
This year, we've been able to look more closely at a demographic breakout whose views are critically important to this conversation – Black Americans. As a Black woman researcher seeing the curveballs that 2020 has thrown us – from the COVID-19 pandemic, to racial and social unrest, to a contested election and the fraught beginnings of a new federal administration – I believe it's about time that the priorities of Black Americans, who have been disproportionately affected by these myriad crises, take center stage.
Though it took a confluence of tragic circumstances for racial justice to become elevated in the minds of many business leaders, this moment represents a powerful moment for corporate leaders to ask: What do Black Americans think, want, and expect to see from corporate America? JUST Capital has compiled our findings on what we've heard from Black Americans over the past few months of this unprecedented year.
Black Americans want corporate leaders to eliminate policies that perpetuate racism and to take a public stand on issues that disproportionately affect their communities.
From our annual nationally representative survey of 4500 Americans – including about 800 Black respondents – we found that cultivating a diverse and inclusive workplace with equal opportunity for hiring, advancement, and pay without discrimination is top of mind for Black Americans. In fact, this issue was the third highest priority for Americans – out of 19 just business behaviors – behind paying workers a living wage and protecting the human rights of workers in the supply chain. Moreover, when we regularly surveyed Americans from March through August on their views surrounding COVID-19 and the Black Lives Matter movement, we found that because a majority (80%) of Black respondents had been "fairly" or "very" closely following the news about protests against racial injustice and oppression of Black people, showing a heightened awareness of these critical issues.
These polls have also shown that Black Americans want CEOs and other high-profile business leaders to embody this heightened awareness, by making public statements around many socio-political issues. Nearly nine in 10 Black respondents (86%) agree that business leaders should speak up when it comes to ending police violence. And over three quarters (76%) of Black respondents want to see leaders publicly condemn racism, racial inequality, racial injustice, and white supremacy – injustices that have plagued America since the beginnings of the Transatlantic slave trade and its particularly treachous and tragic manifestation on these shores. And 71% of Black respondents believe that corporate leaders should condemn the killings of unarmed Black people by police. We also learned that 83% of Black Americans believe that business leaders need to promote Americans' right to freedom of speech and peaceful protest.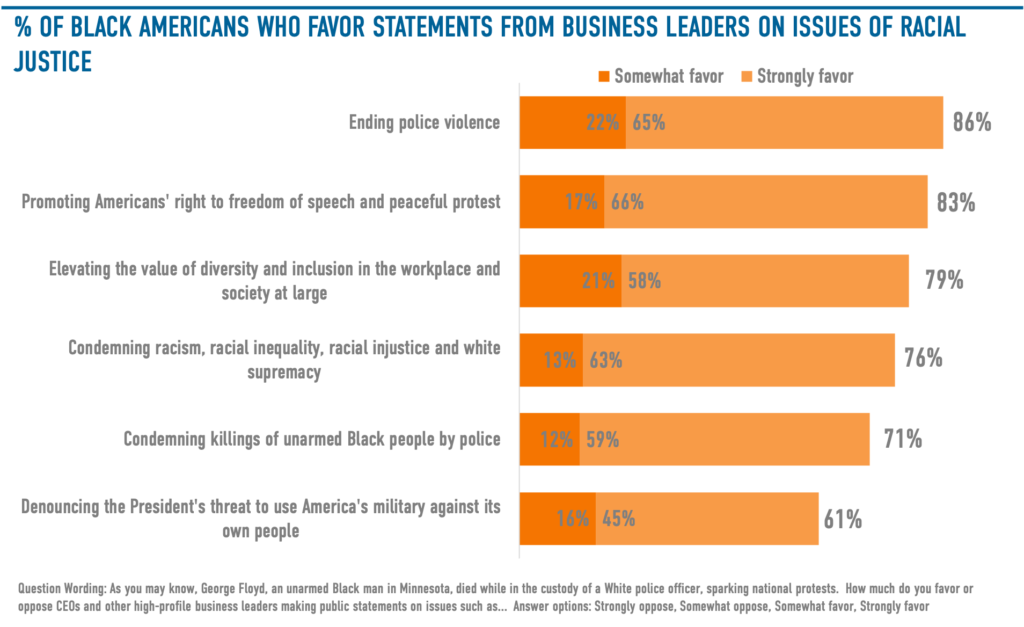 Our nation's legacy of racism – and its continued perpetuation through systemic inequalities and police brutality – grow more pronounced against the backdrop of the pandemic. Corporate leaders can no longer shy away from taking a stand on these issues – especially as they strive to lead just companies that align with the values of the public, as well as the values of the new federal administration.
Black Americans know problems of racial injustice are now elevated in the minds of corporate leaders – so corporate America, now is the time to play a role in alleviating them.
For business leaders who are still unsure about what steps to take to rid their workplaces of racist policies and advance racial equity, we've heard what Black respondents have told us. For starters, a majority of Black respondents (79%) support CEOs and top executives speaking up to elevate the value of diversity and inclusion in the workplace, and society, at large.
And further our polls showed that Black Americans want the business community to take concrete steps to eliminate the policies, practices, and behaviors that perpetuate racism in the workplace and society. Actions such as discontinuing support – financial and otherwise – for elected officials who ignore or deny the harms of racism in American society; conducting ongoing unconscious bias and anti-racist trainings with its workers at all levels; and enacting a clear, measurable, and resourced strategy for achieving racial representation at all levels of the organization. Black Americans also believe that in order to support a diverse, equitable, and inclusive workplace right now, there are key actions business leaders can take:
Nine in ten (or 89% of) Black Americans believe that companies should increase business with Black owned suppliers and organizations.
88% of Black respondents believe companies should fund local education and create apprenticeship and scholarship programs to support more diverse hiring, creating pipelines for job and eventually hiring opportunities for historically underrepresented groups including Black Americans.
Among Black respondents, the most important priority for companies this year is to pay workers fairly and offer a living wage, highlighting the significance of worker financial wellness.
These actions – top of mind for Black Americans – represent a critical first step. But there are also many more that leaders can take to combat systemic racism against Black colleagues – from increasing the number of Black candidates in hiring pools (which more than half of respondents agreed was important) to ensuring that managers know how to support Black employees.
Black Americans have spoken loud and clear about what they want to see from corporate America during the pandemic and beyond. It is clear from our research, based on nationally representative samples of the U.S. population, that America's Black workers, customers, and investors need action now. While this is nothing new, it is even more important for corporate leaders and the business community to address as America heralds in a new administration, fights a global pandemic, and deals with the ongoing reckoning with racial injustice and the treatment of Black Americans. Corporate leaders must take charge and play a key role in ushering in a new dawn of diverse, equitable, and inclusive business.