Why Addressing the C-Suite Gender Pay Gap Presents an Opportunity for Growth
This week, we look at Morningstar's most recent analysis from Jackie Cook, diving into the C-suite Gender Pay Gap analysis that explores pay data of corporations' named executive officers (NEOs). NEOs include the CEO, CFO, and the three other highest paid executive officers. Per Morningstar, the pay data comprises part of a larger set of corporate governance data that also includes manually collected gender data on all corporate directors and executive officers as well as standardized executive officer roles. This analysis traces five years of disclosures by 2,384 Russell 3000 companies up to 2020, with pay data for the period 2015 to 2019.
Below, we take a look at one telling chart from this analysis that illustrates the representation of women within NEO roles. We see that, over this five-year period, women's share of NEO positions grew from 9.5% to 12.2% – in other words, in 2015 women held one in 11 NEO positions, and by 2019 held one in eight. While these signs of advancement are encouraging, they reflect a rate of growth that would only deliver equal representation sometime in the second half of this century. Furthermore, in 2019, less than half – or 47% – of companies counted at least one woman in the ranks of their highest paid executives and only 12% counted more than one woman. This grew from 35% and 6%, respectively, in 2015. By contrast, only four companies out of the 2,384 analyzed had no male NEOs in 2019.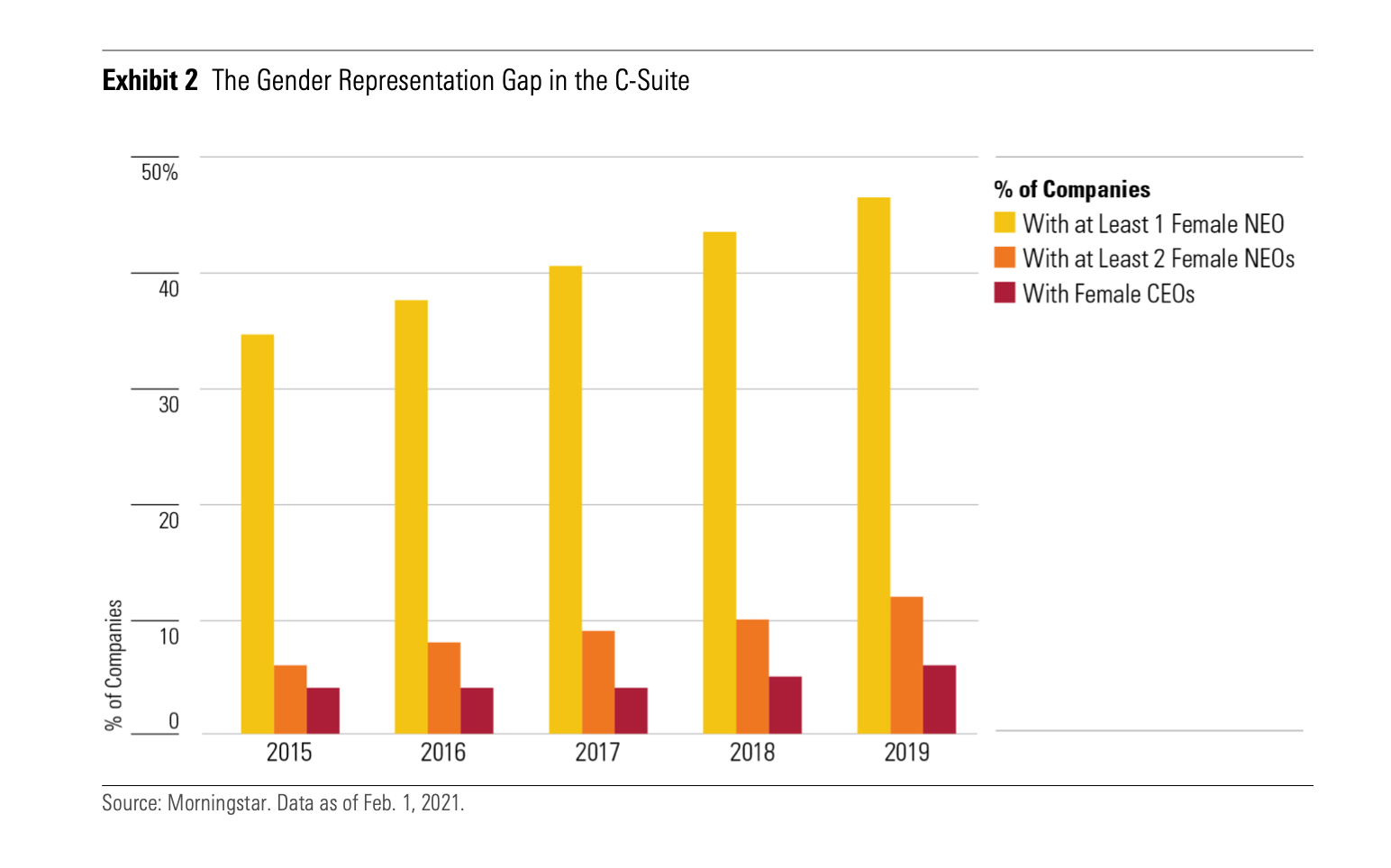 This analysis highlights the significant work still needed to reach equal representation among women and men at this level – and Morningstar's report further explores the persistence of pay inequity for the few women who are even able to break into the C-suite. Our work has also closely explored issues of disclosure around both representation and pay inequity, providing concrete steps for companies looking to create more inclusive, demographically diverse, and equitable workplaces. Given that 70% of companies in the Russell 1000 do not publicly disclose any gender or demographic data, it is challenging to get a full picture of representation across the corporate ladder or to identify next steps for driving change on pay equity in corporate America. 
With NEO positions specifically, further steps – like workforce demographic disclosure or even tying underlying debt issuance to gender and diversity targets – are needed to reach equal representation. Organizations like the Carlyle Group – which this week announced a $4.1 billion credit line for portfolio companies, tying the price of debt to board diversity across gender and race, – pave the way for other companies looking to embrace quantifiable steps toward equity that will not only benefit their workforce long-term, but provides a cheaper cost of debt, equating to a win-win for all stakeholders. 
Whitepapers and research like those from Morningstar and JUST Capital are critically important to call out the glaring systemic inequities within our nation's largest companies and highlight the need for a cultural shift. As stakeholder capitalism continues to gain traction, companies looking to affect real change on workplace inequality must start now.
If you are interested in supporting our mission, we are happy to discuss data needs, index   licensing, and other ways we can partner. Please reach out to our Director of Business Development, Charlie Mahoney, at cmahoney@justcapital.com to discuss how we can create a more JUST economy together.