A Small Fraction of Corporations Share Diversity Data, but Disclosure is Rapidly on the Rise
This article was originally published on December 17, 2020 and updated on January 19, 2021, and features research assistance contributions from Kim Ira and Aleksandra Radeva, Junior Research Analysts, and data visualization contributions from Sara Horowitz, Director of Web Development.
Last December, asset manager BlackRock became the latest player in the push to get companies to disclose data on the gender, racial, and ethnic composition of their workforces in response to the racial reckoning that rippled across the country this past summer. BlackRock's announcement comes on the heels of efforts by others in the investor community, who have called on America's largest corporations to publicly release the "gold standard" of gender, race, and ethnicity data disclosures, The EEO-1 Report. A notable example came from  New York City Comptroller Scott Stringer, representing two of the country's largest pension funds, asking S&P 100 companies to release this data. We've been proud to support his office's work directly, and it has started to move the needle. 
As of January 2021, only 6.3% of America's largest corporations disclosed the type of intersectional data that could be derived from an EEO-1 Report. That is just 59 companies out of the 931 companies we studied in our 2021 Rankings of America's Most JUST Companies, but it is up by 27 from December 2019. We expect to see more movement in 2021 as more pressure comes from investors, standard-setters, and advocates alike.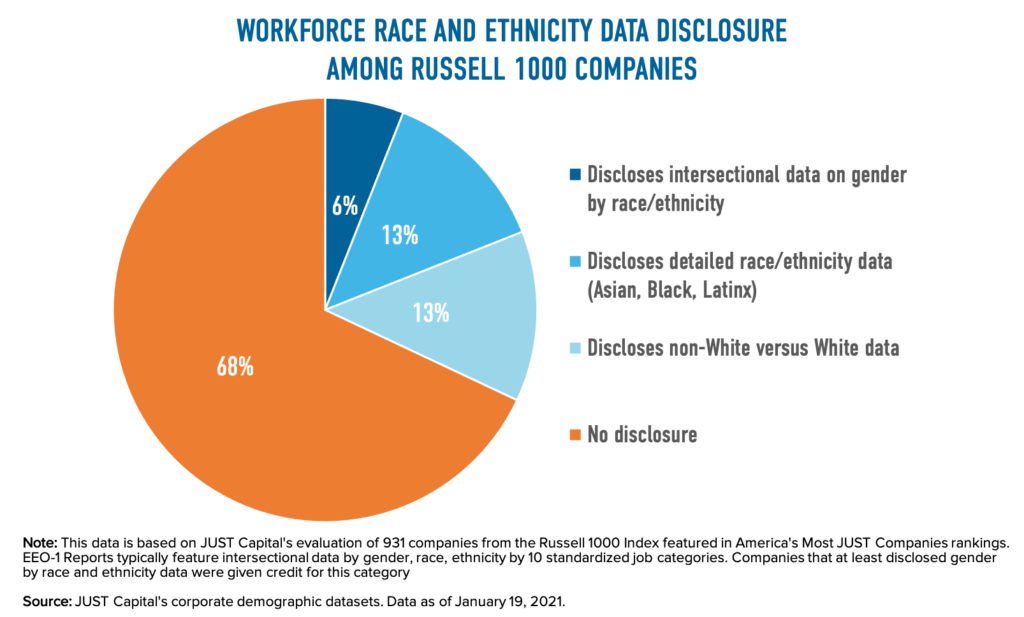 EEO-1 Reports, formally known as Employer Information Report EEO-1, are required to be filed with the Equal Employment Opportunity Commission (EEOC) each year by employers that have at least 100 employees. Component 1 of the EEO-1 Report specifically asks companies for the raw number of employees by their gender, racial, and ethnic identity by 10 standardized job categories. While the EEO-1 Report could be more inclusive in its categorizations, the demographic data reported is highly disaggregated, making it useful in evaluating the state of diversity in intersectional ways. The EEO-1 Report has become a key proxy for investors, as well, in assessing how far along companies are on their racial equity journey.
Despite the fact that EEO-1 Reports are compiled and submitted to the federal government annually, just a handful of companies actually share them publicly as a means of accountability for increasing representation. JUST Capital has actually been tracking the state of EEO-1 Report  and other demographic data disclosures among Russell 1000 companies since 2019, such as an analysis that looked at what percent of companies that made a statement of support for Black Lives Matter also disclosed the racial and ethnic compositions of their workforce.
Not all of the 59 companies in the JUST universe publicly released an actual EEO-1 Report: eight published a modified version of the report, which still features intersectional workforce data by gender, race, and ethnicity but sometimes uses percentages instead of counts, alters or condenses the 10 job categories, or excludes job categories altogether. What's more, EEO-1 Report disclosure is heavily concentrated among companies in the technology industry, where 24 companies make up nearly half of all disclosures.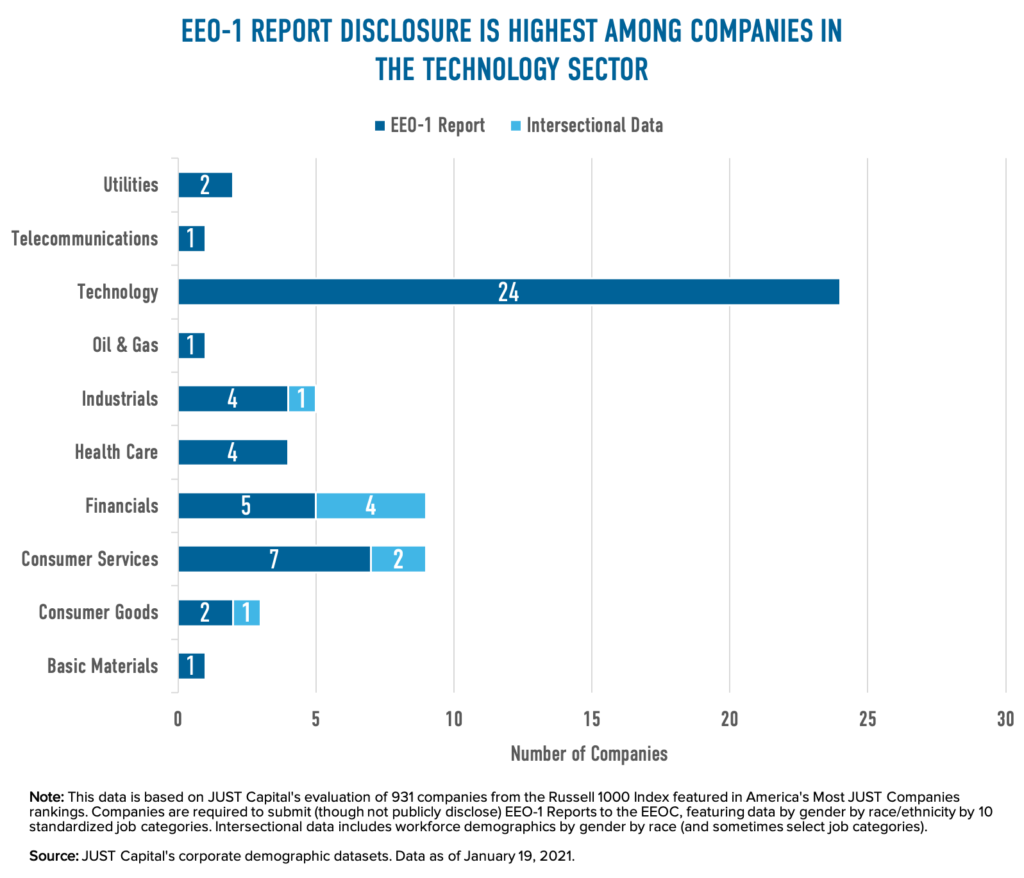 How EEO-1 Report disclosure has changed
The good news is that disclosure of EEO-1 Reports (and intersectional data) is on the rise across the board. In December 2019, only 32 companies in our universe publicly reported this level of diversity data. Today, that number has grown by 84%, with 27 more companies disclosing. The recent concerted effort by investors and others in the business community has likely been a factor in this increase, too, as just between September 2020 and January 2021, 18 new companies were added to our list.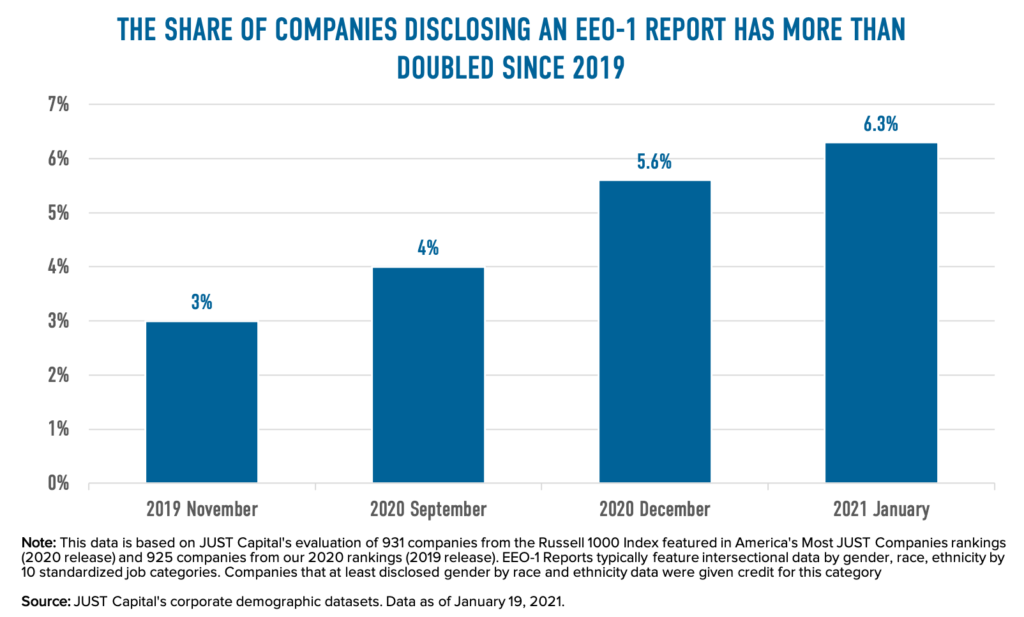 Still, 68% of companies in the Russell 1000 release no data on the racial and ethnic makeup of their workforce, suggesting that there is considerable work to be done to encourage diversity data disclosure of any kind, let alone EEO-1 Reports.  
It is important to note that disclosing an EEO-1 Report, or diversity data in general, is not a substitute for the tremendous amount of work that is needed to cultivate diversity and inclusion and address systemic inequities across corporate America. But publicly sharing this data is a first step – a benchmark – in holding companies accountable to the commitments so many of them have made to advancing racial justice and equity for their workers and communities alike. As advocate and investor groups continue to push for diversity data disclosure, we'll be among those continuing to watch how these commitments translate to actions around EEO-1 Reports and beyond. 
A deeper dive: Which Russell 1000 companies have released their EEO-1 Report.  
In the table below, explore which companies from the JUST universe have publicly reported their EEO-1 Report (or other highly detailed intersectional diversity data).