Chart of the Week: Companies That Actively Address Diversity Also Have Lower Greenhouse Gas Emissions
This week, our chart comes at a critical moment for both environmental and the racial equity movements. As ESG investors are beginning to look more holistically at each element of ESG, including human capital metrics falling under the "S," we wanted to this opportunity to see how companies that perform well in one respect perform in the other.
President Biden's Leaders Summit on Climate takes place on April 22nd – which is Earth Day – and the 23rd, and this week we saw the "big three" largest asset managers – BlackRock, Vanguard, and State Street Global Advisors – commit to the goal of achieving net-zero emissions by 2050 or sooner, bringing the total to 87 asset managers committed with $37 trillion in assets as part of the Net Zero Asset Managers initiative. 
And in the midst of this mounting urgency around climate change, we also find ourselves in the throes of a critically important racial justice movement, working to address our nation's systemic inequities. This week also saw a symbolic moment on April 20, as Derek Chauvin was convicted for the murder of George Floyd on two counts of murder and one count of manslaughter. In the aftermath of this tremendous injustice – which has sparked calls for real, tangible change – both Americans and global citizens no longer acknowledge sweeping corporate statements in support of Black Lives Matter unless they are accompanied by concrete action to advance racial equity. JUST Capital's Corporate Racial Equity Tracker, launched last week, is a cornerstone of our multi-year racial equity initiative as we work to ensure that the past year's momentum carries forward. 
Looking at the intersection of these two key issues, our analysis examines two dimensions from our Corporate Racial Equity Tracker alongside our environmental dataset to understand if there is a correlation between companies actively addressing racial equity and those intently reducing their carbon footprint. When we divide the companies we rank into those that have a diversity and opportunity policy and those that don't, we see a 36.32% reduction in GHG emissions on average among the companies that offer such policies. Furthermore, when we look at companies that implement diversity and opportunity targets, we see a 32.88% reduction in emissions on average.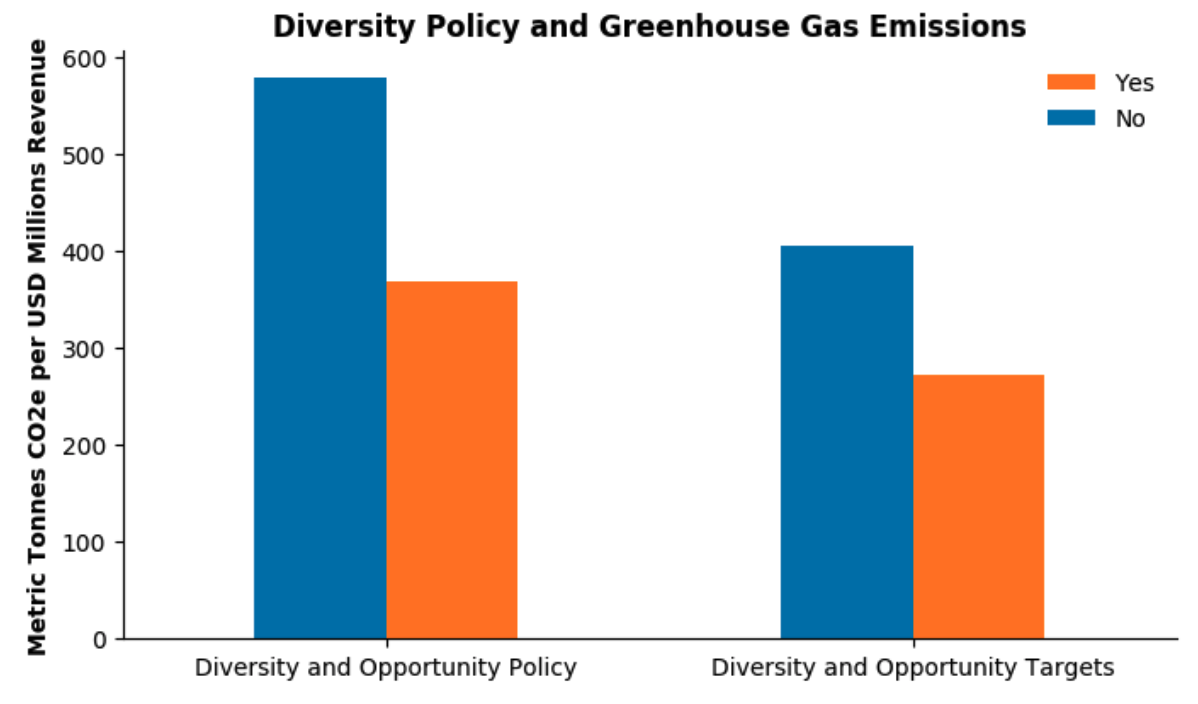 Inspired by MSCI's analysis last month titled "Women on Boards: The Hidden Environmental Connection?" – which found that better environmental practices were found among companies with boards that have included at least three women directors for at least three years – we wanted to leverage our own work around diversity, equity, and inclusion to see if similar trends exist among companies taking actionable steps toward improving diversity. 
Complemented by the MSCI study above, our chart this week does not suggest that correlation implies causation. We simply make the case that companies actively committing to their workers seem to be the same ones following through on their climate change goals, demonstrating that companies must fully embrace stakeholder capitalism to purposefully create positive impact. 
If you are interested in supporting our mission, we are happy to discuss data needs, index licensing, and other ways we can partner. Please reach out to our Director of Business Development, Charlie Mahoney, at cmahoney@justcapital.com to discuss how we can create a more JUST economy together.