Chart of the Week: Just Companies Have Better Risk Profiles and Overall Decreased Volatility
In our latest Chart of the Week, we explore the risk profile of more just companies in comparison to less just ones. Similar to our recent Chart of the Week, when we evaluated just companies' downside risk in the context of drawdowns, we break the JUST universe into five equal quintiles to look at upside vs. downside volatility in the form of upside and downside semi-deviation.
Upside and downside semi-deviations are useful in identifying skewness in the distribution of returns. Upside semi-deviation looks only at positive returns, while downside semi-deviation only considers negative returns. Looking at the chart below, we discover that companies in the top quintile see a smaller downside semi-deviation relative to the bottom quintile, thus experiencing lower risk and better performance during days when the market is down. When the market is up, we find that the upside volatility is more evenly distributed across the quintiles, meaning that all companies show a more similar performance. This indicates that good corporate behavior is associated with limiting the downside risk more than the upside potential of a company.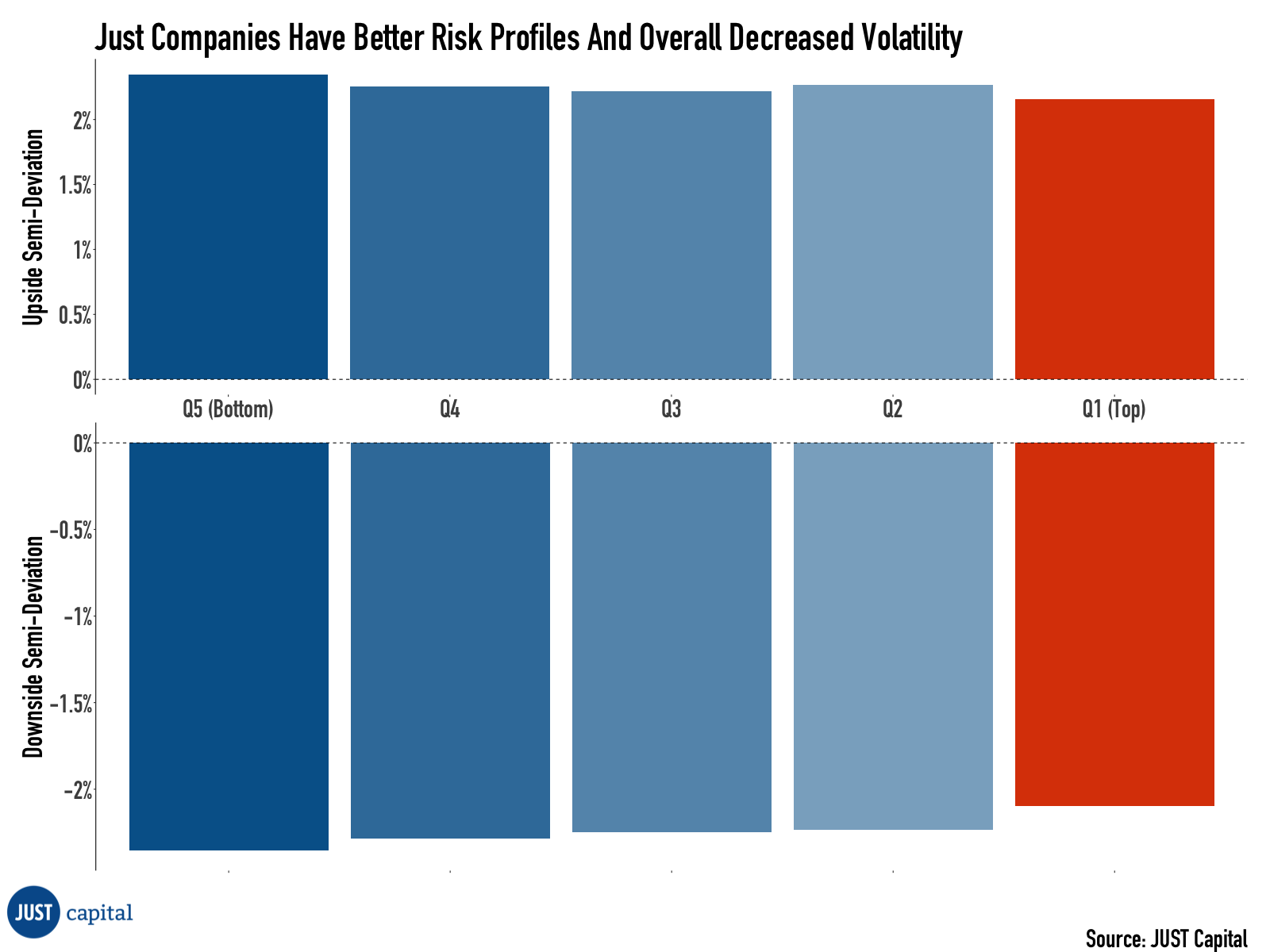 In a period of such economic and societal uncertainty, strong concerns over investment or retirement plan performance are natural. For those that continue to invest in equity markets, investing in the most just companies that prioritize their stakeholders can decrease potential losses Reflecting on our chart above, the top quintile of just companies have better risk profiles and are the ones investing their resources for the long term, leading to more stability and resilience. 
If you are interested in supporting our mission, we are happy to discuss data needs, index licensing, and other ways we can partner. Please reach out to our Director of Business Development, Charlie Mahoney, at cmahoney@justcapital.com to discuss how we can create a more JUST economy together.
If you have questions concerning the underlying analysis, please reach out to our Senior Manager for Quantitative Research, Steffen Bixby, PhD, at sbixby@justcapital.com.