Chart of the Week: JUST Industry Leaders Maintain Their Performance Upside Through the Recovery
In this week's Chart of the Week, we take a look at our JUST Industry leaders across the 33 industries we cover in our universe. Over the trailing one year, JUST Industry leaders have proven their resiliency through the market downturn in March and continue to see strong outperformance in the recovery. Relative to the Russell 1000, the JUST Industry leaders are outperforming by 9.6%. Looking at the chart, it's clear that our best-in-class JUST companies see similar volatility to the rest of the universe, yet see continued protection on the downside coupled with a much stronger upside.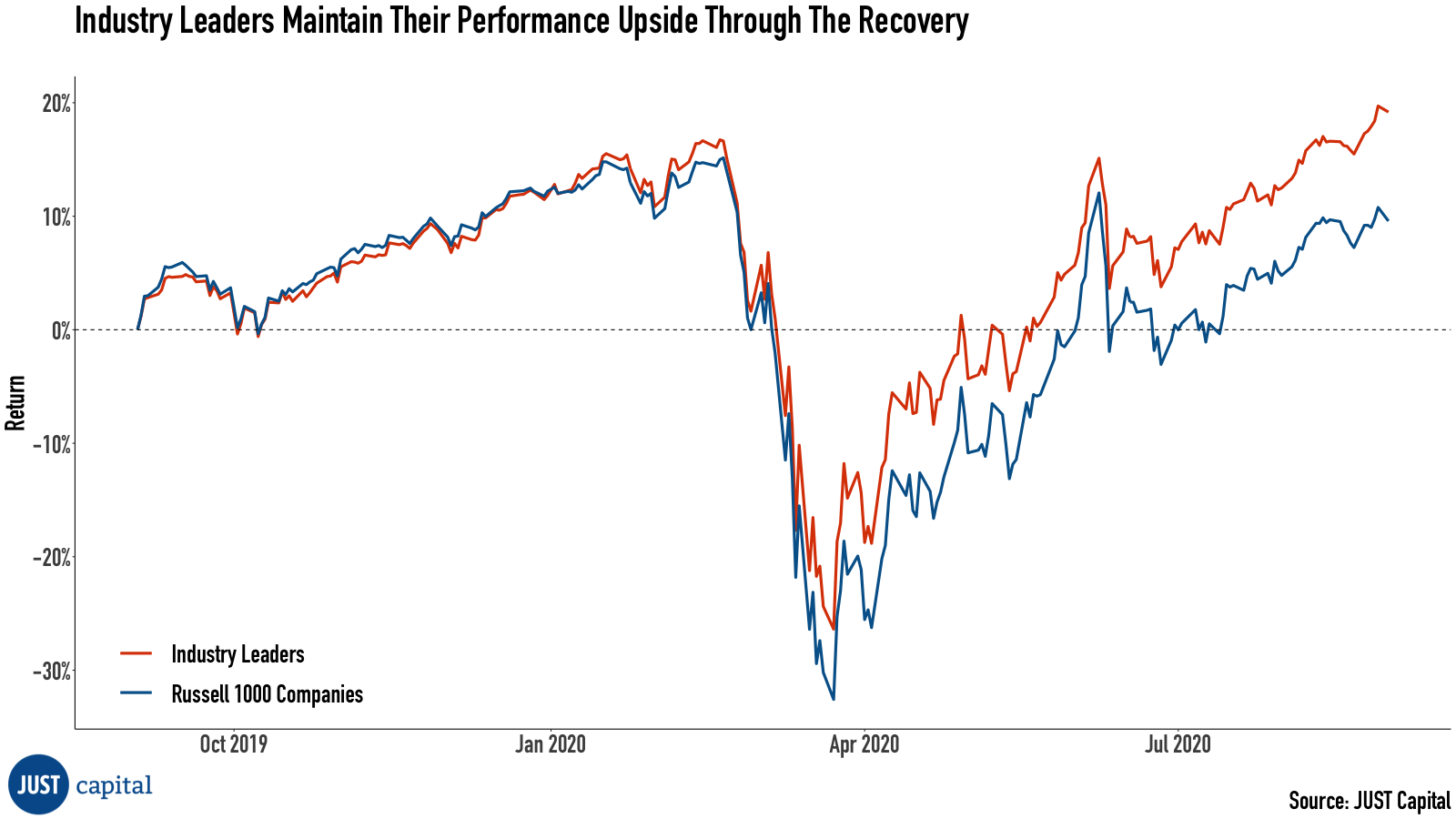 As big tech continues to grab headlines for propelling the stock market out of the recession this year, it's important to recognize significant outperformance by the best-in-class companies across all industries that are prioritizing stakeholders. Investors continue to advance stakeholder capitalism each day as we see company prioritization of its workforce, customers, and communities remain a significant source of alpha. Outside of our Chart of the Week series, it is important to showcase how JUST industry leaders continue to propel our investable indices and investment products to success as well. Our JUST US Large Cap Diversified Index contains the top 50% of companies in each industry and has returned 23.73% over the trailing one year (as of 8/31/2020). The ETF that tracks this index, Goldman Sachs' JUST US Large Cap Equity ETF has returned 23.29% in that same period net of fees. Relative to the Russell 1000, both the index and ETF have outperformed by over 200bps net of fees. 
By investing, purchasing from, and working for more just companies, you help progress an economy that works for all stakeholders and incentivize a shift towards a more equitable America.
If you are interested in supporting our mission, we are happy to discuss data needs, index licensing, and other ways we can partner. Please reach out to our Director of Business Development, Charlie Mahoney, at cmahoney@justcapital.com to discuss how we can create a more JUST economy together.
If you have questions concerning the underlying analysis, please reach out to our Senior Manager for Quantitative Research, Steffen Bixby, PhD, at sbixby@justcapital.com.
The information contained herein is for informational purposes only without regard to any particular user's investment objectives, risk tolerances or financial situation and does not constitute investment advice, nor should it be considered a solicitation or offering to investors residing outside the United States. JUST Capital makes no representation as to the advisability of investing in any investment fund or other vehicle. Shares of JUST are made only by prospectus. The addition, removal, or inclusion of a security in any JUST Capital index is not a recommendation to buy, sell, or hold that security, nor is it investment advice. The JUST Parties do not in any way sell, sponsor, support, promote, or endorse any securities based on the JULCD, or have any involvement in their operations or distribution. Prospective investors should not make a decision to invest in any investment fund or other vehicle based on the information contained in this website, and JUST Capital shall not be responsible or liable for any advice given to third parties or decisions to invest in any investment fund or other vehicle by you or third parties based on the information. Index performance does not reflect the deduction of any fees or expenses. Past results of the JUST U.S. Large Cap Diversified Index are no guarantee of future performance.
The JUST U.S. Large Cap Diversified Index is calculated and maintained by FTSE Russell using the Russell 1000 Index as a starting universe, and aims to reflect the performance of a JUST Capital Foundation Inc. methodology. FTSE Russell does not sponsor, endorse, sell, or promote any investment vehicle that is offered by any third party that seeks to provide an investment return based on the performance of any index. It is not possible to invest directly in an index.