If Laws Don't Protect Against Discrimination Then Companies Should, Majority Of Americans Say
On July 28, the U.S. Department of Justice formally filed an argument to a federal appeals court stating that workers are not protected from discrimination based on sexual orientation under the Civil Rights Act. If the court rules that this is true, Americans want companies to protect workers where the law does not.

In a JUST Capital survey, conducted with YouGov from May 30 to June 5, 65% of Americans think that corporations should protect workers more than required by law when a law allows unfair or discriminatory practices to exist. Only 20% say that corporations should go no further than the law to protect workers.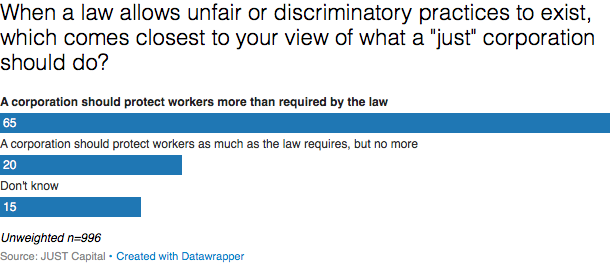 There are few deviations from that high level of support by subgroup. Around 65% of Americans of all ages and incomes support corporations going above and beyond the law, and there is no substantial gender split on the issue. Among racial and ethnic groups, Hispanics are the least likely to say corporations should go further than the law, with 57% in support. Sixty-six percent of black respondents and 69% of white respondents favored corporate protections.
As with most issues, Americans' opinions vary by political orientation. Unlike most issues, there's still broad bipartisan agreement. Not surprisingly, Democrats are most supportive of corporations going farther than the law to protect workers against discrimination, with 77% stating that view. Slightly fewer – 65% – of Republicans agree. Interestingly, political independents are least supportive, but still have a 59% majority in favor of increased corporate protection.

There's little ambiguity in these responses. Substantial majorities of Americans, regardless of demographics or political orientation, think that just corporations should go beyond the laws to protect workers from discrimination.
Stay tuned to learn more about JUST Capital's upcoming release of its 2017 rankings this Fall, which will evaluate all companies in the Russell 1000 based on the business behaviors that matter most to the American People, including Worker Treatment. You can keep up-to-date on the release of our rankings and ongoing research here.
The JUST Capital survey was conducted May 30 to June 5, 2017 by YouGov and includes 1,000 adults selected from YouGov's opt-in online panel to match the demographics and other characteristics of the adult U.S. population. The survey's model-based margin of error is +/- 4.2 percent for the full sample and larger for subgroups. That margin of error estimate rests on a specific set of statistical assumptions about the selected sample rather than the standard methodology for random probability sampling. YouGov uses the same methods for many clients, and more information on those methods is available here.