Diversity & Inclusion in Corporate America: A Collection of JUST Capital Insights & Analysis
The past few months have been incredibly challenging. Between the devastating impacts of coronavirus and economic fallout, Americans have faced unprecedented unemployment, the threat of illness, and profound loss. And in the past weeks, the deaths of George Floyd, Ahmaud Arbery, and Breonna Taylor have prompted a renewed reckoning with our nation's history of systemic racism – specifically historic, daily discrimination and violence against Black and Brown Americans – that has thrown into even starker relief the disproportionate impacts the virus has had on the health and financial security of the Black community.
At JUST Capital, we believe that corporations have the power to influence profound social change around racial justice and equity, and this week, several business, finance, and civil society leaders have reached out to us with questions on how to do just that. In that spirit, we've synthesized our latest our Diversity & Inclusion work below. 
Note that, in our analysis, we have primarily looked at whether companies have disclosed diversity, equity, and inclusion policies or targets, as well as whether they have disclosed demographic details about their workforces. These represent initial steps companies can take toward tackling these issues, but there is more much work to be done to support Black Americans specifically, as well as other racial and ethnic groups. 
DIVERSITY, EQUITY AND INCLUSION ACTIONS
First thing first: If you want ideas for immediate actions you or your company can take in this moment, we recommend these timely features: 
Corporate America: Speaking Up On Systemic Racism Is Only The First Step. Now Let's Act.
This Forbes byline from Managing Director of Corporate Engagement Yusuf George showcases three concrete steps that corporate leaders can take to support Black employees. 
As CEOs Face a Legacy-Defining Moment, We Are Providing a Blueprint for Their Role in Achieving Racial Equity The public is demanding CEOs help create a more equitable society.We teamed up with FSG and Policy Link to provide a definitive blueprint for CEO's looking to move past statements and enact real change at their companies.
What Companies Can Do to Combat Systemic Racism Against Black Colleagues in the Workplace
Sarah Vieux – Senior Manager for Communities and Human Rights – candidly shares her take on the impacts of this time on Black Americans, and digs even deeper on what companies can do to address systemic racism in corporate America.
Our Corporate (Shared) Responsibility for Justice
Also by Yusuf, this piece highlights specific resources for how to support Black communities within your own company, or outside of it. 
DIVERSITY, EQUITY & INCLUSION DATA
Providing a diverse and inclusive workplace with equal opportunity and pay without discrimination has been one of the top issues in our polling when it comes to what just business behaviors matter most to the public. 
Despite its importance, however, corporate America is woefully behind when it comes to transparency on this issue. We're never going to drive systemic change if companies don't increase disclosures and hold each other accountable. Despite EEOC's recent decision to delay data collection requirements until 2021 because of the COVID-19 pandemic, now is time for companies to be bold, honestly share where they are on their journey, incentivize action, and work together on solutions. Specifically, companies can and should disclose their EEO-1 data as a signal of their underlying commitment to equity. Transparency is the first step in setting a benchmark for meaningful change. 
Following our 2020 Rankings, Kavya Vaghul took an in-depth look at workforce demographic disclosures and targets across the Russell 1000, to understand the state of play on this issue in corporate America. Much of it was sobering – including this key chart: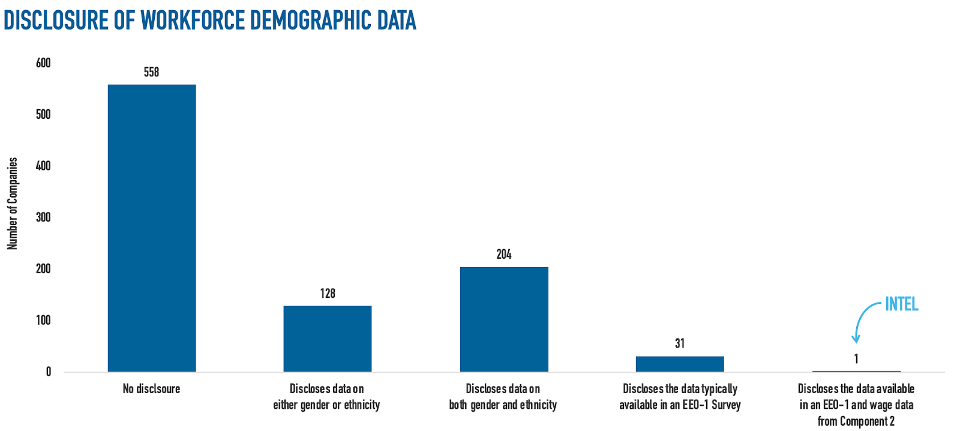 Out of the 922 companies we tracked in our 2020 Rankings, more than half did not disclose any workforce demographic whatsoever; just 31 companies disclosed detailed demographic data as part of their EEO-1 Survey; and only one company – Intel – disclosed wage data by demographics, an exceptionally transparent move.
If you'd like to delve further, here are links to each company's EEO-1 survey, which we collected for the 2020 Rankings as of August 2019: 
Apple, Accenture, Adobe, Alphabet, Bank of America, The Bank of New York Mellon, Boston Scientific, Chipotle, Cisco, Citrix, Costco, Ebay, Facebook, F5 Networks, General Motors, Hewlett Packard Enterprise, Hewlett-Packard, Intel, Intuit, Juniper Networks, Lyft, MDU Resources, Merck & Co., Microsoft Corporation, Nvidia, Palo Alto Networks, PayPal, Salesforce, ServiceNow, Splunk Technology , Twitter, Uber
In light of this, we wrote an piece explaining why disclosing workforce demographics is the next, and most important step for actually achieving diversity and equality in Corporate America.
In addition to pushing for more EEO-1 data, we also looked at representation among Black and Brown employees at 17 of America's largest employers, to see who is actually leading on diversity, equity, and inclusion.
Lastly, we closed 2020 by taking a deeper look at how EEO-1 disclosures had evolved over the course of the year, revealing. few notable insights, including the fact that tech companies reveal far more about their demographics than nearly any other sector. 
Last year, we looked at the state of corporate disclosure across nine specific worker issues – from paid parental leave to pay equity to Diversity & Inclusion. All the issues we analyzed are critical for just business behavior – according to the American public – but our analysis on Diversity & Inclusion was particularly revealing. Of the 890 companies we evaluated, 86% disclosed having Diversity & Inclusion policies, but only 11% published measurable D&I targets – showing that corporate America has a ways to go in regards to taking and disclosing its actions to support more diverse workforces.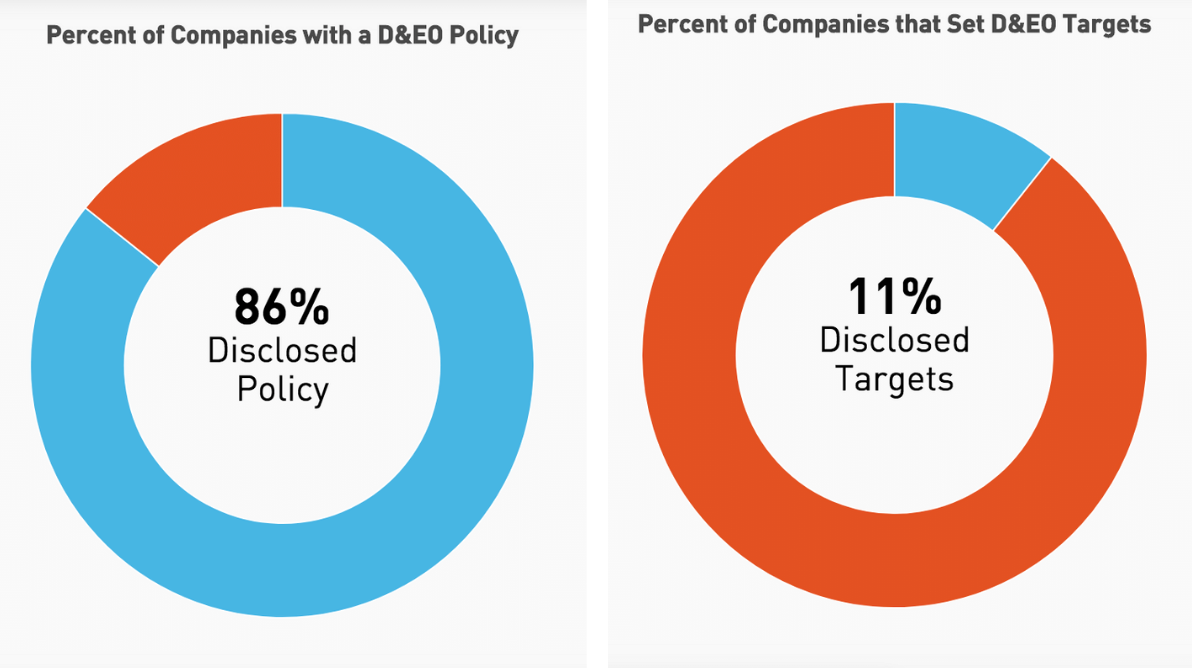 INTEL'S LEADERSHIP ON DIVERSITY, EQUITY, AND INCLUSION
In 2015, Intel announced a bold 2020 goal to reach full representation of women and underrepresented minorities in its U.S. workforce, and impressively, the company met that target two years ahead of schedule in 2018. 
The Catalytic Power of Transparency in Creating a Diverse Workforce
We spoke to Barbara Whye, the Chief Diversity Officer at Intel, to hear how the company achieved its audacious goal, and share what other corporate leaders can learn from their journey.
Our Quarterly JUST Call with Intel CEO Bob Swan
This Monday, June 8th, we'll be speaking with Intel's CEO on our latest JUST Quarterly Call, diving deep into their diversity policies, particularly in the wake of this past week. Sign up to join this timely conversation here.