Equal Pay for Women: Iceland's (almost) Got it, Why Don't We?
In March, legislation was introduced in Iceland's parliament that would require companies of 25 or more to prove that they pay all their employees equally, "regardless of gender, ethnicity, sexuality, or nationality." With a population of just 330,000 (fewer people than currently work at Amazon), the island nation has had progressive equal pay laws for many years, allowing them to steadily reduce but not eliminate the pay gap, which was 17% as of 2015. In an effort to close this gap within the next five years, Iceland became the first country to introduce legislation of this kind, which would obligate the country's largest companies to undergo regular audits of pay equity and obtain certificates of compliance.
Whereas Iceland ranks first in the world when it comes to gender pay equity, the United States ranks 28th, just behind Mozambique, Moldova, and Spain. Based on research from Glassdoor, men earn 24.1 percent higher base pay than women on average in the U.S. The Institute for Women's Policy Research notes that, in 2015, women working full time made 80 cents to the dollar earned by men, a gender wage gap of 20 percent. If the gap continues to shrink at the current rate, it will take 42 years (until 2059) for women to reach pay parity. For women of color, it will take even longer – Black women can expect equal pay in around 107 years and for Hispanic women, the wait will be roughly 230 years (about the same amount of time has passed since George Washington was our president).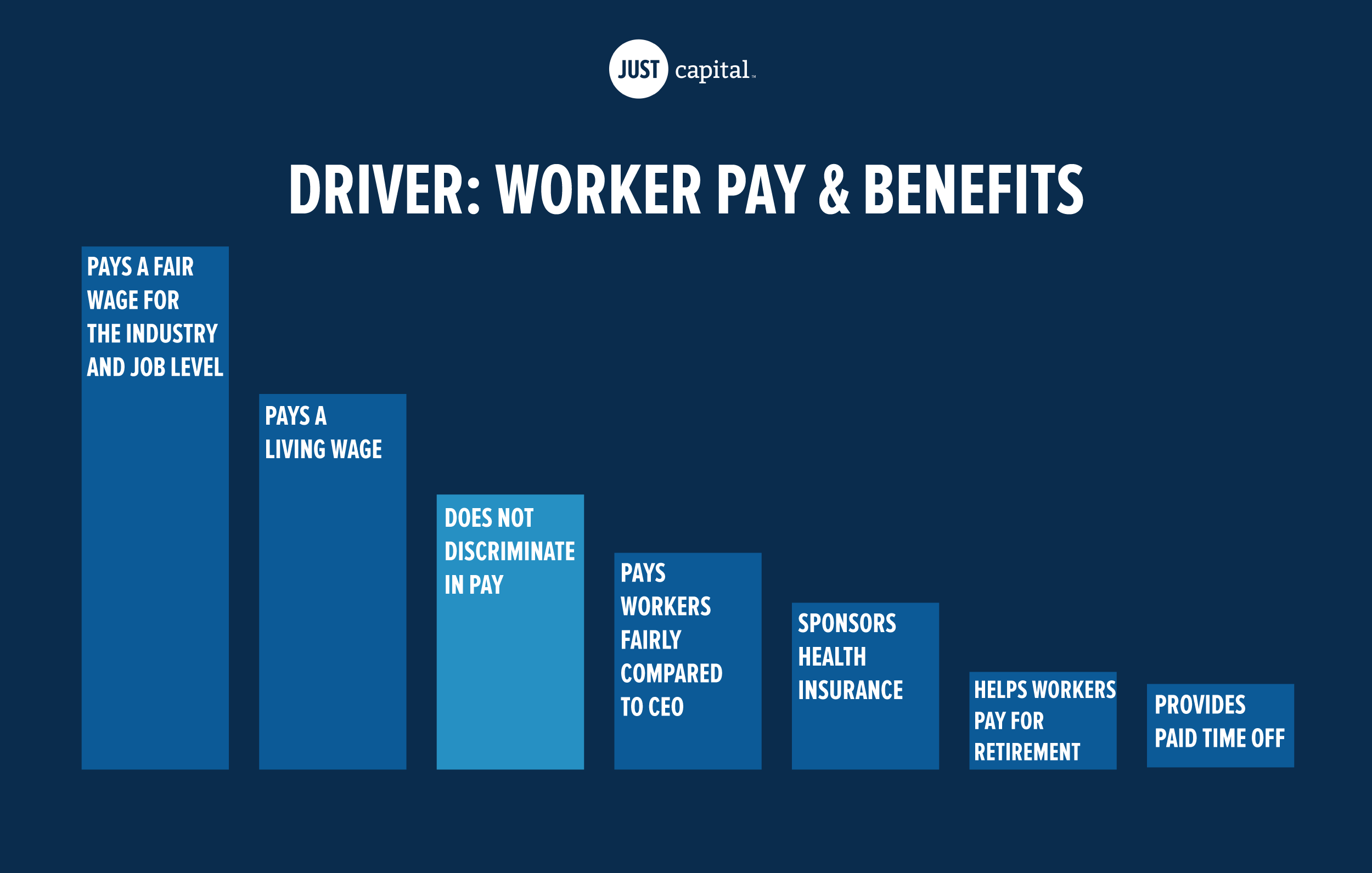 According to JUST Capital's survey of the American people, nothing matters more to them than how workers are paid – that they receive a fair and living wage, have access to health insurance and paid time off, and have assistance preparing for retirement. Gender pay equity was also identified as an essential part of measuring corporate JUSTness, with 89% of Americans agreeing that fair pay is defined, in part, as equal pay.
Out of the 897 companies JUST Capital ranked, only 51 have made public commitments to pay equity, and of those 51, only seven also provide structures for work/life balance – Accenture, CA Inc., Colgate-Palmolive, Intel, Jones Lang LaSalle, Microsoft, and Symantec.
These companies:
have made a commitment to gender pay equity, either in a public statement, by conducting a pay equity analysis, or by acceding to the White House Pay Pledge
have a policy to drive diversity and equal opportunity and have set targets or objectives to be achieved
state that they provide flexible working hours or working hours that promote a work/life balance
state that they provide day care services for their employees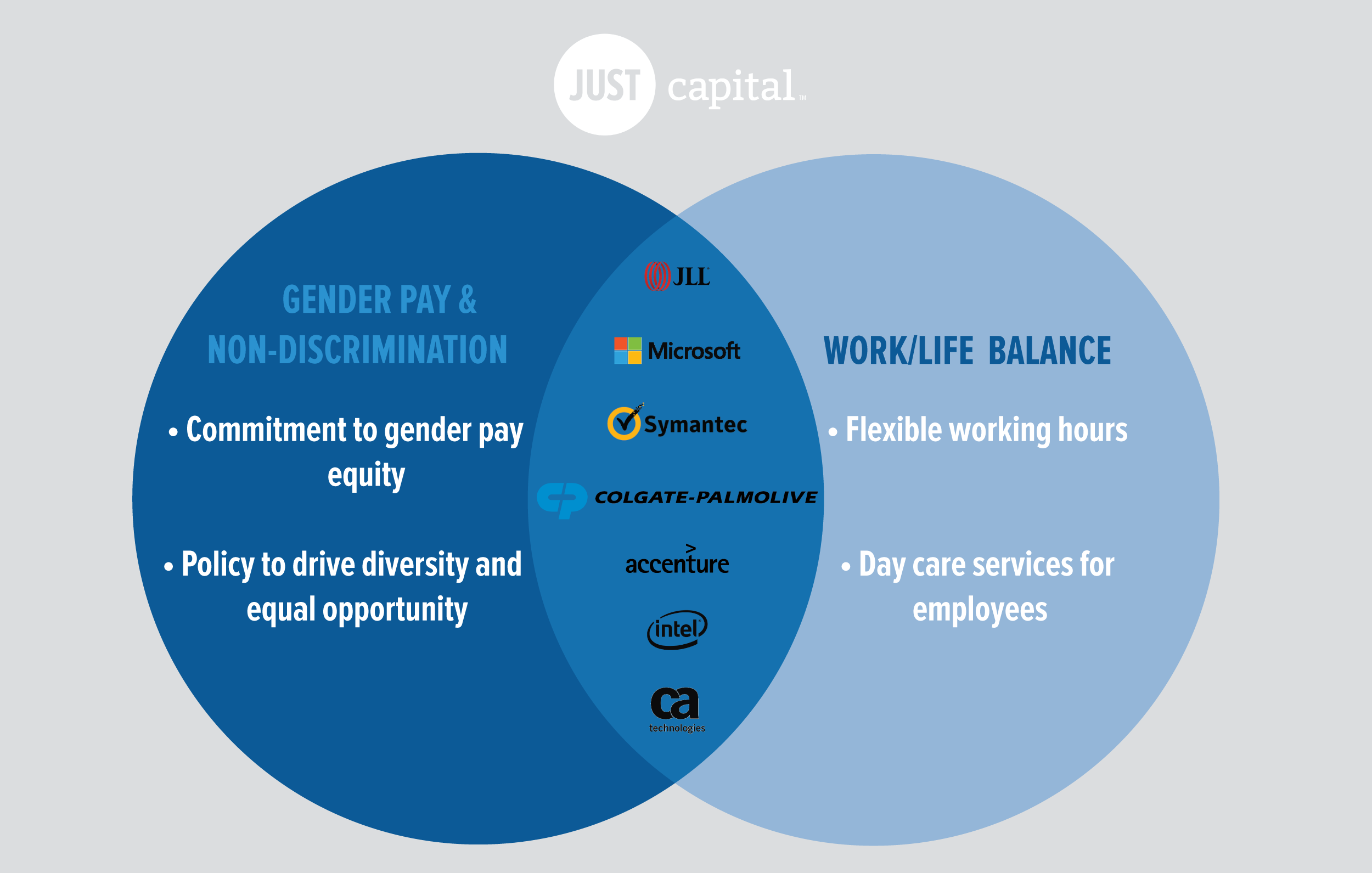 Additionally, the 51 companies that committed to gender pay equity generated a 12.5% return to investors, whereas the rest of the Russell 1000 returned 10.2%, suggesting that companies that pay women fairly can also earn strong returns for shareholders.
On Equal Pay Day, countries around the world observe the pay gap that remains between men and women. Even nations like Iceland, with progressive laws in equal pay, have a ways to go, and no doubt the world will be watching to see how its new landmark legislation will play out.
Back home, it remains to be seen how the current Administration will address this crucial issue. The removal of the Equal Pay Pledge from the White House website suggests that it may fall on the shoulders of companies, investors, and activist groups to seize the initiative. Which corporations will lead the charge on gender pay equity? In 2017, JUST Capital will continue to evaluate how corporations perform in their commitments to equal pay and work/life balance, and give the market the information it needs on this important topic. Hopefully, Americans will see the gender gap close swiftly, and women won't need to wait hundreds of years to be paid the same as men.
And if all else fails, Iceland sounds like a great place to live.
This piece was originally published on Forbes.com with the headline 'Taking The Lead On Equal Pay: Seven Companies That Pay Women Fairly.'