Equal Pay Is Something We Can All Agree On
On Monday, The White House announced that it would sideline a 2016 Obama-era executive action requiring large companies to report on employee pay by race, gender, and ethnicity, thrusting the issue of equal pay back into the limelight (if it ever left it). Is such reporting simply an ineffective burden on companies, or is greater transparency the first step toward measuring and ultimately closing the wage gaps that persist throughout Corporate America?
Regardless of how you might answer that question, one thing we know for sure is that of all the myriad things the public associates with just corporate behavior, non-discrimination in pay is universally at or toward the top of everyone's list. In JUST Capital's 2017 polling work, 71% of Americans said that just companies should not discriminate in pay, and 68% said that just companies should not discriminate in hiring, firing, and promotion. That cut across party affiliation too, with 72% of Democrats and 74% of Republicans agreeing that pay discrimination of any kind was a bad thing.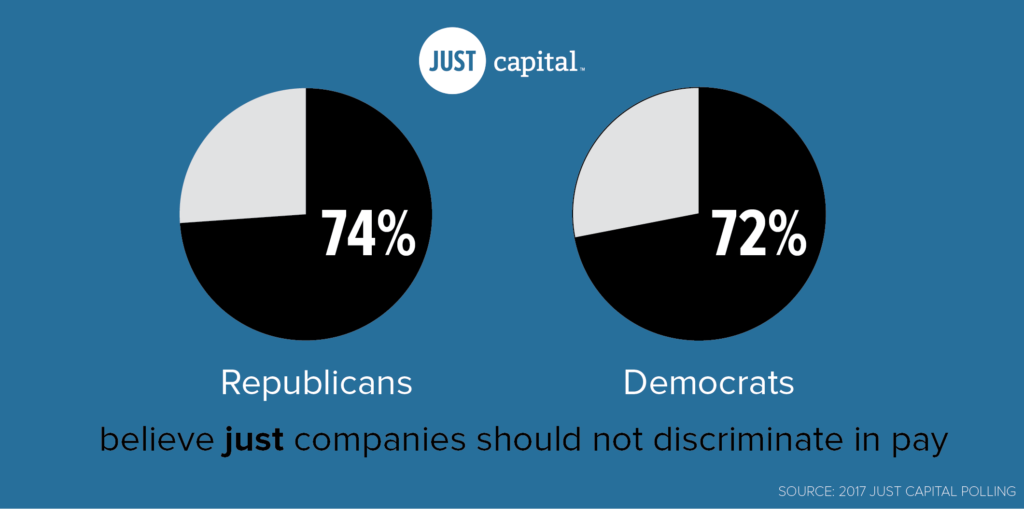 There's little doubt progress is needed. Of the 920 large, publicly-traded companies we reviewed this year, only 72 have a) made a commitment to conducting a pay equity analysis and b) established a policy to drive diversity and equal opportunity. And of those, just 17 have made the results of their gender pay equity analysis public: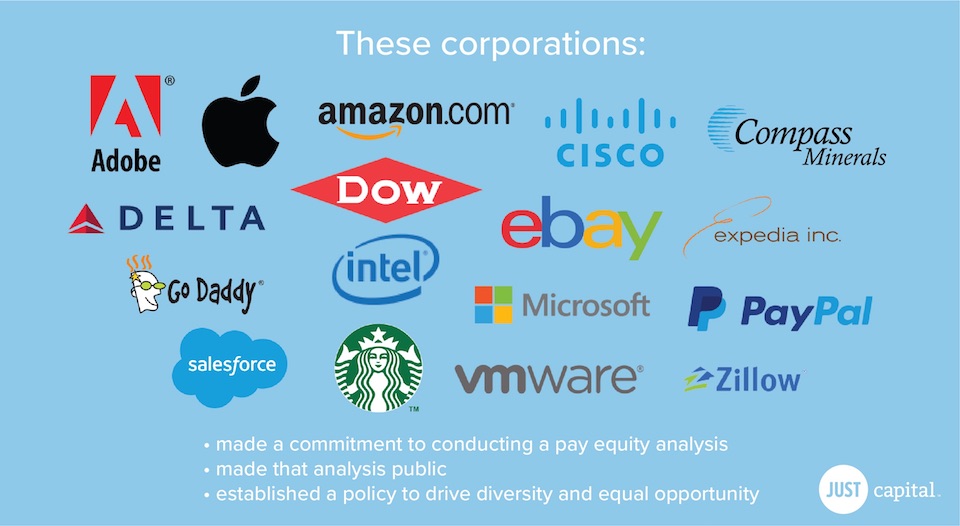 These companies have not only made a commitment to paying their employees equally, they have made their data transparent and findings public, as they investigate pay disparity among workers. As part of the CEO Action for Diversity and Inclusion, Cisco stated: "Two years ago, we decided to significantly expand our capabilities to help make sure that our inclusive intentions result in equitable pay decisions." The company found "a healthy and equitable compensation system with only minor disparities. A very small number of employees received pay adjustments – just over 1 percent globally."
Salesforce, as part of the 2016 White House Equal Pay Pledge (which has since disappeared without a trace from the White House website), said that it "is reinforcing [its] commitment to closing the gender wage gap." This April, the company issued an update that "eleven percent of employees received adjustments following [its] second assessment, and Salesforce spent approximately $3 million to address any unexplained differences in pay."
These companies should be lauded for their efforts. The issues aren't easy to tackle – they require us to take a hard look at history, where we are now and why, and what we need to do to make a change. It requires a cultural shift that's challenging and even painful for governments, corporate leaders, and employees alike. But it cannot be ignored. With so many Americans agreeing on this issue, and companies increasingly being held accountable for their actions on social matters, it makes sense for corporate leaders to seize the initiative.
JUST Capital will continue to track how companies perform on this and many other themes of importance to the American people. Our 2017 rankings will be released in early December with Forbes.