Explore the Differences in Disclosure Across the 300 Companies in Our COVID-19 Corporate Response Tracker
On June 9th JUST Capital launched an updated version of the COVID-19 Corporate Response Tracker, now featuring data for 300 of America's largest public employers (up from 100) across 20 dimensions of corporate action. Though the tracker grew by 200 companies, one of the most interesting trends we noticed was that overall rates of disclosure dropped in nearly every dimension.
To further unpack these shifts, we compared disclosure rates across the 20 dimensions between the original 100 largest and the newly added next 200 largest U.S. employers.*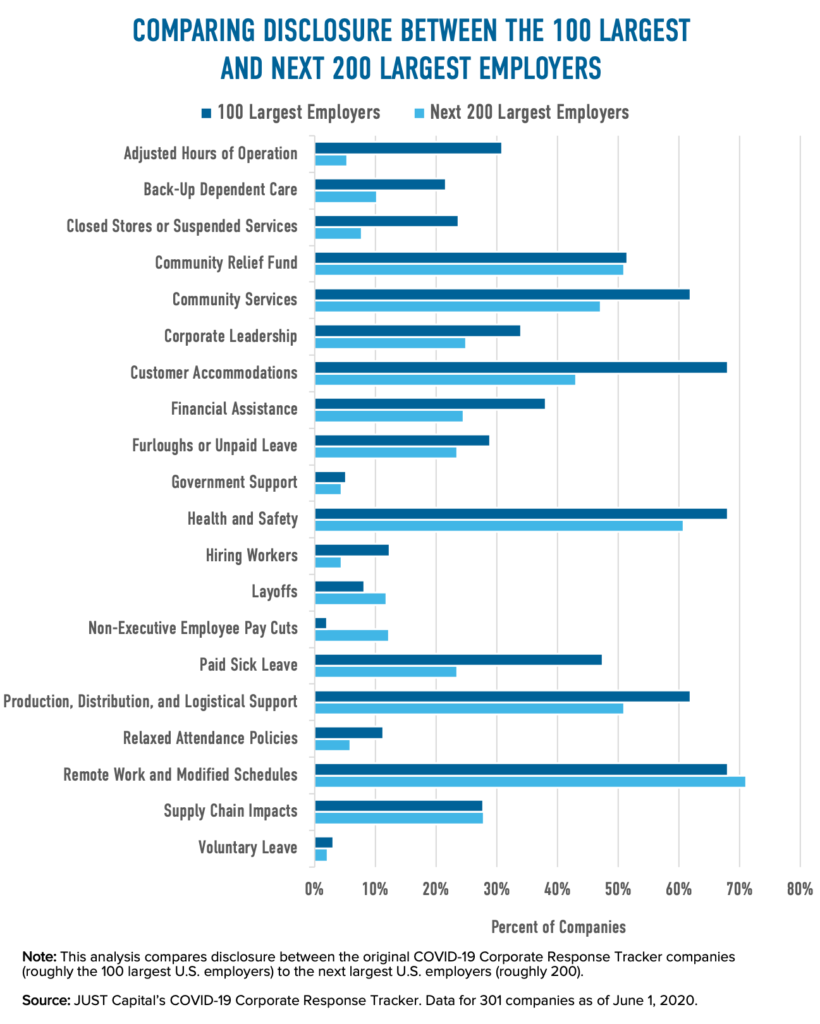 The findings are stark – larger employers appear to have a greater propensity to disclose positive actions in response to the pandemic, much as the top performers in our Rankings tend to be those with the most employees. For instance, the 100 largest employers are:
Close to six times more likely to have announced adjusting their hours of operation than the next 200 largest employers.
Twice as likely to provide additional backup care or paid time off to help working families deal with COVID-19-related disruptions in their typical care arrangements.
Three times as likely to announce plans to hire more workers to meet the increased demands due to COVID-19.
Twice as likely to announce expanding their paid sick leave policies or developing a new paid sick leave policy for workers who have contracted COVID-19 or are under quarantine for COVID-19.
1.6 times more likely to provide accommodations for their customers in the form of price cuts, payment deferrals, maintaining utilities or services in the case of non-payment, and providing additional services to vulnerable customers.
Conversely, the next 200 largest employers announce engaging in cost-cutting measures that disproportionately impact workers at a higher rate than their counterparts in the largest 100. The next 200 are 1.4 times more likely to lay off employees and 5.9 times more likely to cut pay for non-executive employees.
There are three notable exceptions. When it comes to donating cash to community relief efforts, enhancing health and safety protocols or providing workers with PPE, and permitting employees to work remotely (when possible) or modifying onsite work schedules, rates of disclosure are similar between the 100 largest and the next 200 largest U.S. employers.
So, what explains the differences in disclosure between the 100 largest and next 200 largest companies? One factor to consider is the date of collection. As time has passed since we first collected data in mid-March, some of the critical early measures that companies took to support their workers, customers, and communities – such as adjusted hours of operation, temporary store closures and service suspensions, and relaxed attendance policies – have phased out. It is possible that the newly added companies once took these actions and discontinued them as the pandemic progressed. A company's national visibility or brand presence may play a role, as well, as less visible companies (oftentimes smaller) may dedicate fewer resources toward disclosing their actions. Yet another explanation for lower disclosure rates among the next 200 largest companies could be related to industry or business operations (e.g. there is a greater proportion of B-to-C companies among the 100 largest), and, relatedly, impacts on financial performance.
Most likely, a combination of these factors drive the discrepancies in disclosure between the 100 largest and next 201 largest companies. And as we enter the reopening phase of the COVID-19 crisis, we are likely to see companies continue to shift how they're responding. We are continuing to track what businesses are doing – stay tuned for more updates and analysis in our Corporate Response Tracker and the 2021 Rankings this Fall.
*Note: In this piece, we use short-hand language to describe the "100," "next 200," and "300" largest U.S. employers. The Corporate Response Tracker, however, includes a total of 301 companies: 97 companies are part of the initial tracker, while 204 have been added during the tracker expansion. The rounded values help simplify discussion of the Tracker.