How Should Companies Support Their Communities During the COVID-19 Crisis?
Last week, we launched a new initiative as part of our efforts to bring clarity to corporate responses to the coronavirus crisis – an ongoing omnibus survey that aims to pinpoint how Americans believe companies should act, as well as how they perceive responses today.
This week, we asked a series of questions targeting how the public thinks about community impacts – and found that nine out of 10 Americans surveyed expect companies to engage in some kind of community support during the COVID-19 crisis.
As part of our COVID-19 Corporate Response Tracker, we've been tracking what actions America's 100 largest employers have taken to support communities – from shifting production to manufacture ventilators and protective gear for medical personnel, to giving software to schools for remote learning. In this week's survey, we asked the public whether they want companies to support the communities they impact, as well as to prioritize which specific actions should be taken during the crisis.
Here are three new insights from our second week of surveying the public:
1. The majority of Americans polled want companies to support their communities during the COVID-19 crisis.
Nine out of 10 survey respondents expect companies to engage in some kind of community support during the COVID-19 crisis.

We asked respondents to identify what they believe are the two most effective actions – out of seven presented – companies can take to support their communities. Of the options presented, respondents said it was most important that companies:

Help manufacture, acquire, and distribute medical supplies (43%); and 

Obtain protective equipment gear for frontline workers (42%).

Respondents aged 35-44 are less likely to prioritize the manufacture and distribution of medical supplies, assigning greater priority to actions supporting housing stability and school supplies compared to those aged 45 or higher. 
For a full breakdown of responses, and options presented, see our methodology here.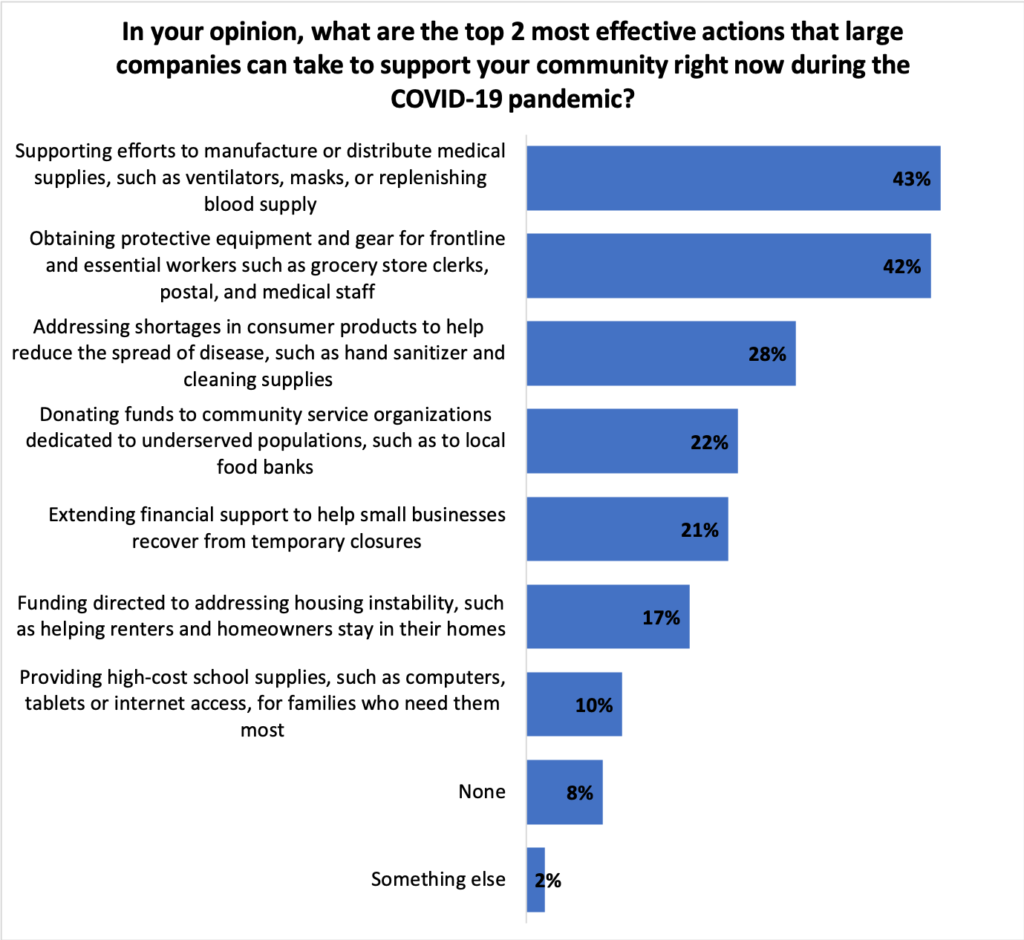 2. Whether or not companies are currently experiencing financial distress, people still expect them to support their communities during the pandemic.
We split survey respondents into two groups and asked them:

How they think companies experiencing the most financial distress (like hotels and airlines) should support their communities.

How they think companies across the board should support their communities.

There is no significant difference in how people believe companies should respond – regardless of whether they are in financial distress. Both groups of respondents want to see companies prioritize efforts that support the medical community and frontline workers by providing equipment and supplies related to slowing the spread of COVID-19.
3. For the second week, the public remains divided in how they believe corporations are responding to the crisis.
This week, half (50%) of survey respondents believe that large companies are demonstrating leadership in their actions, while the other half (50%) believe large companies need to do more to step up to prioritize the health, safety, and security of their workforce. 

These results were identical to those we found in our first week of this omnibus survey – suggesting that Americans remain uncertain in their perspective on corporate America's response. 

This is an ongoing opportunity for companies to demonstrate to Americans that there is a meaningful role for the private sector in helping society through this public health crisis.
We will be continuing to build upon this survey effort – along with our ongoing Corporate Response Tracker – in the coming weeks. To download the topline survey results and methodology, click here, and stay tuned for our ongoing updates. 
This survey was conducted online within the United States by The Harris Poll on behalf of JUST Capital between March 31 and April 1, 2020 among 1,056 U.S. adults ages 18 and older. This online survey is not based on a probability sample and therefore no estimate of theoretical sampling error can be calculated. For complete research methodology, including weighting variables and subgroup sample sizes, please contact Jill Mizell, Director of Survey Research.