PepsiCo's Head of Comms and the Former CEO of Best Buy Discuss How the War in Ukraine Is Testing Corporate Values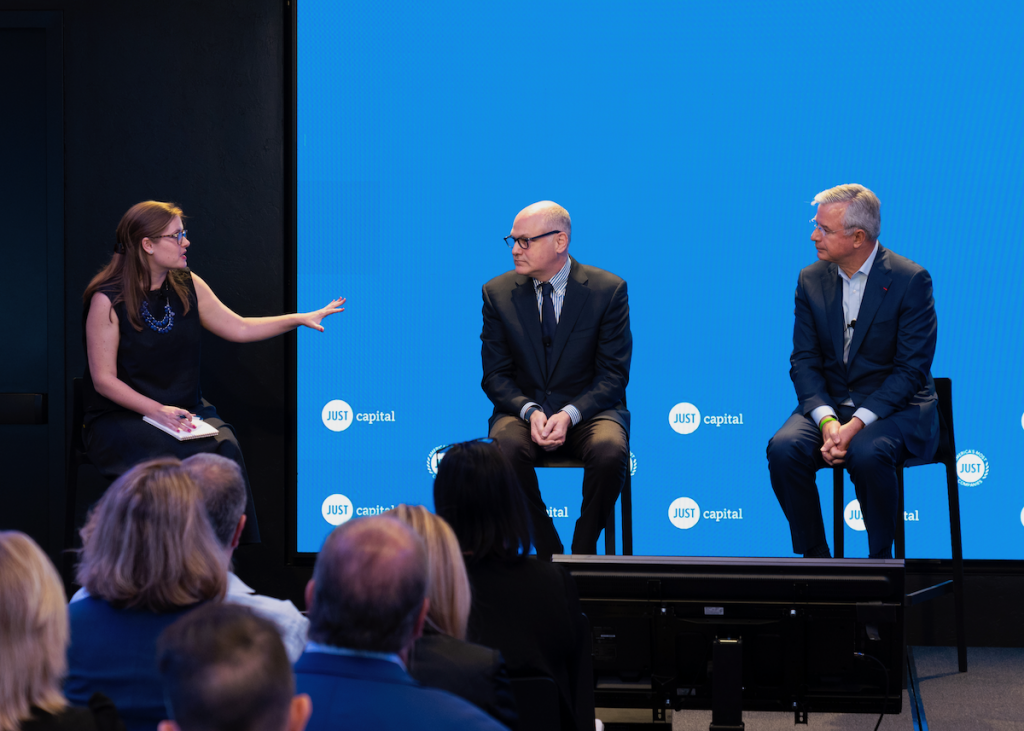 Corporate America has played a defining role in responding to the crises of the last two years – whether protecting workers' safety at the onset of the pandemic or addressing racial inequities in the workplace. JUST polling has shown that the public continues to look to corporations for leadership on these and other environmental, social, and governance (ESG) issues. But, as the war in Ukraine has highlighted, there's no clear model for how companies should step up in these moments.
"The job of CEOs and leaders has become increasingly difficult, right? Because it's a series of one crisis after the other with no playbook," Hubert Joly, former CEO of Best Buy and JUST Capital Advisor said on how corporate leaders navigate these challenges at our event held Monday at Nasdaq, "The Strategic Imperative of the 'S' of ESG." Joly was joined by PepsiCo EVP of Communications and PepsiCo Foundation President, Jon Banner, for a conversation on moving from commitment to action on ESG priorities.
Banner, who just returned from a trip to Poland around PepsiCo's war relief efforts, and Joly, who authored the book "The Heart of Business" on his leadership philosophy, sat down with JUST Chief Strategy Officer Alison Omens to share how they've translated values into real action, with the outcomes to prove it. Read on for key takeaways and watch the full conversation below.
Show, don't tell
For PepsiCo, taking action on the company's ESG agenda, PepsiCo Positive, has centered around "story-doing" instead of storytelling, Banner said. The company is focused on showing proof positive that it's making progress on these goals, he said. That focus on story-doing has informed PepsiCo's actions in response to the pandemic and, now, to the war in Ukraine. 
"We spent close to a billion dollars to protect our workforce in the first year of COVID. It was a big investment, but we knew that unless we protected them and took steps to protect them, we didn't have a company to run," Banner said. In response to the war in Ukraine, the company is dedicated to protecting its 3,100 employees in the country – housing about a third of them, and their families, in its office in Warsaw. PepsiCo's Warsaw office is now referred to as the "Warsaw hotel," he said, and is equipped with 150 beds, washing machines, and a kitchen.  
While the goal has first and foremost been the safety of its employees, PepsiCo's also seen a unifying response from its actions. "The reality is there are, when you talk about story-doing, there are stories that coalesce the public in which there is so much divisiveness and hyper-partisanship, not just in this country, but there are certain stories that connect us on a human level. And that's sort of what story-doing is all about," Banner said.   
Look at crises as a test of values 
Through the ongoing crisis in Ukraine, PepsiCo's internal values are coming into play every single day, Banner said, and they reach into "every nook and cranny of the business," including its factories' walls. For him, living out those values puts a high bar and responsibility on leadership to embody them, particularly through crises like the pandemic or the war. 
Joly echoed this sentiment, bringing up Best Buy's immediate response to the onset of the pandemic. The company shut down stores to protect the safety of its workers and customers and while this meant a significant revenue hit, the board didn't question it, Joly, who served as Best Buy's board chair at the time, said. As the pandemic evolved, so did Best Buy's response, continually guided by its values, he said. He raised the company's partnership to expand broadband access in parts of rural Minnesota as one example.
"As leaders, when we go through a crisis, what do we go back to? We go back to our purpose. We go back to our values. We go back to understanding who are our stakeholders, and what good we can do for our stakeholders," Joly said.  
Measure outcomes, not necessarily actions 
Omens raised the question of how best to measure or place value on these, in many cases, anecdotal ways companies are stepping up in times of crisis. For both Banner and Joly, the answer is not as straightforward. Banner, in particular, thinks that outcomes, instead of actions, are a better way of measuring how a company is living its values.
"I think when you look at what's going on in Ukraine, when you looked at what certain companies did during COVID and certain companies did not, that wasn't something you could measure. You could probably measure the outcome," he said. In the case of war in Ukraine, PepsiCo has onboarded a dozen of its employees that have fled the country into new jobs in its Romanian operation. To Banner, that outcome of a dozen individuals with access to work is the measure of PepsiCo's values in action.
Joly agreed and, on Ukraine, he thinks companies are being judged for their actions in a "naive" way, based solely on how quickly they are moving away from Russia. He contrasted the business of an oil and gas company, which may directly fund the Russian war efforts, to the business of Johnson & Johnson, a company where he and JUST board member Mark Weinberger sit on the board. "If you're a pharmaceutical company. You're not God, right? You don't get to decide who's going to die versus not die," he said. 
Joly also raised the importance of this nuance when it comes to looking at the materiality of ESG issues. "98% of questions that are asked as 'either-or' are better answered as 'and,'" he said. He sees the role of business leaders as navigating this need to marry the short and long term, and not continue to operate as if people and profit are two separate entities. This is "the only way to run a business," to him and he has future generations in mind with this outlook.  
"I know in 10 years from now, 15 years from now, they're going to ask me, 'Happy, you knew right, the state of the world, you did know? What did you do?'," he said, referring to his three granddaughters. "Not, 'did you solve everything?' but 'did you do your best?' 'How did you behave?' For me, that's an important measure."