P&G's Head of Communications and Advocacy Shares Insights from Navigating His Company's Commitment to Racial Equity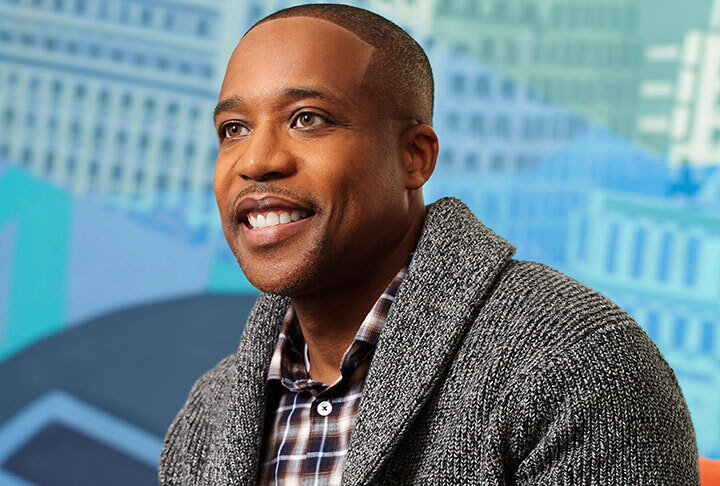 Damon Jones, Procter & Gamble's Chief Communications Officer (P&G) 
Procter & Gamble's Chief Communications Officer, Damon Jones, is marking one year of stepping into what he calls a "battlefield promotion." Jones, a 24-year veteran of P&G, took over as the company's Chief Communications Officer last April at the height of the COVID-19 pandemic – and soon found his responsibility for its advocacy portfolio even more relevant.
"There are the immediate health and safety concerns, but there's also layers of that, particularly when we see inequities that exist, how do we engage and how do we engage constructively?," Jones said in an interview with JUST this week. That question is one the Cincinnati, Ohio-based consumer goods giant has spent the past year answering, accentuated even further by the country's reckoning with racial injustice following the death of George Floyd.
P&G is one of the standout companies among the 100 largest U.S. public companies, by workforce size, we've captured in our new Corporate Racial Equity Tracker. The company has at least one disclosure addressing all six dimensions of racial equity we're tracking, and ranked first in its industry for its diversity, equity, and inclusion (DEI) policies in the 2021 Rankings of America's Most JUST Companies.
P&G earned this spot given the number of DEI policies it's implemented for its over 47,330 U.S. employees. And after its shareholders pushed P&G to go further on DEI transparency last year, the company disclosed more information. As we continue to monitor how corporate America's advancing racial equity, we wanted to hear from Jones on the approach P&G's taken.
This week, we saw CEOs again weighing in on the voting rights debate with hundreds of executives signing an open letter to decry "discriminatory legislation," and while P&G did not sign it, the company released its own statement. Our polling shows that a majority of Americans increasingly expect corporate leaders to speak out on critical social issues on issues like this one. How they can do so without diving into partisan politics, however, remains a challenge.
"You have to go back to what are your core fundamental principles," Jones said on how P&G's chosen to respond. "And we're not going to let other people speak for us, we're going to speak for ourselves." He doesn't see P&G's response as a political one per se, but one that aligns with its core values as "equality infiltrates every part of how we operate the company."
Jones shared more with JUST on what he's learned from P&G's journey to align its core business strategy with its advocacy work, and how those insights could benefit other leaders.
Use your influence to drive change at scale
One of the latest ways P&G is putting its values into action on DEI is through its "Widen The Screen" initiative. An industry titan with a $347 billion market cap, P&G has "an outsized impact on the industry as one of the world's largest marketers," Jones noted. And the company's built on that over the years to produce campaigns that combat racial bias. "Widen The Screen" takes this commitment further with the company investing in Black creators across the advertising, film, and television industries.
"Widen The Screen" doesn't exist in a vacuum though, Jones stressed. P&G's DEI strategy sits across four pillars: its employees, brands, business partners, and communities. And it's this holistic approach, grounded in consistent core values and messaging Jones said, that allows the company's DEI work to sit with everyone at the company.
"It's not just enough to say, 'We value diversity, so let me go off and recruit at HBCUs' – I need to do all of these things and they become mutually reinforcing," Jones said. "There are things that we learned if we only looked at it from an employee standpoint, we would miss out on a ton of opportunities. And so I just think that integrated nature of the strategy makes it the job of everyone at the company and it just further hardwires it into the DNA."
Embrace the business case for DEI  
The benefits of P&G's holistic DEI strategy, Jones said, are also a boost to its competitiveness as a company. "It's not diversity for the sake of numbers. It's inclusion linked to outcomes," he said. While research around the business case for DEI is not new, and often cited by executives, Jones thinks there's still "work to be done in being very clear on the linkage to the bottom line when it comes to equality."
P&G has demonstrated that it can keep shareholders happy while investing in its advocacy marketing and DEI work, and Jones said these initiatives also have benefits on brand equity scores, as well as talent recruitment and retention.
"Equality does have a material impact on consumers, on consumer spending, on the health of the economy. I mean, frankly, the fact that our country is as divided as it is, is bad for the economy," he said.
As we see a swell of investor interest in DEI heading into proxy season, Jones made the point that for companies it's not just about doing the right thing anymore. It's a shareholder priority. "If you don't care about the social good aspect of this, you do care as a shareholder," he said.
Focus on progress, not perfection 
When it comes to the business case, Jones doesn't think companies need to have a clear projection of how DEI will affect their bottom line. Rather, to him, it's again about determining and focusing on core values to drive action. "Can I sit here today and predict everything that's going to happen … five years from now?," he said. "No, but we believe, and we've seen the evidence that our brands that can speak to all consumers and can speak responsibly on those issues, do they have higher market share than brands that don't? The answer's yes."
The same can be said, to Jones, for how corporate leaders choose to speak out. If companies have a set of clear core values, it's not about having a perfect plan in place, but about taking first steps. "My desire is that companies and everyone focus less on the perfect statement and more on actions that bring everyone together and enable all people to have access," Jones said.
He sees P&G's ability to engage without having all the answers as key to its progress and evolution on DEI and noted that as long as there's alignment and agreement on key values and objectives, companies should be taking a stand. "If the objective was a hundred percent agreement, no one would do anything."
The standout companies like P&G in our Corporate Racial Equity Tracker are those that are leading with transparency. For each company stepping up on DEI "is going to look and feel different," Jones said, making transparency even more important.
As Jones marks a year on the job – and the country comes up on a year since the start of our ongoing reckoning with racial injustice – Americans are looking to companies to do more to advance racial equity. This moment, to him, is different and that leaves him feeling hopeful, "The discussion has shifted from 'if' and 'when' to 'how.' And that to me is a marker of success."