Survey: Americans Want to See Business and Government Work Together
If there's one thing that has emerged after the events of the last week, it's the clear need for healing and leadership across society. It aligns with the priorities we continue to hear from the American people, who, in our latest poll conducted in late December, say that business and government have a collective responsibility in tackling the critical issues of our time.
In an effort to understand whether there is bipartisan support for collaboration between business and government, we asked Americans whether they think the federal government or the private sector should play the primary role in addressing issues from racial inequality to public health to climate. Most respondents said they believe that they should work together. Specifically, 50% or more believe that business and government should join forces to address racial inequality, business/jobs recovery, climate crisis, economic inequality, and the public health crises, far outweighing those who think either the federal government or private sector are primarily responsible to drive change on the issues.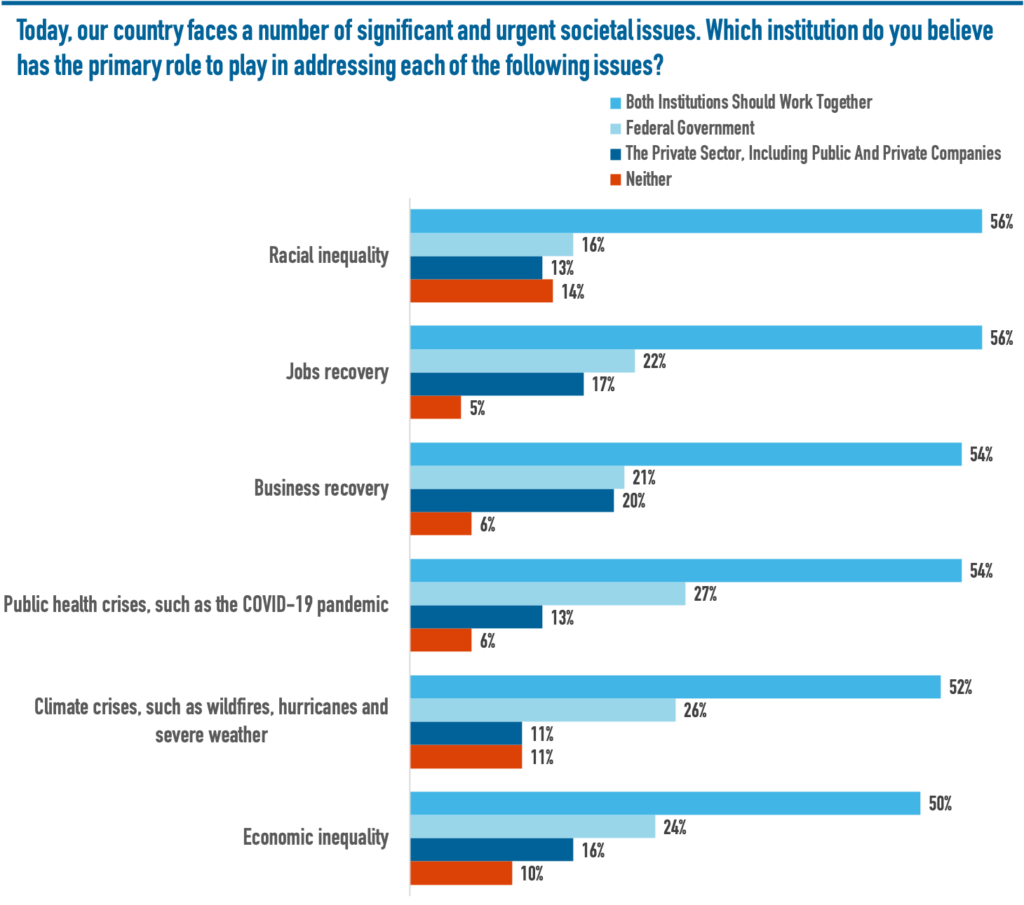 When looking at these issues, there is clear agreement across partisan lines that collaboration between business and government is needed, suggesting that there is rich opportunity to work together across the aisle in elevating shared values and identifying solutions. To wit: Majorities or pluralities of both Republicans and Democrats agree that the federal government and the private sector should work together to address society's most pressing issues, including racial inequality (52% of Republicans and 59% of Democrats), jobs recovery (55% of Republicans and 57% of Democrats), and public health crises such as the COVID-19 pandemic (54% of Republicans and 49% of Democrats).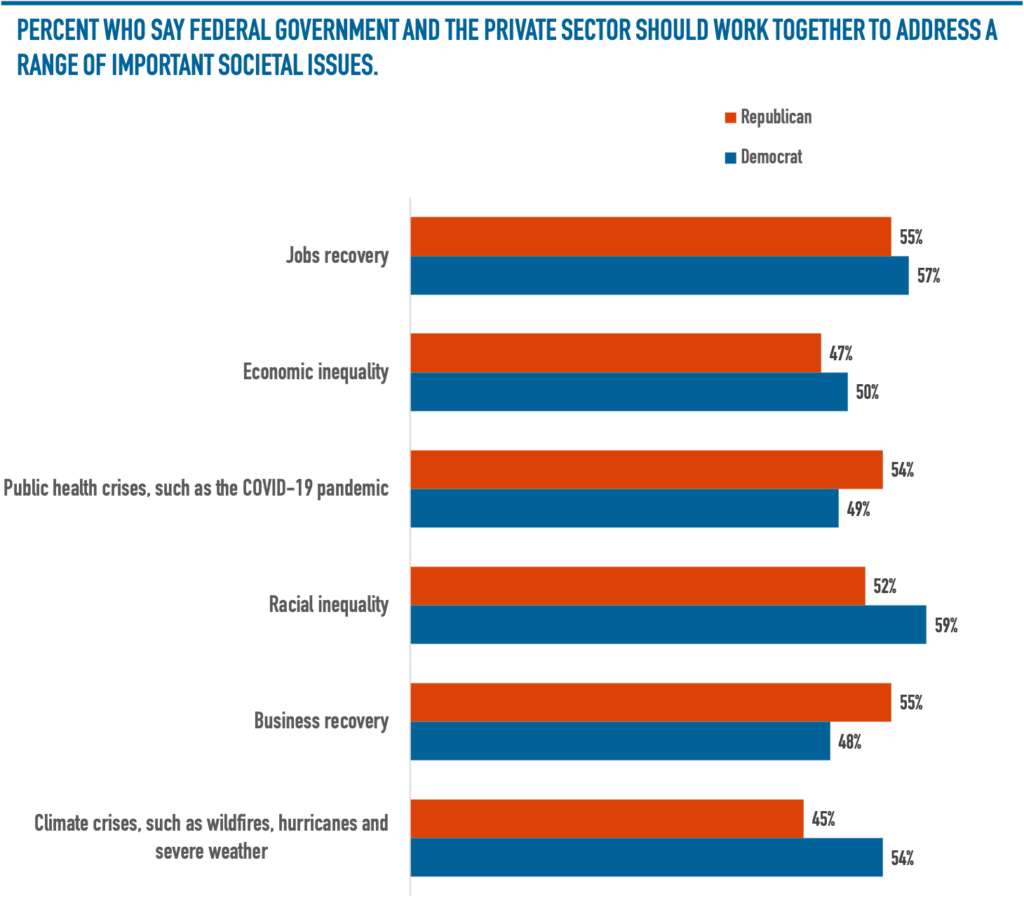 We see similar alignment on the issues we capture in our annual survey. In our 2020 Report, we found that liberal and conservative Americans align on the top eight priorities for stakeholder capitalism – in particular, Americans from different ideological backgrounds agree that companies must prioritize their workers. Overall, fair pay and livable wages for workers is the top priority – it sits at the top of the list for conservatives and at the #2 spot for liberals (who say that basic human rights across a company's supply chain is their top priority) – and ethical leadership is #4 on the list for both conservatives and liberals. Among the top eight priorities, liberals put slightly more emphasis on issues of human rights and workplace diversity, while conservatives put slightly more emphasis on job creation and workforce investment.
America's largest companies have a role to play in helping to heal the country's divisions and to create an economy that works for all. The public agrees that businesses can do this by lifting up workers – providing a fair and living wage, job opportunity and stability, and an inclusive workplace – and want to see the private and public sectors work together to address the country's most urgent social and economic challenges. 2021 can still be a year of great promise, and the business community can lead the way, starting with ensuring the financial wellness of all their workers, advancing racial equity in the workplace, and by actively engaging with government leaders to identify and implement solutions to some of the country's greatest challenges.