The JUST Report: AI, Global Business, And The Future Of Humankind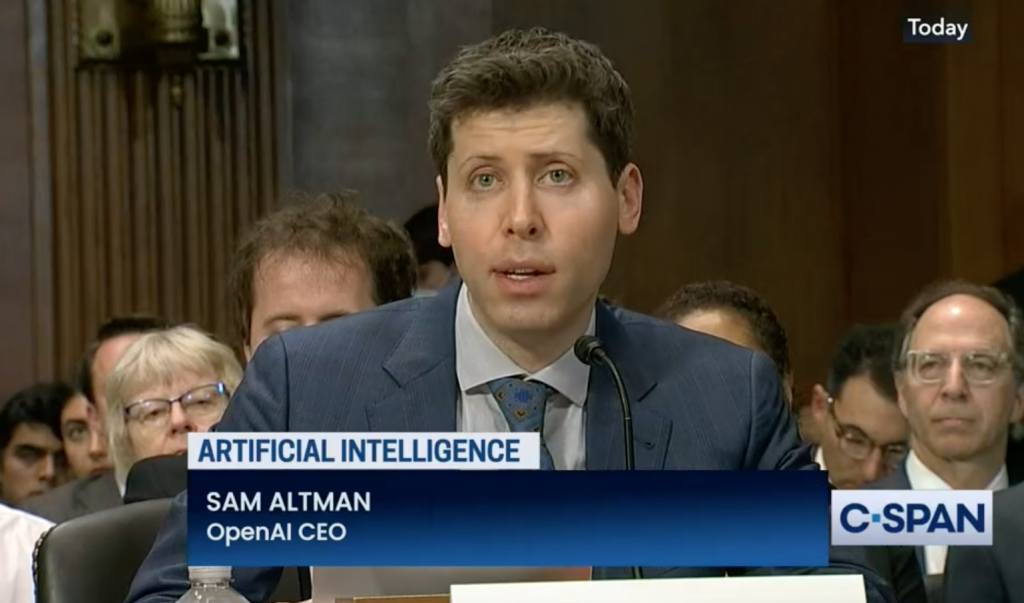 A "printing press moment" is how Sam Altman, CEO of OpenAI, framed the advent of artificial intelligence (AI) in his Senate testimony on Tuesday.
It's a profound insight. Gutenberg's printing press changed the course of human history, accelerating the European Renaissance, sparking the Reformation, fomenting revolution, transforming the trajectory of scientific, technological, and human advancement, and democratizing access to information, knowledge, opinion, and reasoning in ways that weren't seen again for another 500 years.
Business leaders like Microsoft's Satya Nadella, Elon Musk, Bill Gates, Reid Hoffman, and others have spoken of AI's potential benefits: advancing medical and educational breakthroughs, expanding the global economy, creating climate change solutions, and changing the way people work. JUST Capital Co-founder and Chair Paul Tudor Jones spoke of AI's productivity gains to the American economy this week on CNBC, saying it would create "huge winners and huge losers" in the market.
Equally powerful are the warnings of potential negative impacts, along with the calls to pause the development of AI models and – this week especially – for government oversight to protect society from potential risks. "My worst fear is we cause significant harm to the world," Altman said.
Government undoubtedly has a key role to play in overseeing and setting guidelines around AI, but what of market forces? How might they also be harnessed to influence behavior?
Recent KPMG research found that 72% of executives think that generative AI can play a critical role in building and maintaining stakeholder trust. Can just and unjust use of AI toward key corporate stakeholders – shareholders, consumers, workers, communities, and the environment – be identified, called out, and used to reward and/or punish companies in the marketplace?
We're on it.
Be well,
Martin
JUST Rankings Spotlight
In the midst of proxy season, this week we are highlighting companies that tie executive compensation to their performance on ESG metrics, including carbon reduction, DEI advancement, workplace safety, and more.
JUST In The News
CNBC's Julia Boorstin reports on our Top Companies Supporting Working Moms in an on-air segment, and Andrew Ross Sorkin sits down with JUST Capital board chair Paul Tudor Jones for an interview on the economy, AI, JUST data, Robin Hood, and more.
JUST joins The Ford Foundation's Future of Work(ers) Initiative, Center for Democracy and Technology, Institute for the Future, Good Jobs Institute, Partnership on AI, PolicyLink, and TechEquity Collaborative to support the launch of "Listen to Lead: Raise Retention and Boost Business," a guide that helps C-suite and management leaders uplift workers' voices to positively impact both employee experience and the bottom line.
JUST Capital's Alison Omens and Molly Stutzman speak to CNBC for a story on the growing business belief that CEO compensation should be tied to ESG metrics. Nearly half of Russell 1000 companies use ESG-related key indicators as a factor in determining C-suite pay.
Entrepreneur features JUST research on the number of companies disclosing gender pay gap data in an article titled, "How to Close Your Wage Gap and Open Equity at Work."
The BBC quotes JUST Capital CEO Martin Whittaker on how companies are reacting to current political pressures.
QUOTE OF THE WEEK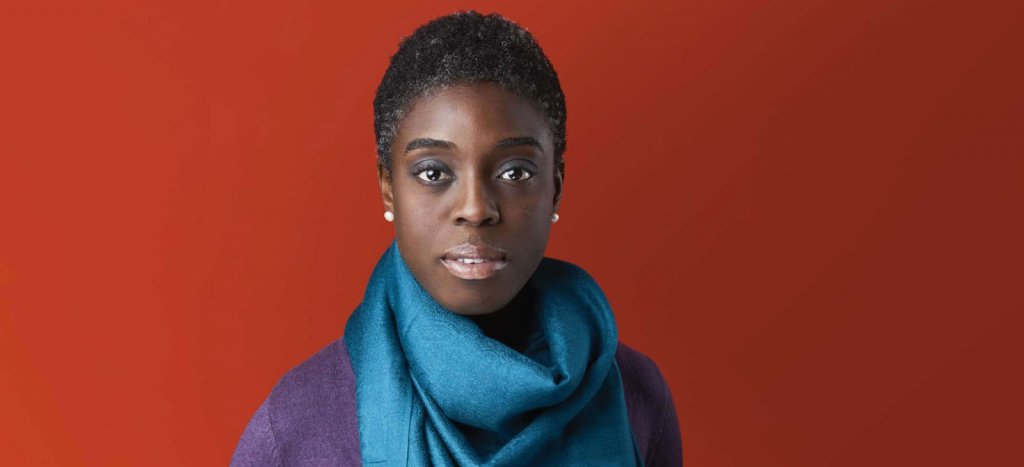 (Ford Foundation)
"Employees are a corporation's most valuable asset. Step by step, the guide helps companies incorporate employee feedback in corporate decision making, leading to a more engaged workforce and smarter business operations. Together with corporate leaders, we can strengthen the link between good work environments and business outcomes, supporting a more inclusive and resilient economy."
– Ritse Erumi, Program Officer, Future of Work(ers) program at The Ford Foundation on the release of the corporate guide, "Listen to Lead: Raise Retention and Boost Business."
JUST AI 
The Wall Street Journal asks leading AI minds to offer their perspectives on how the new technology will change the modern workplace.
McKinsey shares a report on what every CEO should know about generative AI. The value creation case is complicated, the report says, and America's leaders will need to weigh risks and rewards before forging a path forward.
Microsoft argues that the pace of work is already outstripping productivity and generative AI could be the answer to restoring a healthy balance.
MUST READS OF THE WEEK
Axios releases a first-look report from the Edelman Trust Barometer that finds more than half of employees will not work for a company that fails to speak out against racial injustice.
A new Fortune piece explores the costs associated with letting staff go and offers up ways of rethinking how to save money, including introducing the four-day workweek.
Worker happiness is on the rise in America. The Wall Street Journal highlights new data from the Conference Board that shows 62.3% of Americans were happy with their jobs last year. Of the 26 job elements considered in the poll, the biggest increases in workers' happiness came from work-life balance and workload.
In the age of evolving company benefits, some firms are exploring the possibility of offering affordable housing to their employees. Charter reports on the growing interest in employer-sponsored housing and what that might mean for the nature of American work.
Railroad workers across the country are seeing their benefits reduced this week, with the end of pandemic aid that paused cuts to sick pay and unemployment affecting 150,000 union workers. The Washington Post has the story.
CHART OF THE WEEK: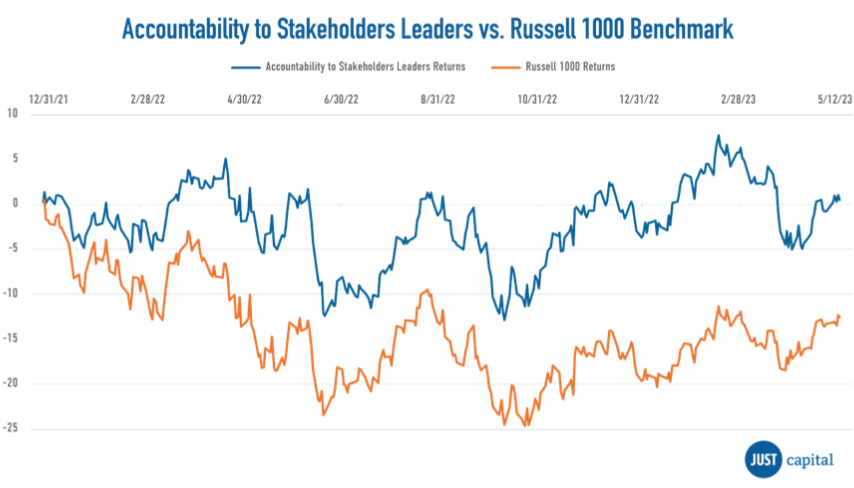 The Accountability to Stakeholders Leaders index concept features the top 20% of Russell 1000 companies in JUST's annual Rankings that prioritize accountability to all stakeholders. The second most highly performing index concept, the Accountability to Stakeholders Leaders highlights the financial performance and impact of investing in companies that prioritize good governance with diverse, independent boards that oversee corporate performance on key environmental, health, safety, and social matters. From inception on December 31, 2021 through May 12, 2023, the concept has outperformed its Russell 1000 benchmark by 10.75%.