The JUST Report: Building Bridges on the Stakeholder Approach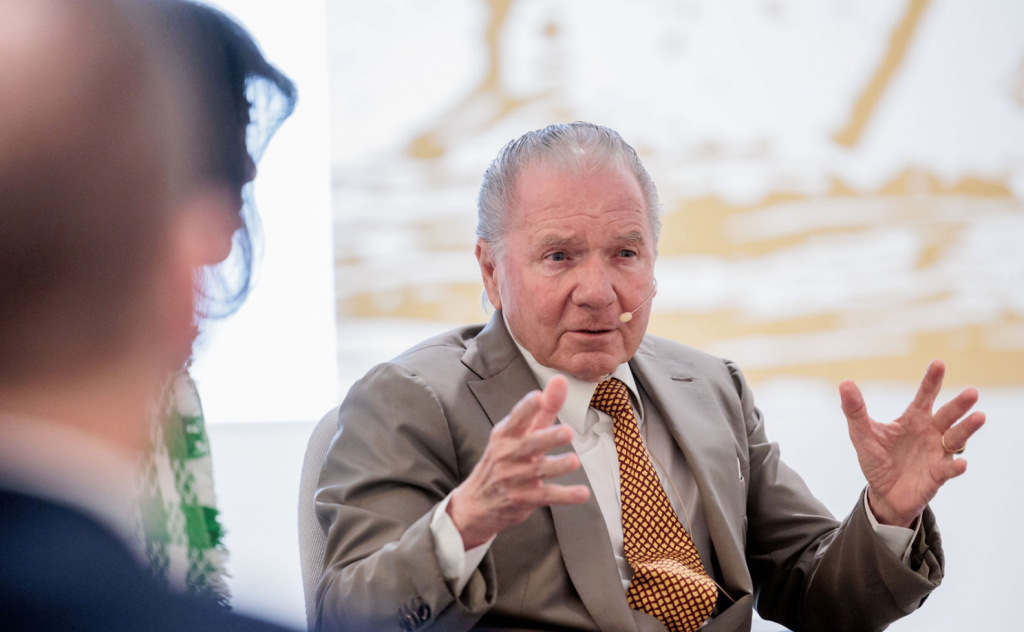 One of the most striking things about the disagreements I see around the stakeholder model is that the protagonists frequently agree with the basic idea that creating value for and investing in a company's stakeholders is the best way to build and run a great business.
Speaking at our event on the future of capitalism in West Palm Beach last week, Thomas Peterffy, founder and chairman of Interactive Brokers, expressed deep skepticism about stakeholder capitalism before making the point that if a company doesn't take care of its workers, then its consumers and shareholders will suffer. Ken Langone, a staunch critic of ESG and the stakeholder approach, is a champion of investing in employees, including giving them ownership interests in the companies he's been involved with (Home Depot, most notably). A new case study from the MIT Sloan School of Management on PayPal, conversely an ardent supporter of stakeholder capitalism, centers this in its overall business strategy.
And I'm pretty sure that as he builds the asset manager Strive, Vivek Ramaswamy – perhaps the fiercest critic of all things ESG, stakeholder, and "woke" – is going to be looking to do right by his employees, pay them fairly, and provide good benefits.
My point is I think there's more we agree on than meets the eye. Bob Eccles' excellent interviewwith ExxonMobil board member Greg Goff, published in Forbes this week, is a great example. Goff, a Republican and career energy executive, expresses concerns over climate risks, talks convincingly about the importance of an energy transition, and believes oil and gas companies "definitely need to balance the impact of the change on all their key stakeholders." It's a narrative many proponents of the stakeholder model would agree with.
Looking ahead to 2023, we would do well to not just engage those who we think we disagree with, but understand where they're coming from and find common ground.

Be well,
Martin Whittaker
---
This Week in Stakeholder Capitalism ​​
​​​​​Workers vote to unionize at an EV battery plant co-owned by General Motors, marking the first formal union at a major U.S. electric car, truck, or battery cell manufacturing plant not owned entirely by one of the Big Three automakers.
HSBC announces it will no longer fund new oil and gas fields, following growing scrutiny from investors and environmental activists over its Net-Zero pledge and fossil fuel ties.
JetBlue shifts its sustainability strategy, choosing to focus on the increasing viability of green aviation fuel rather than carbon offsets.
Microsoft tops the Wall Street Journal's list of the best-managed companies of 2022, taking the top spot for the third year in a row.
Uber has filed a lawsuit to block a proposed pay rise for drivers in New York City, arguing the increased costs would be passed along to riders and "risk permanent loss of business."

What's Happening at JUST
The Financial Times asks the thorny question and explores insights and answers relating to "How to pay executives in the age of stakeholder capitalism," including JUST polling data on how the public thinks about CEO pay and quotes from Martin.
Martin also joined Reuters for a short interview on 'What's Next for Sustainable Finance,' sharing why "the future of climate action is probably dictated by the future of finance" and addressing climate change should create value for business.
​​​​​​
The Forum
"I think Covid was a big wake up call for all businesses. You've never seen the kind of competition, especially at the front end, for employees that you've seen in the world. And I think in some ways it was a massive equalizer in terms of power and wages. Every board that we're sitting on front-end has seen extraordinary pressure on wages, and frankly even at the higher end, just because of the competition for talent, and you're seeing that you're not gonna be competitive unless you're responding to those pressures."
Alex Gorsky, speaking at our panel on Capitalism on the American Dream, on how the pandemic is still influencing worker wages and talent competition.

Must-Reads of the Week
Gartner publishes a new survey on the relationship between human-centric work models and employee performance. When workers are seen as people versus resources, "they are 3.8 times more likely to be high performing."
One-in-four U.S. parents report struggling to put food on the table or pay their rent and mortgages in the past year. The Pew Research Center published a new survey highlighting the burden placed on families amid recession fears and rising inflation.
The New York Times explores what might be driving Starbucks CEO Howard Schultz's opposition to unionization efforts by employees.
In the face of a tight labor market, the Wall Street Journal reveals that employers like UPS, Home Depot, and Gap are dropping interview requirements to expedite the hiring process.
As layoffs mount at large tech firms, Fortune writes about the expected shift toward "green collar" jobs. More than 300 million jobs are expected to emerge in the sector by 2050 as traditional employment becomes more vulnerable due to climate change.
​​​
Chart of the Week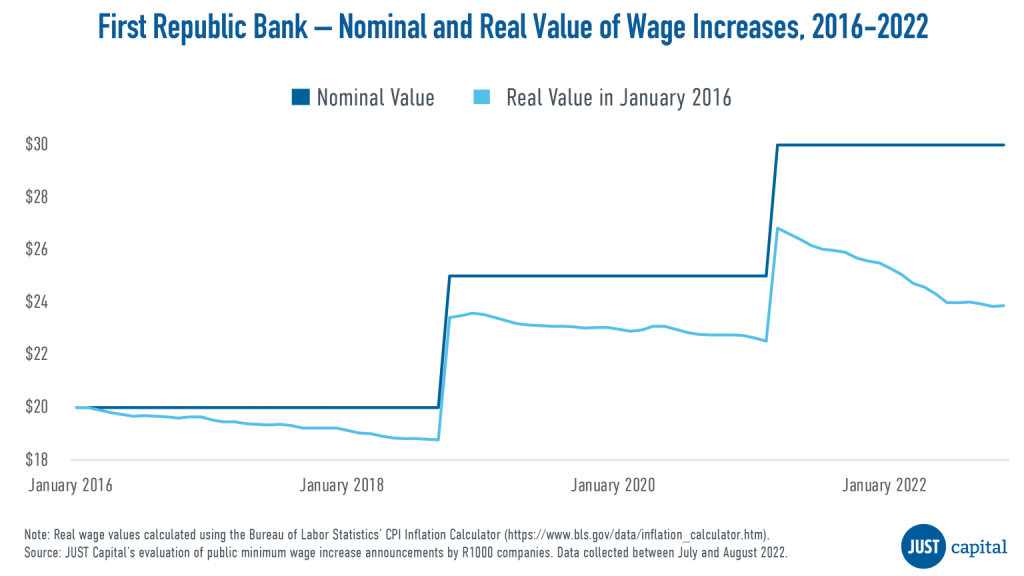 This chart comes from our latest article explaining why companies should raise wages to match inflation. Nowhere is the difference between nominal and real values in wages more stark than with the minimum wage, which has had a 28% reduction in purchasing power since 2009.
---