The JUST Report: Can Creating JUST Jobs Unite Americans?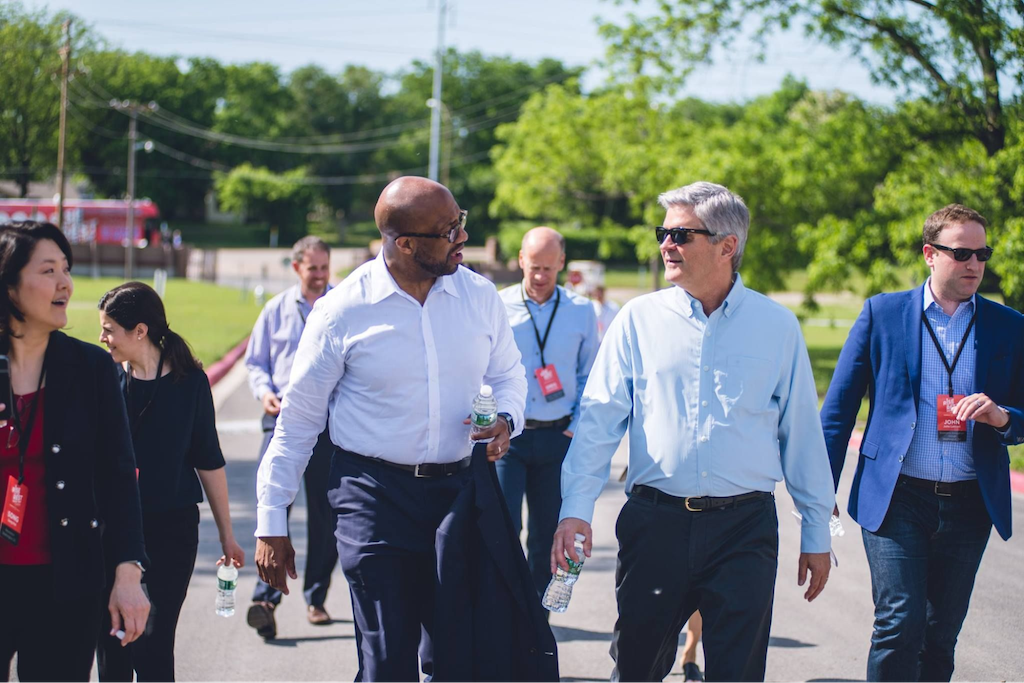 This week, we've got an interview with AOL cofounder and investor Steve Case about his "Rise of the Rest" tour, the subject of his new book of the same name. For the past eight years, Case and his team have pursued his vision for accelerating the flow of venture capital going to entrepreneurs and startup communities in places outside of the traditional coastal hubs. He's been to over 40 cities – including Baltimore, Chattanooga, Cincinnati, Detroit, Minneapolis, and Nashville – and talked to hundreds of people, literally traveling the country to take the pulse of entrepreneurs and community leaders everywhere.
What he found, and what anchors his vision, resonates closely with JUST's mission. "Every company is ultimately about its people, and part of what JUST has done .is highlight that and the benefits of investing and properly rewarding people."
He believes, for example, that big corporations should do more to build local entrepreneurial ecosystems, like Delta, Home Depot, and UPS have done in Atlanta. "If they're staying close to entrepreneurs who are doing innovative, disruptive things, they're more likely to see the future as opposed to being overwhelmed by it." This is something that constantly surfaces in our polling and survey work too.
He's passionate about building strong American jobs in order to close the opportunity gap, strengthen communities, and help people who are struggling and feeling left behind – all things that are baked into our Rankings and programs work, including our new JUST Jobs program.
And he sees too the importance of creating more reasons for people to feel like they have a stake in the future. "I think it's critical we do that if we are going to have a country that continues to lead the world," he said.
It's a stirring vision that we know a large majority of Americans share. Heading into some potentially stormy economic and political waters, we need to keep it front of mind.
Be well,
Martin Whittaker
This Week in Stakeholder Capitalism
Activision Blizzard is found to have withheld raises from employees actively engaged in an unionization effort.
Amazon moves to freeze corporate hiring. It's the most recent company to do so amid growing economic uncertainty.
Anthem is facing a U.S. government lawsuit arguing the insurance company submitted inaccurate data and fraudulently collected Medicare payments.
Delta announces a partnership with MIT to discover new ways to eliminate contrails, the white clouds that trail airplanes, that stay in the sky longer than usual and have a more severe environmental impact.
Meta faces a class action lawsuit from shareholders who argue that the company knowingly worked to create a toxic environment for its users in order to increase traffic and revenue.
Target joins 140 companies in the S&P 500 with a majority of board leadership composed of people of color and women. The list also includes Disney, Best Buy, and General Motors.
What's Happening at JUST
Paying a fair, living wage is consistently the most important issue to Americans we poll across demographics. JUST's Kavya Vaghul, Kelley-Frances Fenelon, and MIT's Amy Glasmeier break down what exactly a living wage is, how MIT calculates it, and how factors like family size, location, and inflation affect its value. It's the first of a new series called "JUST Jobs Explained" that we hope will become a useful tool for business leaders.
Facing rising inflation, recession fears, and growing job disengagement, corporate leaders have a clear directive from the American public on where to turn their focus: workers. Martin and the Ford Foundation's Ritse Erumi wrote an editorial for Fortune about why now's the time for companies to invest in their workers – an imperative majorities Americans across the political spectrum support.
ESG and stakeholder capitalism continue to face partisan backlash – largely grounded in debate around "E" actions. Bloomberg Green asks the question: Are these attacks harming key worker issues like wages and health and safety? And turns to our latest Issues Report to highlight why "S" issues should hold greater weight in investment decisions.
JUST's Managing Director and Head of Investor Strategies Cambria Allen Ratzlaff spoke to the Financial Times about investor pushes for the SEC to require greater human capital disclosure from publicly traded companies. Cambria also joined CNBC's ESG Impact event this week to discuss human capital data and the role of disclosure to drive change.
JUST Events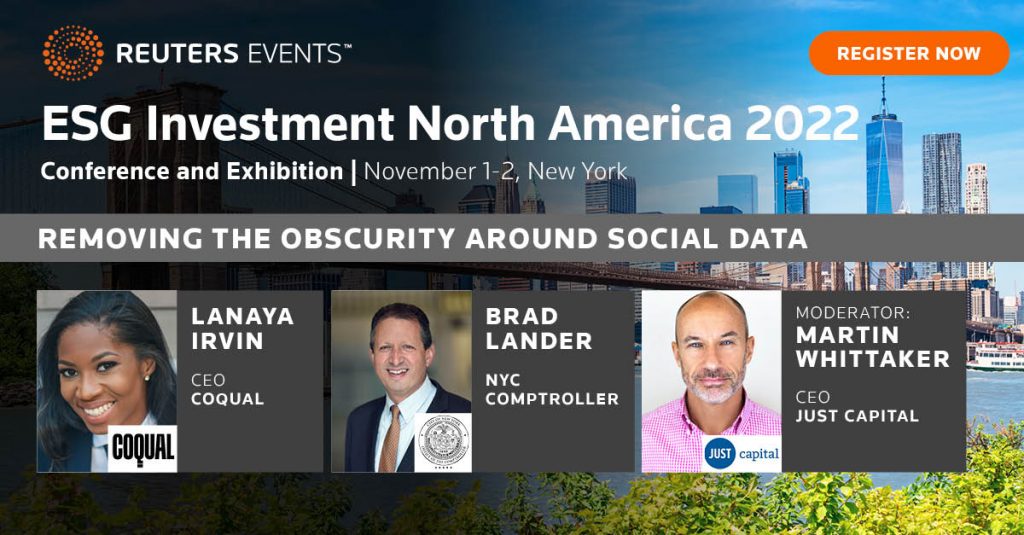 On November 2, Martin will join Reuters for its ESG Investment North America 2022 conference to discuss how best to quantify "S" issues like workforce diversity and financial security, and how to integrate these elements into investing strategy. Register here to attend this conversation and hear from senior leaders across the investment community.
The Forum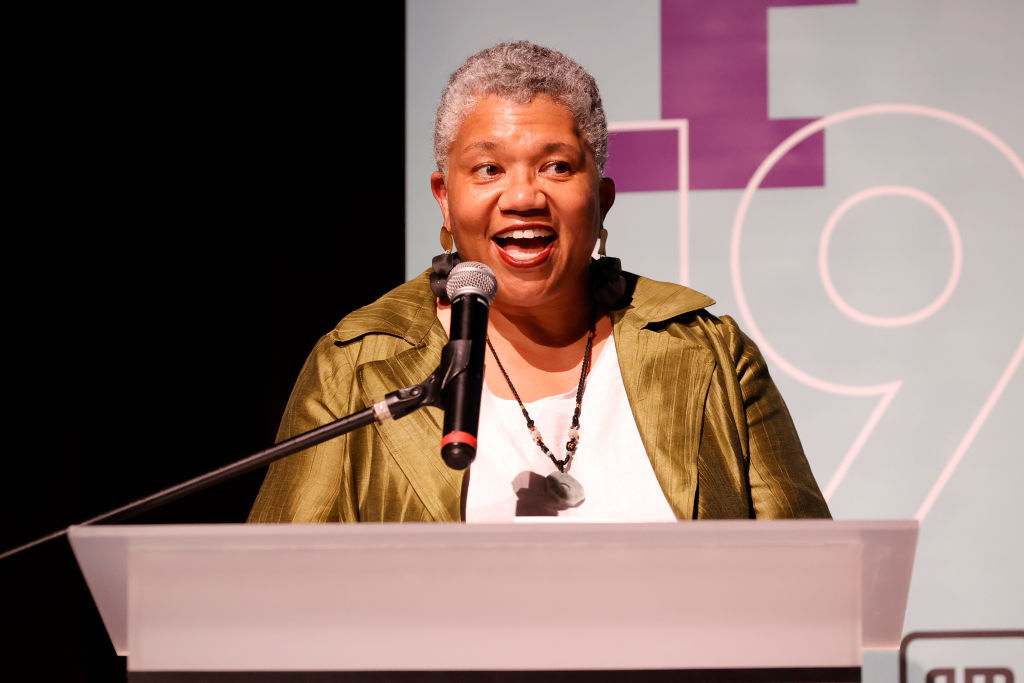 "An engineering degree is 'wow' and very well-respected. I have one myself. But it's not necessarily the be-all, end-all indicator of someone's potential."
"There are a lot of things that are negative – with inflation, Ukraine, the pandemic, all kinds of things – but there's a more positive, inspirational story of not just certain people, or even certain places, but more broadly what's happening. I felt there's a reason to be more hopeful, but we have to continue to build on some of the initial foundational efforts over the last decade."
"I think a big part of what's driving 'labor hoarding' is the memory of how quickly the economy returned to growth after the last recession and the labor shortages that quickly emerged. Even with the economy slowing right now, business surveys and employment data continue to confirm that labor shortages persist. This has been costly for employers who have been forced to pay up to attract new workers.
Labor hoarding right now reflects two things: 1) the expectation that what could become a recession will be shallow and brief, and 2) the conclusion that it would likely be cheaper in the long run to hang on to extra labor now than to lay off workers now and recruit them again when growth returns."
Sam Ro, CFA, Editor of TKer.co, telling JUST why some companies are trying to maximize worker retention.
Must-Reads of the Week
Our friends at the Aspen Institute and Families and Workers Fund shared their in-depth statement on what constitutes a "good job", as part of their Good Jobs Champions Group initiative.
Fortune releases its Most Powerful Women list, marking the 25th anniversary of the rankings. Karen Lynch, CEO of CVS Health takes the top spot.
PWC releases its Annual Corporate Directors Survey. A couple of eyebrow-raising findings: Half of board members surveyed would like to replace one or more of their fellow directors, and only 45% of respondents said they believe there's a link between ESG factors and company performance.
EY publishes its CEO outlook survey. The study found that company leaders are committed to steering their organizations through disruption and adapting to the new environment that is developing out of a convergence of political, social, and economic factors.
ESG funds have boomed in the last few years, and the Wall Street Journal reports that regulators are beginning to ask questions around transparency, saying disclosures are opaque and standards are too relaxed. The SEC has proposed a common benchmark for how sustainable investment products are labeled, marketed, and reported.
Bloomberg reports that women failed to gain any board seats at the largest U.S. banks in 2022. Additionally, they only gained two net seats this year among members of the S&P 500 Bank Index.
Chart of the Week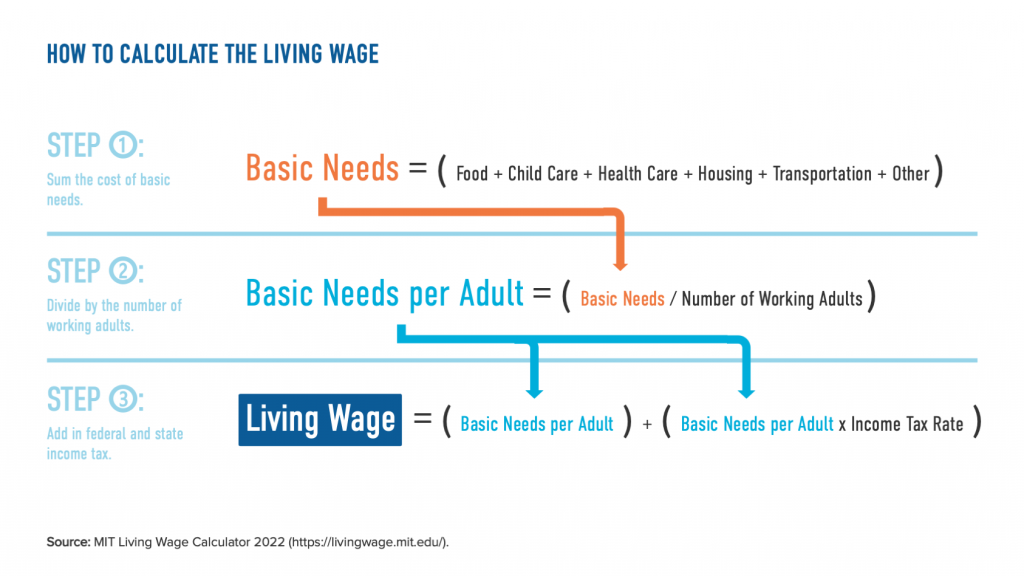 This week's chart comes from our new living explainer. Our survey research this year found that, once again, paying a fair, living wage is the top priority Americans have for companies. With this issue consistently top of mind for the public, we put together a living wage guide with the help of MIT's Amy Glasmeier. Dig into the work here.
Get to Know JUST

Team JUST Capital: 2022 TCS New York City Marathon
We're excited to share that JUST Capital is an Official Charity Partner for the 2022 TCS New York City Marathon. Six supporters will be representing JUST in the race and running 26.2 miles on November 6th. Over the coming weeks, we'll introduce each runner, share why they're running for JUST, and encourage support for their individual fundraising goals.
Today, we're proud to kick off with our CEO Martin Whittaker. "I'm running the New York City Marathon because I value the JUST team and the JUST mission so much," he said. "The path to a more just economy is much further than 26.2 miles, but I'm committing to cross this finish line in support of our incredible team and accomplishments to come."