The JUST Report: Climate Week Surfaces Some Fundamental Questions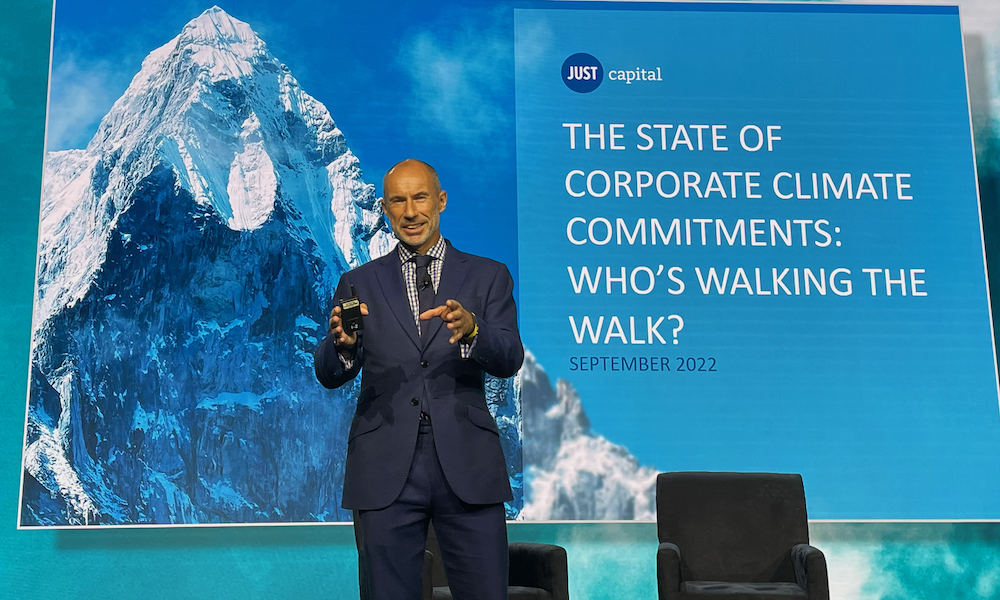 Climate Week and the U.N. General Assembly brought the usual mix of chaos, canapés, conversation, and commitments to New York City this week.
JUST was present at various events, including at The Nest Summit on Thursday, where we spotlighted our new report assessing the state of corporate disclosure on climate commitments.
Some key takeaways:
Of the 961 companies we track, 489 have made some sort of emissions reduction commitment, 238 have made a specific commitment to Net Zero by 2050 (up 133% over last year), and 128 have set more stringent Science-Based Targets (up 42%).
Low-emitting industries (notably Clothing & Accessories) are ironically making the most ambitious climate commitments.
Of the three highest emitting industries (Oil & Gas, Basic Resources, and Utilities), only one company, NRG Energy, has set a 1.5-degree Science-Based Target.
I also had the pleasure of interviewing Erik Hansen from Workday, a JUST 100 company, about his organization's leadership on climate action and why the business case is so compelling.
Looking at the week overall, several themes seemed to reverberate no matter where you went or who you talked to: The personal attacks on Larry Fink and the balancing act BlackRock is trying to do on ESG and climate; Uber providing its 170,000 corporate clients information on their total ride emissions in a bid to get them to lower them over time; Salesforce's entry into the carbon credit market with its new Net Zero Marketplace for matching buyers and sellers; reports that JPMorgan Chase, Morgan Stanley, Bank of America, and others threatened to leave Mark Carney's Glasgow Financial Alliance for Net Zero (Gfanz) over its increasingly stringent decarbonisation commitments; and, of course, the pushback in the U.S. against environmental, social, and governance (ESG), taken further on Wednesday by a letter from U.S. Senate Banking Committee Ranking Member Pat Toomey (R-Pa.) to ratings firms demanding detailed information on their methodologies for calculating companies' ESG scores.
It feels like both corporate climate commitments and ESG are entering a defining period where talk is cheap, actions matter, and accountability is the name of the game.
Be well,
Martin Whittaker
---
---
This Week in Stakeholder Capitalism
Amazon promises to add more than 2.7 gigawatts of clean energy capacity through new projects.
Amtrak pledges to reach net zero emissions by 2045 and use carbon-free electricity by 2030.
Bank of America launches a sabbatical program for long-tenured employees, beginning at six paid weeks in addition to vacation days for those with the firm for 15 years.
Citigroup announces new diversity hiring goals it hopes to achieve by 2025, including increasing the number of women and Black employees working at the assistant vice president to managing director levels.
Hertz purchases 175,000 electric vehicles from GM, a decision that reflects growing demand from consumers.
Amazon, Hilton, Marriott, and Pfizer are among the companies pledging to hire thousands of Afghan and Ukranian refugees.
What's Happening at JUST
JUST Junior Analyst, Shannon Cabral and Environment Analyst, Laura Thornton break down the state of climate commitments across corporate America and the year-over-year trends our analysis finds. Martin spoke with CNBC's Diana Olick on the progress noted and where greater ambition is still needed.
With the backlash against stakeholder capitalism growing louder, we took a look at market performance of the top-performing companies in our Rankings. JUST's Director of Quantitative Research & Analytics, Mona Patni, finds our JULCD and JUONETR indexes have outperformed Russell 1000 benchmarks by 7.53% and 8%, respectively, since inception.
JUST Events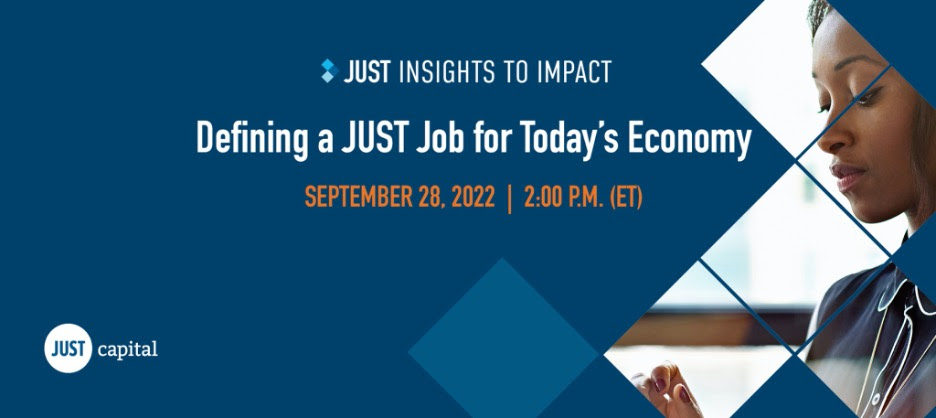 Our next Insights to Impact virtual event about JUST Jobs is next week! Speakers include leaders from Mastercard, American Electric Power, Franklin Templeton, Amalgamated Bank, The Families & Workers Fund, and more. Please join us for Defining a JUST Job for Today's Economy. REGISTER TODAY.
The Forum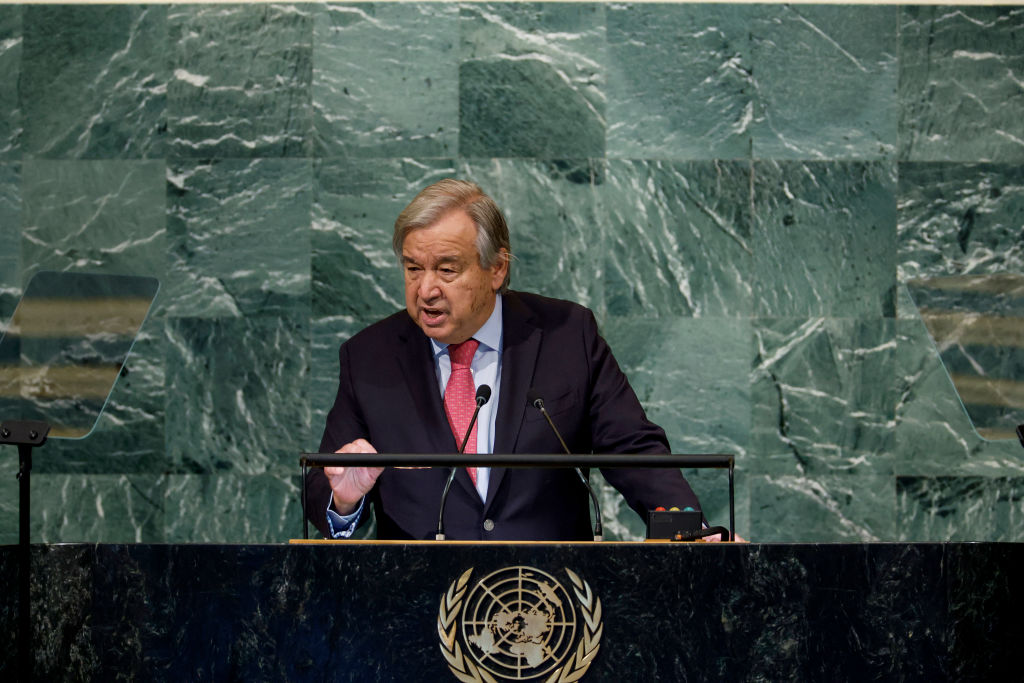 "We need to hold fossil fuel companies and their enablers to account. That includes the banks, private equity, asset managers and other financial institutions that continue to invest and underwrite carbon pollution. And it includes the massive public relations machine raking in billions to shield the fossil fuel industry from scrutiny."
"I'm an environmentalist, too. I just happen to be the CEO of an oil and gas company."
"I would see corporate visits. They would say you're doing a great job, you are so essential. You have to walk the walk. You can't just come in here and say a bunch of nice things. This is a long shot but I think we can do this. This is just the beginning."
Must-Reads of the Week
The New York Times reported on corporate leaders standing their ground as anti-ESG attacks intensify. A record number of anti-ESG shareholder proposals were introduced over the last year, but executives believe long-term benefits will outweigh short-term political turmoil.
A new study from Morgan Stanley at Work found that a majority of employees have reduced their short-term and long-term savings contributions, amid recession fears and high inflation. The same study noted that 84% of human resources leaders said they're worried personal financial issues are affecting employees' productivity.
Insider liveblogs Climate Week NYC, capturing a feel for the atmosphere and what attendees discussed.
Bloomberg Green's Akshat Rathi is the host of a new podcast, Zero, chronicling the ways political and business leaders around the world are tackling the climate crisis. You can subscribe to the show in most podcast apps and episode transcripts are online.
Chart of the Week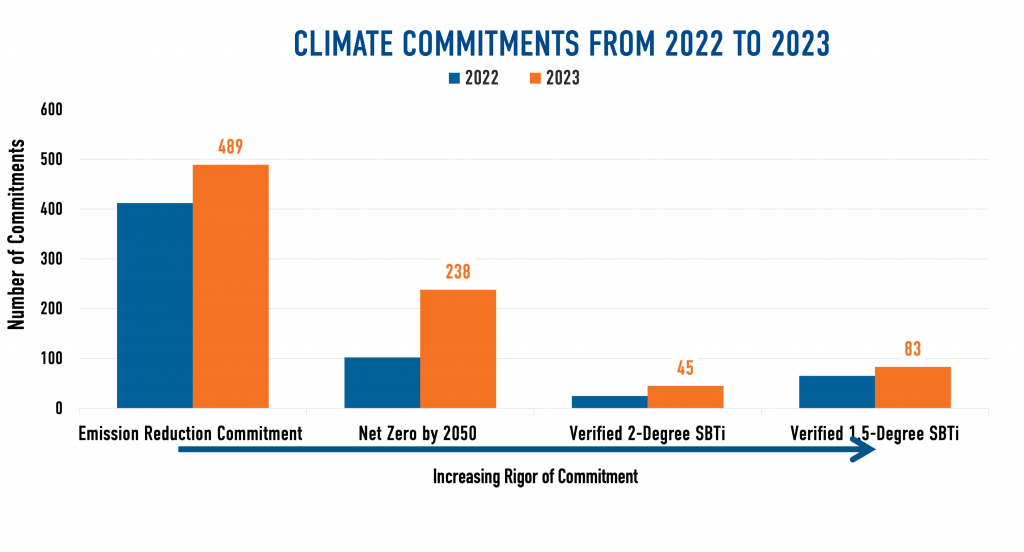 This week's chart comes from our latest analysis of corporate climate commitments. Within all four categories of targets we analyze, we saw an increase in the number of companies setting goals since data collection for our 2022 Rankings. But, this growth is largely concentrated in less ambitious targets and low intensive industries. Learn more from what we found here.
Get to Know JUST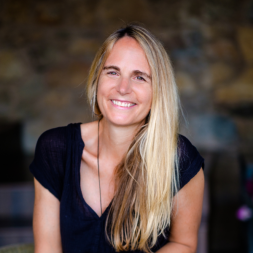 Jean Oelwang
CEO & Virgin Group Partner, Virgin Unite
JUST Capital Board Member
Jean is the founding CEO and President of Virgin Unite and author of the book, "Partnering: Forge the Deep Connections That Make Great Things Happen." Over the last 17 years, Jean has helped create new approaches to social and environmental issues and incubate a number of global leadership initiatives such as The Elders, The Carbon War Room, and The B Team.
Jean was recently a keynote speaker at the Sorenson Impact Summit and touched upon why she sees now as a crucial moment to utilize the power of connections to address some of the world's biggest challenges, like climate change. She pointed to hyper-individualism as being "one of the root causes of many of our complicated problems right now. We have a real opportunity to move from being hyper-individualistic to being hyper-connected and really having a relationship reset in the world." Read her full remarks here.