How Russell 1000 Leaders Are Meeting the Public's Priorities: A Mid-Year Snapshot on Key Corporate Stakeholder Performance Issues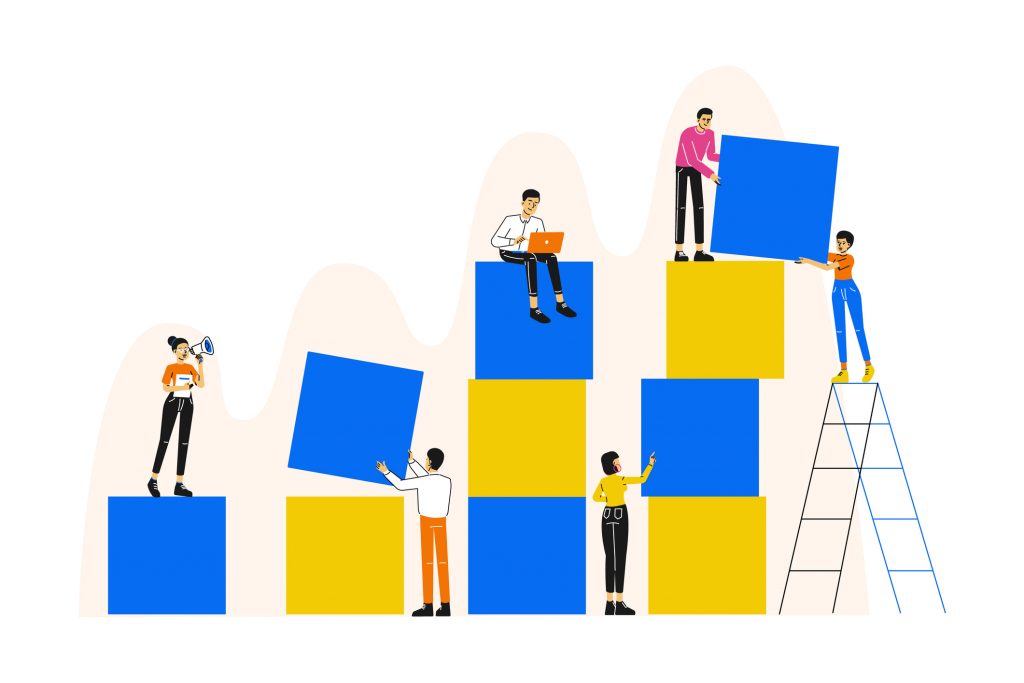 Over the last nine years, JUST Capital has tracked and measured how just business – defined by the priorities of the public – is better business. We have worked hard to quantify and verify meaningful corporate action on just behavior, and believe it's critical to understand what practices and policies are leading the pack. Truth and transparency are becoming more important than ever to employees, customers, shareholders, and others.
At JUST, we let data and measurement tell the real story, away from the noise of the public square. In an effort to capture a "real-time" look at how companies are taking action on key stakeholder issues, we recently analyzed new actions Russell 1000 companies have taken against some of the public's biggest priorities this year. In Q1-2 of 2023, among Russell 1000 companies:
8 announced raised wages for some or all of their U.S. workers.
17 announced an increase in paid parental leave for their workers.
4 prioritized offering opportunities to early career talent.
4 added new benefits for their workforce including expanded care benefits and 401K investments.
26 increased engagement or procurement efforts for diverse suppliers.
9 highlighted the monetary value pledged in wealth-building initiatives and community partnerships.
3 published an EEO-1 Report for the first time providing greater transparency into intersectional workforce data by gender, race, and ethnicity.
Importantly for JUST Capital, we are always seeking to understand the extent to which our work has a connection to actions taken. And we have strong correlation information to see the connection points between corporate action and JUST's own work both at the company level and at the broader narrative level.
Advancing Just Business Behavior
With increased political pushback against ESG and reports that corporate leaders are being more cautious about speaking out on key social and environmental issues (e.g. greenhushing, purpose-hushing), we've been closely tracking to see if any evidence is emerging regarding companies pulling back on investments, engagement, or reporting. And to date, we have not seen any. In fact, what we see is more and more companies engaging with our polling and our corporate performance data to understand how they stack up against their peers on the issues that matter most to the American public and also engaging more deeply with our key programmatic initiatives that help drive corporate behavior change to understand how take action and improve.
JUST has engaged a majority of the Russell 1000 companies, 82%, that have taken the actions listed above this year from our inception. Overall, we've engaged with over 60% of Russell 1000 companies since 2016, including through our Rankings of America's Most JUST Companies. As the chart below shows, in 2016, our first-ever Rankings year, 21 companies reviewed the data that powers our Rankings – and took advantage of the opportunity to understand our methodology and submit suggestions or updates. Last year, we hit a record of 350 companies. Earlier this month we had 388 registrants across nearly 300 companies for our annual preview webinar, another record – and up 38% from this time last year. 
All signals point to more interest and engagement from companies becoming more just this year.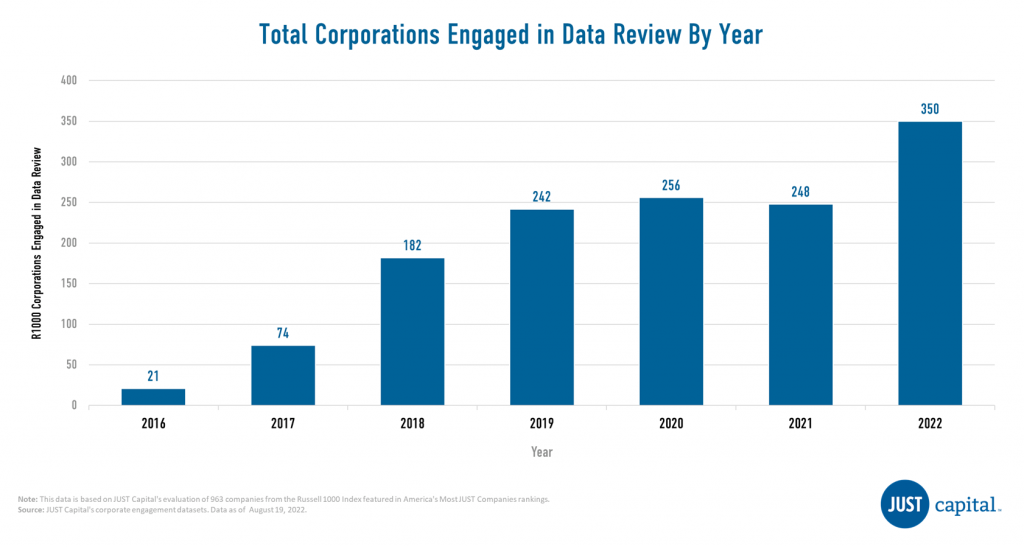 Following last year's data review period, we also conducted a survey of Russell 1000 companies that found a majority agreed that engaging with JUST helped inform and/or prompt implementation of new practices or disclosures on the issues we track, measure, and analyze. Those companies already leading on justness are also outperforming their peers. The 2023 JUST 100 (our top-ranked companies) had a 4.5% higher profit margin, 2.3% higher return on equity, and paid five times more in dividends compared to the rest of the Russell 1000. Learning from our Rankings, through the data review process for instance, is only the first step companies can take in engaging with JUST.
Over the last three years, we have launched three anchor initiatives designed to support large companies and business leaders seeking to ensure both their business and workers thrive. Through our Worker Financial Wellness Initiative, Corporate Racial Equity Alliance, and Corporate Care Network, we provide access to timely and informative resources and support on action planning through assessments, the opportunity to meet and learn in a peer community of practice, and receive guidance and technical assistance from a network of leading organizations and firms.

Through the Worker Financial Wellness Initiative, we've heard firsthand from workers at Chipotle, PayPal, Prudential Financial, and Verizon on how the investments their employers have made in them have positively affected their lives and livelihoods, as well as executives regarding how those investments have propelled positive business outcomes including increased engagement, productivity, customer satisfaction, and lower turnover.
Informing Shareholder Proposals
In addition to the changes we tracked in company actions, we also examined how shareholders used JUST data and initiatives in their 2023 proxy season proposals. Across the Russell 1000, we found four shareholder proposals that cited JUST polling data, analysis, and other tools covering issues including wage increases and racial equity. These proposals came from investors at major companies in the Retail, Food, Beverage & Tobacco, Capital Markets, and Automobiles & Parts industries.
While these proposals were developed independent of JUST's input, through our regular analysis we've observed an uptick in corporate disclosures when investors start to ask for more data. Workforce demographic disclosure is one example. Amid campaigns from institutional investors and an increase in shareholder proposals, our analysis found that EEO-1 disclosures (and other similar intersectional workforce diversity reports) more than tripled between 2021 and 2022 among the Russell 1000. We'll continue to track what issues are gaining traction in shareholder proposals and how that might affect corporate actions and disclosures.
We also continue to monitor the market performance of the companies that perform best in our Rankings. In June, we celebrated the five-year anniversary of the JUST ETF, which tracks the top 50% of companies ranked by JUST Capital across all industries and is powered by our proprietary JUST U.S. Large Cap Diversified Index (JULCD). The JULCD has outperformed the Russell 1000 by 8.78% since inception through May 31, 2023.
Companies in the JUST ETF also outperform their peers on key stakeholder performance metrics like paying a living wage, creating jobs in the U.S., and providing paid parental leave.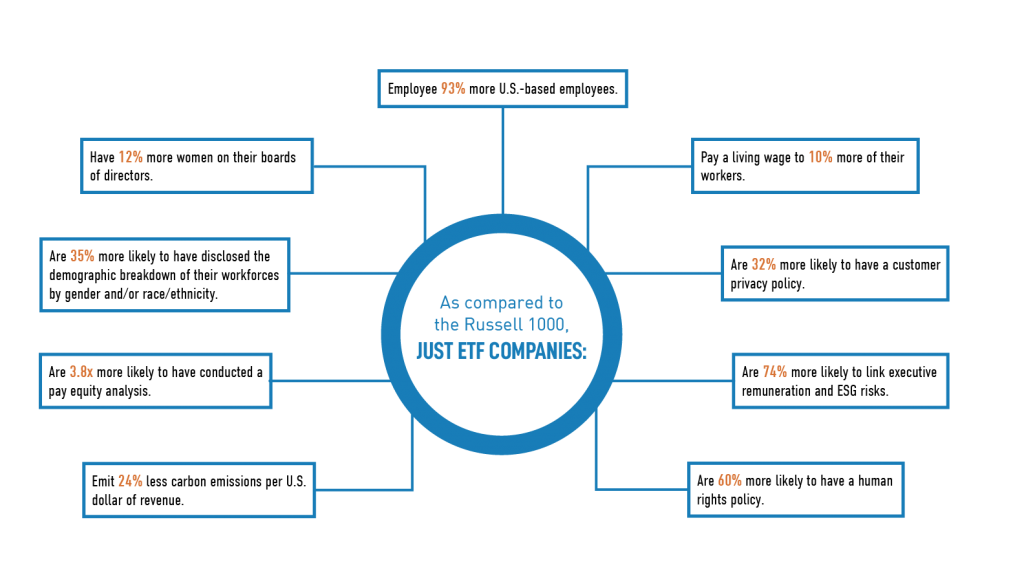 In addition to investors, nonprofits and civil society are increasingly using both JUST data and insights to inform their own work and insights into the state of play on corporate leadership. As part of the Corporate Racial Equity Alliance along with FSG and PolicyLink, we're using JUST's data and insights on diversity, equity, and inclusion (DEI) to inform the development of standards to measure corporate action to advance racial equity. The process for developing these standards has included input from 300 individuals including social movement leaders, equity and sustainability experts, and academics.
As we continue to track corporate stakeholder behavior, this work is connected to engaging with some of the largest U.S. companies to drive change on the issues that matter most to the people who work for, buy from, and invest in them. Through our Rankings of America's Most JUST Companies, programmatic initiatives, JUST Jobs Scorecard, and other tools, we've helped guide companies on how they can improve their performance and encourage disclosure of their progress along the way.
This update marks the first in a series of snapshots we plan to take of "real-time" action from Russell 1000 companies – keep an eye out for future editions. The actions captured here reflect one facet of how JUST Capital works to build a world where business and markets are a force for good, driving competition to build a better future for all. For more detail on how we drive change, explore the insights on our Mission & Impact page, subscribe to our weekly newsletter, or reach out to us at corpengage@justcapital.com.