Chart of the Week: Companies That Avoid Controversy in Their Communities Outperform During the Recovery
This week we dive into our Communities stakeholder and the set of seven issues that comprise 18% of our overall rankings model, specifically looking at companies with or without severe community controversies. 
Our polling has found Americans believe companies should support the local and global communities they impact, striving to avoid controversies such as doing business with oppressive governments, using conflict minerals, and committing supply chain labor or human rights violations. 
When we look at the 775 companies in the Russell 1000 universe that steer clear of all severe controversy within their communities, we see a significant outperformance of 20.9% through the market recovery relative to the 4.2% that the portfolio with at least one severe controversy returned through the same period.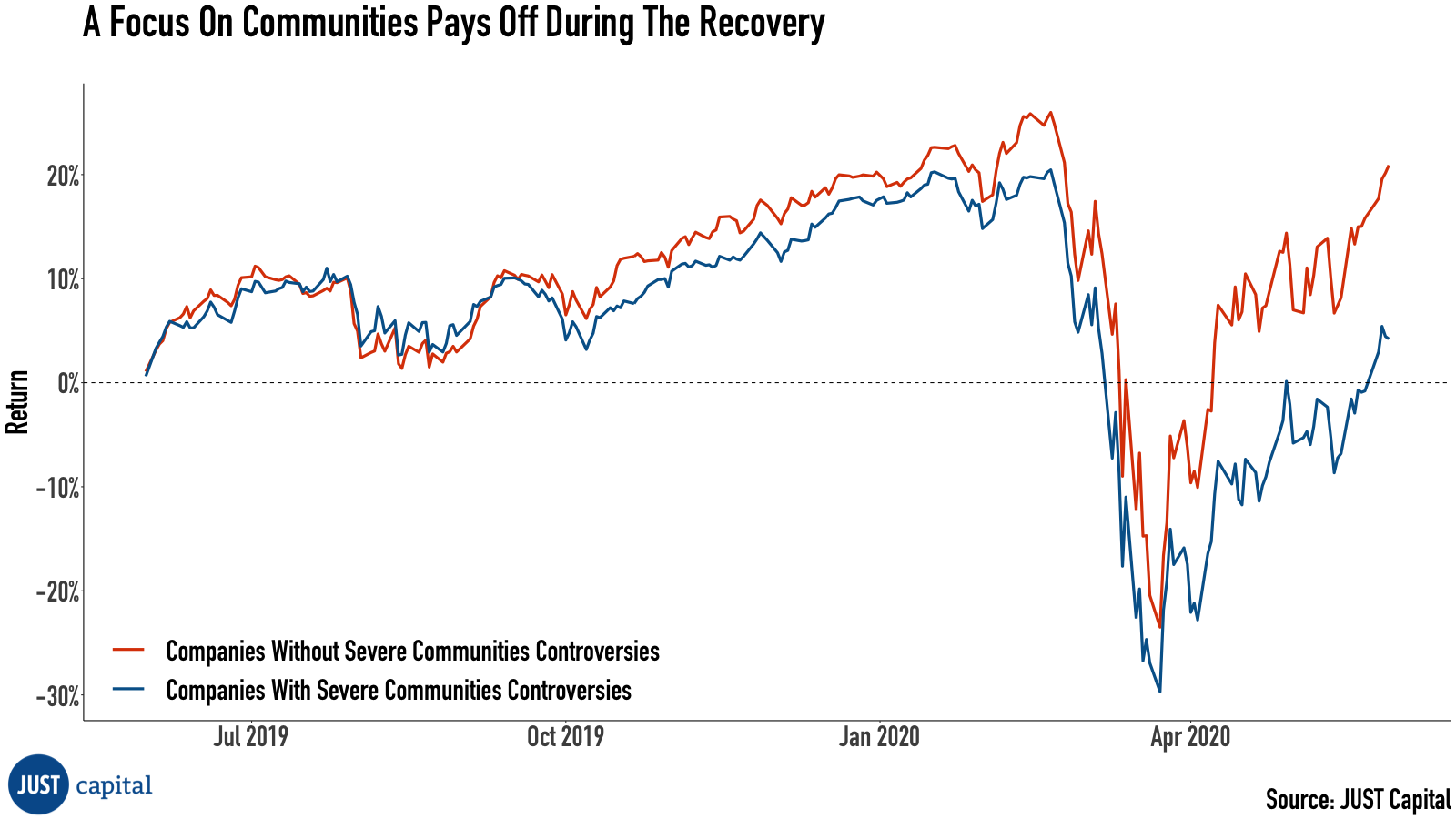 Our research over the past six months has shown that investing in your workers, customers, and communities can contribute to long-term financial outperformance. As the COVID-19 pandemic has wreaked havoc on communities across the United States, we've seen a number of corporations step up. 
Companies like Intel continue to set examples of doing right by their stakeholders by committing $60,000,000 to COVID-19 relief funds addressing critical needs in their communities and donating more than 1,000,000 items of Personal Protective Equipment (PPE) to healthcare workers to support global relief efforts. As Intel continues to step up for its communities, it is something the company has always prioritized. Per the chart above, Intel is a great example of a company without any severe controversies that continues to reap the benefits of long-term business.
Investing in your communities and supply chains means investing in both your workers and customers. Operating as a company that avoids controversial practices in the countries it operates is not only better for all stakeholders, but it's better for business.
If you are interested in supporting our mission, we are happy to discuss data needs, index licensing, and other ways we can partner. Please reach out to our Director of Business Development, Charlie Mahoney, at cmahoney@justcapital.com to discuss how we can create a more JUST economy together.
If you have questions concerning the underlying analysis, please reach out to our Senior Manager for Quantitative Research, Steffen Bixby, PhD, at sbixby@justcapital.com.