Companies That Prioritize Workforce Investment and Training Outperform Those That Don't
This week's chart looks specifically at our Workers stakeholder once again, homing in on corporate Workforce Investment and Training – the second most important worker-related issue per the American public's opinion. We considered the trailing one year, as of Feb. 28, for the Russell 1000 companies we track, and split them into five quintiles based on how they scored on this issue in our current ranking of most just companies. Looking at the data, the top quintile of just companies with the best Workforce Investment and Training score outperformed the bottom quintile by 5.01% over the past year.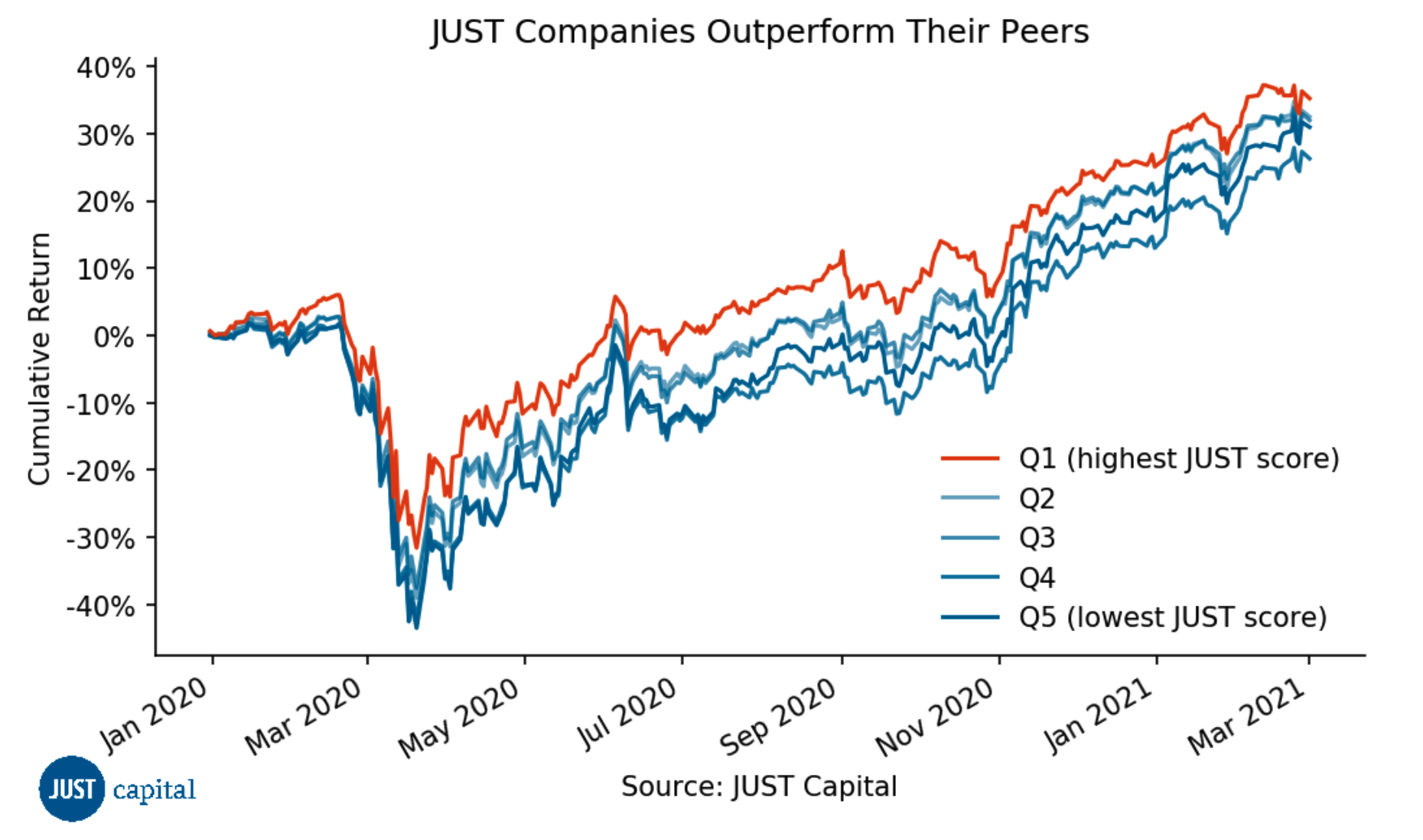 The companies that score high on this issue are companies that provide opportunities for advancement, skills development, and educational attainment to employees. This encapsulates job quality, job stability during COVID-19, and whether or not companies prioritize career development within their workforce.
JUST Capital continues to build the case for investing in your workforce through launching corporate programs like the Worker Financial Wellness Initiative, formed in partnership with PayPal, the Financial Health Network, and the Good Jobs Institute. The initiative was established to make workers' financial security and health a C-suite and investor priority. The initiative calls on the CEOs of America's largest companies to conduct a Worker Financial Wellness Assessment as a vital first step toward understanding the financial vulnerability of their workforce. Research from the Good Jobs Institute shows that when workers are more financially secure, key business outcomes such as productivity, customer satisfaction, and employee turnover and engagement also improve.
Looking to our chart above, the companies that have invested in their workforce have outperformed those who haven't for the duration of the pandemic.
If you are interested in supporting our mission, we are happy to discuss data needs, index licensing, and other ways we can partner. Please reach out to our Director of Business Development, Charlie Mahoney, at cmahoney@justcapital.com to discuss how we can create a more JUST economy together.