The American People Have Spoken – Now is Not the Time to Pull Back Frontline Worker Benefits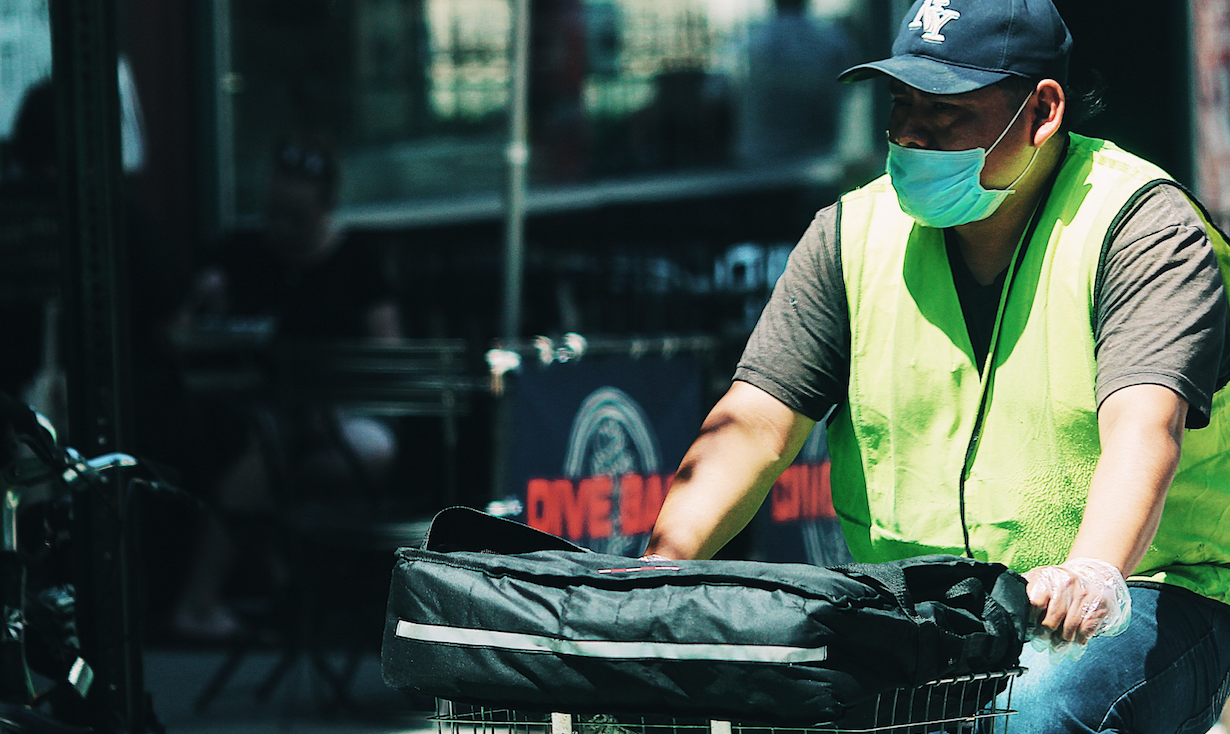 This week, the number of COVID-19 cases in the United States passed four million. California, Texas, and Florida each hit a record number of daily deaths. Amid the debates over reopening, and the politicization of mask wearing, it can be easy to lose sight of what really matters: the health and safety of frontline workers, 
In our polling – which is fully representative by political ideology, age, race, economic bracket and other demographics – the voice of the public has been clear, consistent and emphatic. Companies need to put their workers first. Walmart's new mask requirement for customers is  a perfect case in point. It is not about politics – it is a move to protect its workers, and it's a move that most Americans support, regardless of what some viral videos of customer anti-mask tantrums may suggest.
Throughout the pandemic, we've been working in partnership with The Harris Poll to survey Americans on a regular basis on how companies should be responding, and what consumers really want companies to prioritize. The results should help any company navigate an economic environment of unprecedented complexity and uncertainty. For example, 89% of respondents believe companies should be providing workers with personal protective equipment (PPE) like masks and gloves. And 77% of respondents said they think that frontline workers in essential jobs should receive hazard or "hero" pay.
We've also been tracking what companies are actually doing, via our COVID-19 Tracker. This is how we know that only 31% of companies actually announced temporary COVID-19 paid sick leave policies and only 12% of companies announced hazard pay, many of which have already expired. Unfortunately, this trend of companies pulling back such measures seems to be continuing. Rideshare drivers across the country, for example, have been raising concerns about access to PPE. The New York Times reported in a recent story, that several companies are now qualifying their "hero pay" benefit as something only intended for a surge of pandemic shopping back in March. 
We are still in an extremely volatile moment – both economically and in terms of public health. Now is not the time for companies to pull back on the very things that consumers prioritize the most. 
CORONAVIRUS MEETS STAKEHOLDER CAPITALISM – THE LATEST
Amazon, launches prototype health clinics for its warehouse employees in the U.S. 
Apple commits to making its entire supply chain and product line carbon-neutral by 2030.
Delta continues to block middle-seat selection on all of its flights until at least September 30th. 
Ford surveys its 180,000 workforce to advance its diversity and racial equity initiatives. 
Starbucks, Microsoft, Danone, Nike, an Unilever form the Transform to Net Zero initiative, which aims to help businesses achieve net-zero emissions. 
Walmart, Target, and Lowe's officially mandate masks be worn inside all of their U.S. stores. In addition, Walmart is paying out an additional one-time bonus to all of their frontline workers. 
JUST IN THE NEWS:
TODAY AT 7:15AM ET: Join our latest Quarterly JUST Call featuring Bruce Broussard, CEO and President of Humana, in partnership with CECP. Tune into an interview with Andrew Ross Sorkin on CNBC's Squawk Box at 7:30 AM, and then join our interactive webcast at 8:15 AM where we'll unpack Humana's stakeholder performance, long-term plan for sustainable value creation, response to COVID-19, and more. Register for the call here. 
MONDAY, JULY 27at 4PM ET: JUST Capital will host representatives from two of the largest pension funds and Rebecca Greenfield who oversees diversity coverage for Bloomberg for a virtual event  that unpacks how corporate transparency on racial equity is driving investment decisions.Register for the call here. 
The team also takes a look at how companies can reduce their emissions post-COVID by limiting air travel across the company. 
MUST READS OF THE WEEK:
Politico examines an underreported crisis in COVID-19 – widespread wage cuts that don't show up in unemployment numbers. 
The New York Times speaks to CEOs, revealing that they are becoming increasingly pessimistic about the economic recovery. The NYT also reveals that, small businesses are hiring back workers at a much faster rate than larger companies.
Time chronicles the decimation of the restaurant industry, and posits ways workers can come back to a fairer workplace  on the other side of the crisis.
CHART OF THE WEEK: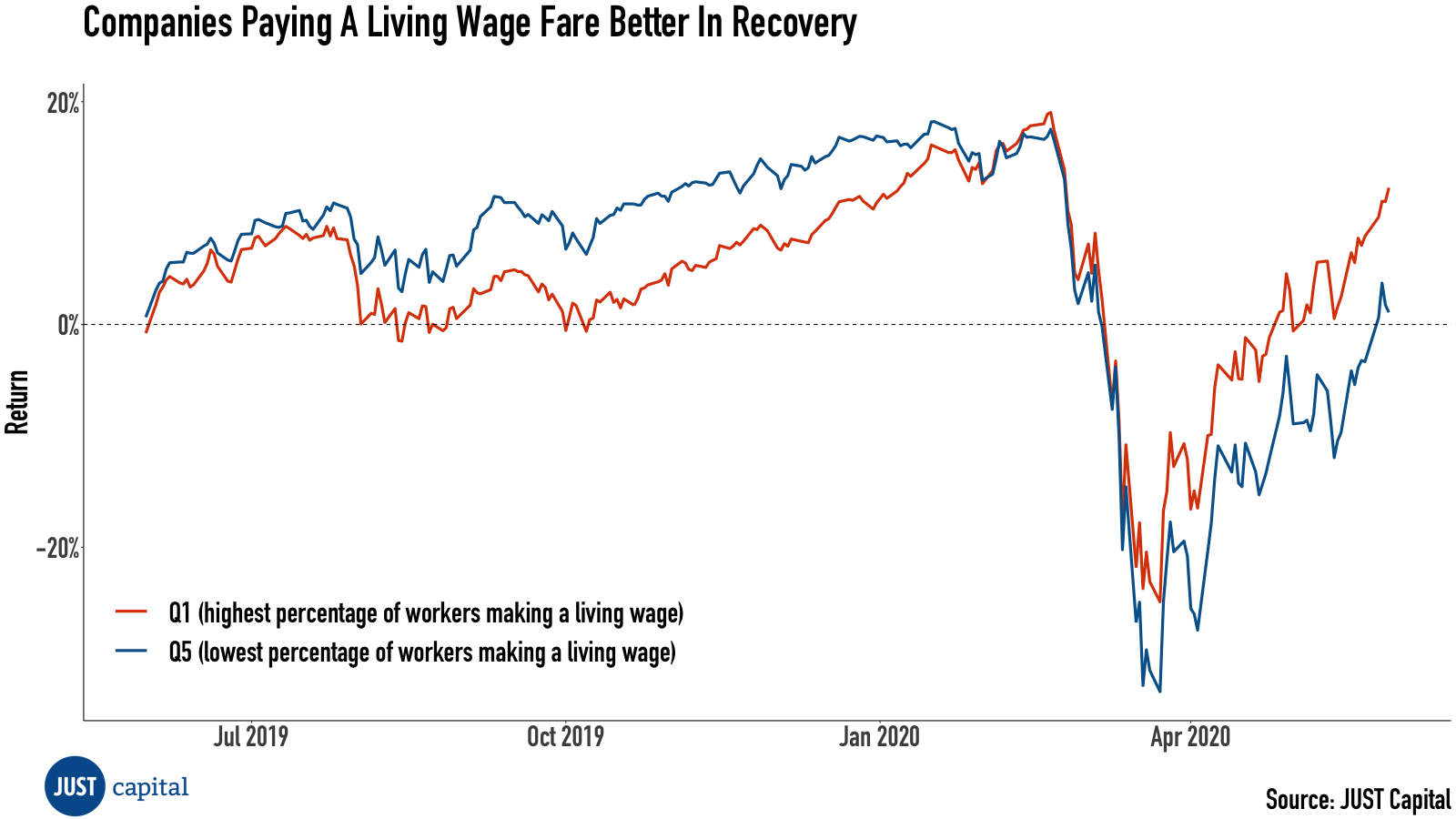 In this latest ESG Chart of the Week, we analyze how companies with a high percentage of employees making a national living wage have performed over the trailing one year. The takeaway? The top quintile of companies in our living wage ranking have returned 12.3% compared to the bottom quintile companies who have seen a 1.1% return relative to their industry peers!