The JUST Report: Disney, Exxon, and Twitter Show Why Stakeholders Matter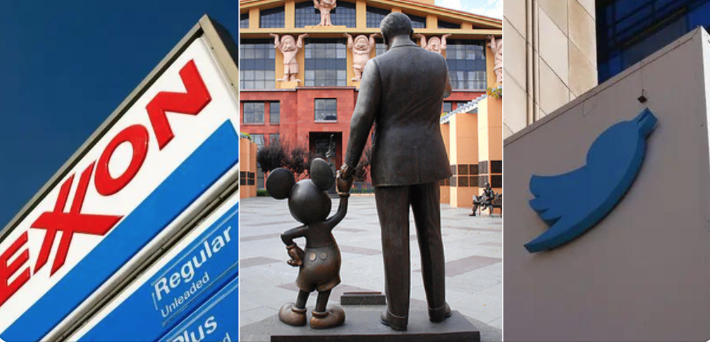 (Exxon, Disney, Twitter)
This past week saw three high-profile examples of why it's so important for corporate leaders to understand what makes their stakeholders tick when making decisions involving complex societal issues.
First, Disney's handling of its response to Florida's "Parental Rights in Education" law, also referred to as the "Don't Say Gay" bill, where CEO Bob Chapek managed to upset both Disney employees and state Republicans. The company is now challenging the state's decision to strip Disney World of its longstanding tax exemptions, and the business consequences could be significant.
Next up is ExxonMobil, which created a new policy against "external position flags" that, among other implications, will prohibit the previously flown LGBTQ rainbow flag from appearing outside its offices during Pride month in June. Members of its LGBTQ employee resource group told reporters that they were unhappy with the decision and were never consulted. While the company's specific motivations remain unclear, it's hard to square with good stakeholder leadership.
Finally there's Elon Musk's deal to buy Twitter. Here the issues revolve around freedom of speech, the concentration of power, and the fate of the Twitter platform and its employees. Teslahas not scored well in our Rankings on worker-related issues or good governance, although product performance has been strong.
A defining question in all this is whether and how companies should take a stance on divisive, complex issues. Clearly it is not without risk. Our recent focus groups and polling suggest that the majority of Americans strongly support companies in speaking up, although support for this view is much higher for liberals than for conservatives, and it does vary by issue. Respondents also make it clear that if companies do take a stand on an issue, they better back it up with action.
Silence, as Bob Chapek learned, is not really an option.
Be well,
Martin Whittaker
---
---
This Week in Stakeholder Capitalism
Deloitte announces a $1 billion investment in its global Sustainability & Climate practice.
Delta decides to pay flight attendants during boarding, a first for a U.S. flight carrier, amid unionization pressures.
Google teams up with the United Nations to provide verified climate information in search results. When users search for "climate change," they will find authoritative information from the UN in 12 languages.
PayPal releases its annual Global Impact Report, illustrating its ESG strategy and how the company supports its stakeholders, including our work together on the Worker Financial Wellness Initiative.
ServiceNow ties executive compensation to DEI and ESG targets.

What's Happening at JUST
With climate-related proposals making up a majority of proxy season resolutions and the SEC moving ahead with proposed new rules for climate-related disclosures, the need for robust environmental reporting has never been greater for corporate America. Our research team took a deep dive into the current state of environmental data disclosure across all 954 companies we rank. The key finding? Even though the "E" of ESG data is much further along in terms of historical data, aligned standards, and best practices, disclosures remain quite low across the board. Currently 35% of Russell 100 companies do not disclose any of the 13 data points we measured, and only one company discloses all 13. Dig into the comprehensive report here.
Martin joins Insider's "Financing a Sustainable Future" event on May 10th to discuss how stakeholder capitalism and ESG can create broad-based economic prosperity alongside leaders from Bank of America and Dow. Register to join the conversation here.
JUST board member Dan Hesse joins the Purpose 360 podcast to discuss the lessons he learned implementing purpose-driven business strategies while CEO of Sprint Nextel.

The Forum
(Secretary of the Treasury Office)
"We have developed supply chains that are extremely efficient and serve to lower costs. But as we discovered during the pandemic, and more recently now with Russian invasion of Ukraine. Our supply chains are not secure and are not resilient. I think that's something in terms of long-term risk to the U.S. and to other countries that is a threat that needs to be addressed."
"We know that the growth and success of our organization comes from our people. By putting employees first and investing in their wellness, including their financial well-being, we can build the financial health of our employees and their families and communities, expand opportunity, reduce inequality and better serve our customers and our shareholders. Prioritizing the financial health and security of our global colleagues strengthens our employees' capacity to meet the evolving needs of our customers and communities throughout the world."
Franz Paasche, SVP, Chief Corporate Affairs at PayPal ,in the company's latest Global Impact Report.
"We can't confidently make controlled policy changes or external commitments such as 'we will not use X data for Y purpose.' And yet, this is exactly what regulators expect us to do."
Facebook engineers in a leaked document to Motherboard describing how the company does not know where users' personal data flows.

Must-Reads of the Week
Brookings examines pay practices at 22 of the largest U.S. companies employing over 7 million frontline workers to see if companies have shifted away from shareholder primacy, discovering that the vast majority fell short. During the pandemic, the companies' shareholders grew $1.5 trillion richer, while workers received less than 2% of shareholders' gains, and are still struggling to get by.
Bloomberg reports on a study showing that 70% of U.S. businesses have increased wages in Q1 of this year. Despite this, Rick Wartzman writes in Capital & Main that many workers remain far from making a living wage.
Fast Company examines how the current talent war is causing a pay gap between existing employees and new hires as companies expand salaries and hiring bonuses to lure new workers.
Insider reveals that Gen Z workers are most likely to quit when office returns are enforced. The Wall Street Journal shares stories of workers who quit during the Great Resignation and now have regrets.

Chart of the Week
This chart comes from our latest report – The Current State of Environment Disclosure in Corporate America: Assessing What Data Russell 1000 Companies Publicly Share – which provides an in-depth look at which industries are leading and lagging on disclosures, how members of the Business Roundtable perform compared to the rest of the Russell 1000, and what sets companies leading the pack in environmental disclosures apart. Explore the detailed findings here.

---
Get to Know JUST
David Shaw
Managing Partner of Black Point Group
JUST Capital Advisor
JUST Capital Advisor, David Shaw, is the CEO and Founder of Black Point Group. As a CEO and board member, Shaw has helped build more than a dozen successful technology companies in healthcare and other science-based industries. Shaw's career has also included extensive public service in science, arts, conservation, and public policy.
David recently spoke at the E-Capital Summit at the EarthX conference in Dallas on the significant increase in interest in ESG and impact investing over recent years. Here is a recap of his presentation.