The Philanthropic Leverage Effect of JUST Capital
In 2014 I became CEO of the nonprofit JUST Capital, with a mission of harnessing the power of corporate America to address systemic social, environmental, and economic challenges. From the beginning, we knew that every dollar donors put into JUST had the potential to generate enormous philanthropic return. As our co-founder and chair, Paul Tudor Jones, wrote for The Economist in 2015, "If only 1% of capital begins to flow in a more just direction, that would mean more than $600 billion a year going towards firms that pay a living wage, provide great benefits, make products that enhance society, protect human rights and the environment, and more."
Philanthropists tackling the root causes of our biggest problems know they're often fighting an uphill battle if they don't create a "force multiplier effect" by using their donor dollars to stimulate private capital and market forces more broadly. This stands to reason. At $18.1 trillion, the private sector is 4.6 times the size of the public sector and 38.5 times bigger than the charitable giving market. Not only that, but big companies can be extremely efficient at solving real human problems at scale, provided the right incentives are there. 
This is the key to JUST's strategy. 
System change doesn't happen overnight. But after seven years, we asked ourselves: How are we doing? Are we making a difference? Is our strategy working?
Here's what we found.
Driving Concrete Change
First, it's clear that change is happening. 
Since our first

Rankings of America's Most JUST Companies

in 2016, there have been more than 377 instances of wage increases in at least 196 of the companies we track, analyze, and engage. These increases have impacted 3.9 million workers since 2016, and the total value of them is roughly $11.8 billion annually.

Over the last three years, 165 additional companies in the Russell 1000, collectively employing over seven million people, have disclosed conducting pay equity analyses.

Last year

alone, we found that 22% of the corporations we rank disclosed conducting a pay equity analysis, a 57% increase

from 2019

. 

The percentage of women on boards of the companies we track has jumped from 17% in 2016 to 25% in 2020.

Among the companies we rank, the number of those linking executive compensation to ESG performance has jumped 38% in three years, from 132 in 2019, to 183 in 2021. 

Likewise, the number of companies we track that have incorporated strategic ESG KPIs at the board-level has increased by 88%, from 97 in 2019 to 171 in 2021.
Now, we obviously don't claim to be the main reason why these and other changes are happening. Pinpointing cause and effect in system change is a fool's errand, and we are all too aware that we are but a small part of an ecosystem of organizations and individuals each driving change on these issues in their own way, sometimes collectively, sometimes alone. 
But we're sure we're playing a role.   
For one thing, we're engaging with these companies all the time on these very issues. In fact, a key part of our strategy is working openly and transparently with the companies we're tracking. No money changes hands because we want to preserve our independence. But the number of Russell 1000 companies directly engaging with JUST through our Rankings and/or our program work has grown by almost 800% in five  years – from 57 in 2016 to over 450 last year. 
Not only that, the number of companies that reviewed their data through our corporate portal has jumped from 21 in 2016 to 256 in 2020, and the volume of interactions between companies and our analyst team, one of the KPIs we track to measure engagement, has skyrocketed from nearly 800 in 2017 to almost 10,000 last year. To put this into perspective, in the space of a single month last summer (July 2020) our team engaged with corporations collectively employing over four million workers on their race and ethnicity diversity data. 
The time and effort we've invested in building relationships, credibility, and trust with companies and other organizations and institutions working in our field is also helping us create specialized programs that drive change on specific issues.
Over the past 12 months, we've launched two such programs, to advance racial equity and prioritize worker financial wellness. Companies committing to assess the financial wellness of their employees as part of the Worker Financial Wellness Initiative include PayPal, Chobani and Prudential, with more to be announced soon. Collectively, these programs will directly impact policies and practices at some of America's largest corporations, and affect the lives and livelihoods of hundreds of thousands of workers.   
Changing the Narrative 
The second thing that's clear is that the conversation on the future of capitalism and the role of business in society has shifted dramatically from when we started.
Since we first began discussing providing a "living wage" as a critical element of corporate justness, mentions of the term in corporate documents have increased 390%, from 121 quarterly mentions in June 2014 to 472 quarterly mentions in March 2021.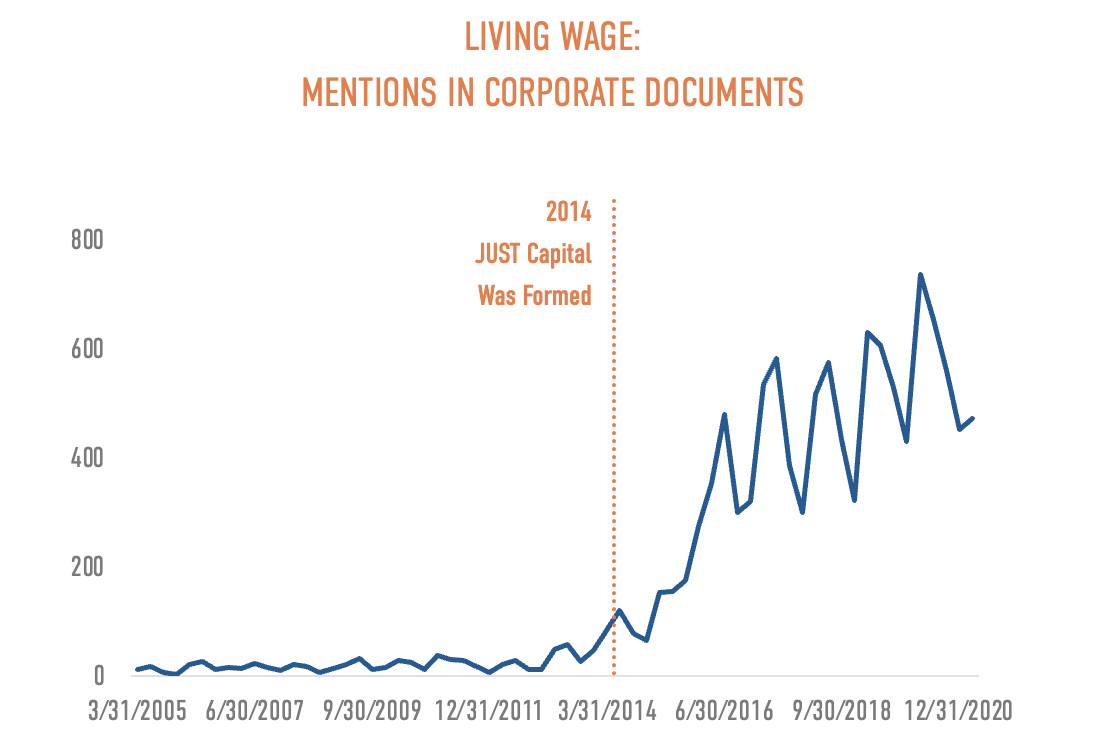 Likewise, since we introduced the five-stakeholder model in the summer of 2019, a few short months before the Business Roundtable embraced the same approach in its updated statement of corporate purpose, "stakeholder capitalism" has become arguably the central topic of debate in U.S. financial markets. Last year, S&P's CEO Doug Peterson said that JUST has become "a driving force behind the stakeholder capitalism movement."
Again, we know we're not the sole reason why these things are happening. But we're confident we're driving the conversation forward. Over the last year, JUST's website views and audience reach has grown dramatically: 284 press highlights, an 83% YOY increase; 197 editorial bylines, a 126% YOY increase; 1.7 million pageviews, a 186% YOY increase. And thanks to our work with Forbes, CNBC, and others, our COVID-19 Corporate Response Tracker, Corporate Racial Equity Tracker, and CEO Blueprint for Racial Equity have reached audiences in the tens of millions.
Couple this with our polling work, where we are lifting up the voices of hundreds of thousands of Americans on everything from how to define just business behavior to the role of business in protecting democracy, and we can feel good about the role we're playing in changing the narrative around how markets can better serve society.
Shifting Capital
Finally, we looked at the extent to which investor capital has shifted over the last 5-7 years in support of a more just economy. Here, the story is remarkable. Over the last few years, ESG-oriented funds have become more attractive than ever for U.S. fund investors. For the fifth calendar year in a row, sustainable funds set an annual record for net flows in 2020. Per Morningstar data, in 2016, 2017, and 2018, annual flows hovered around $5 billion per year with modest increases each year. Then in 2019, flows increased fourfold to $21.4 billion, a record that was promptly and easily eclipsed in 2020 as flows reached $51.1 billion, higher than the previous four years combined.
This was happening way before JUST Capital showed up, but again, we are playing our part here, too. Building off the success of the JUST ETF launch with our partners at Goldman Sachs Asset Management in 2018 – which at the time, was the single largest ESG ETF launch in history – we've expanded our investor partnerships beyond index licensing to include ESG data licensing. We can now count aligned asset managers such as Natixis, Invesco, Uncommon Giving, and SmartTrust as partners, generating real revenue for the organization via licensing agreements.
In total, we have over $300 million and counting in direct assets under Influence in just-oriented funds. Our JUST Alpha and Chart of the Week research has been featured in Barron's, WSJ, CNBC, and Bloomberg. And we're working directly with some of the largest American pension funds on critical just issues relating to human capital, racial equity disclosure, and more. 
The Bottom Line
The leverage effect in the JUST model is clear. With an average annual budget of around $10 million, we've lifted up the voices of over 100,00 Americans, helped drive changes at hundreds of corporations that are benefiting millions of workers across the country, and had a material impact on the national conversation around the future of capitalism and the role corporate America plays in building a better future. 
The key now is to build on this early success, hone our approach, and expand our platform. This means increasing the number of companies we track; building more effective programs that tackle the thorniest issues; lifting up the voices of millions of Americans; growing our assets under influence; extending our media presence; and becoming the market's most trusted source of data, research, and analysis on corporate stakeholder performance. 
It also means growing our audience and donor network. If you'd like to support us, and join the JUST community, you can do that here. I'd be incredibly grateful. We've even formed an amazing group of  professionals promoting and advancing our work, our JUSTGen network, to help lead that charge. 
I'm so proud of this organization and what we've accomplished – and I'm incredibly excited about where we can take it. But none of it is possible without the support of all our donors, followers, partners, collaborators, and friends. By leveraging the private sector to build a more just economy, I continue to believe we offer one of the highest-return philanthropic investments there is.