2017 Forbes JUST100 Article Round-Up
In December 2017, we partnered with Forbes to release the 2017 JUST 100, our annual ranking of America's Most JUST Companies, based on the priorities of the American public. In addition to our New York launch event,  Forbes created a microsite with multiple articles highlighting what makes these companies great. Below is a compendium of every article they created for the launch. 
For additional information on the JUST 100 and the 2017 launch event, click here.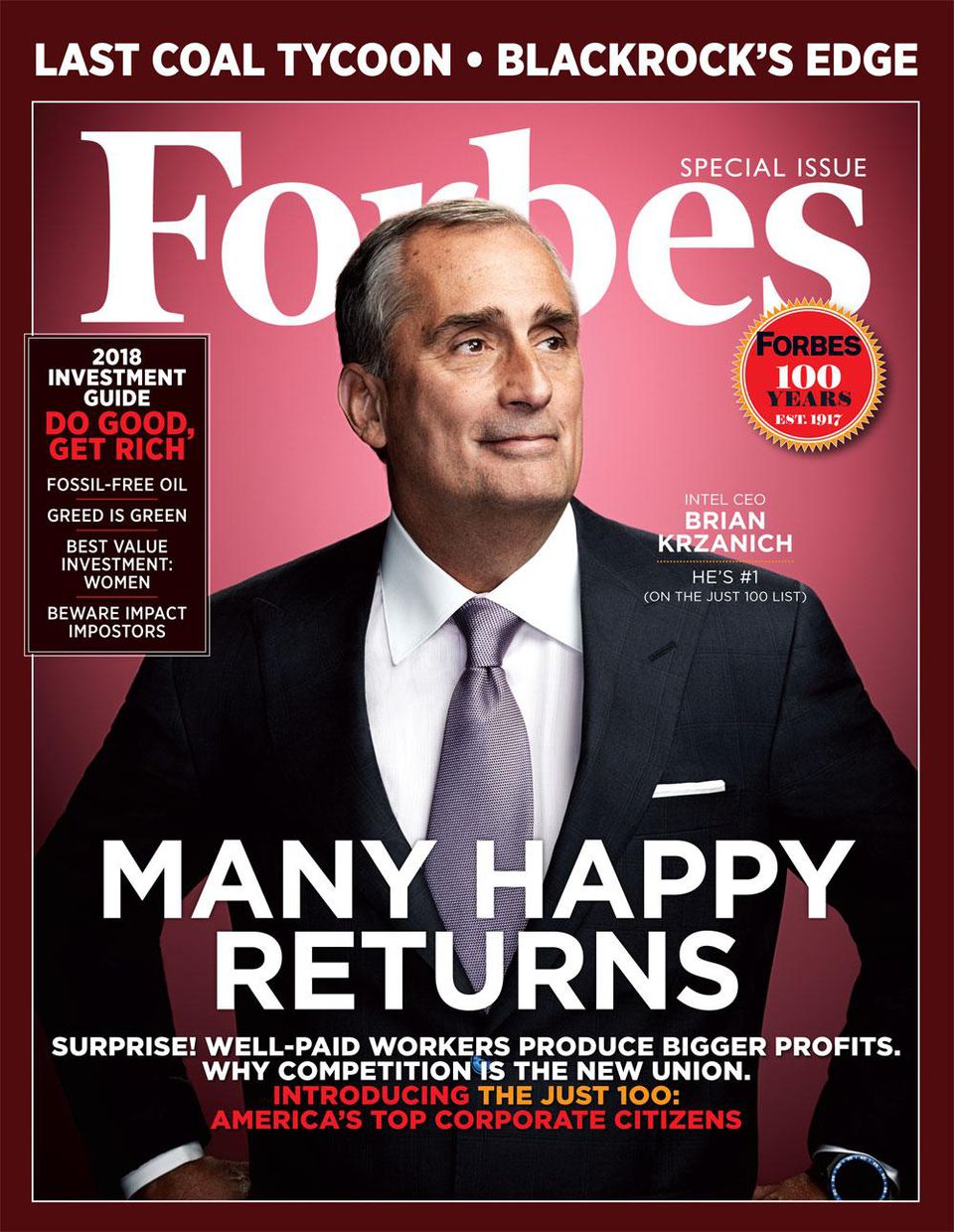 Unions Are Dead? Why Competition Is Paying Off For America's Best Workers
Forbes sets out the thesis for the cover story: Competition is the new union. "..There's an aspect to this phenomenon that might surprise some less enlightened CEOs and investors: Treating workers right ultimately benefits shareholders after all, and not only in tight labor markets. The companies of the JUST 100 have returned three percentage points a year more than the S&P 500 over the last five years."
Inside the JUST100: How We Measure Corporate Goodness
Maggie McGrath takes a look at the methodology and metrics we use to rank the largest 875 companies in the U.S. according to the priorities of the American public.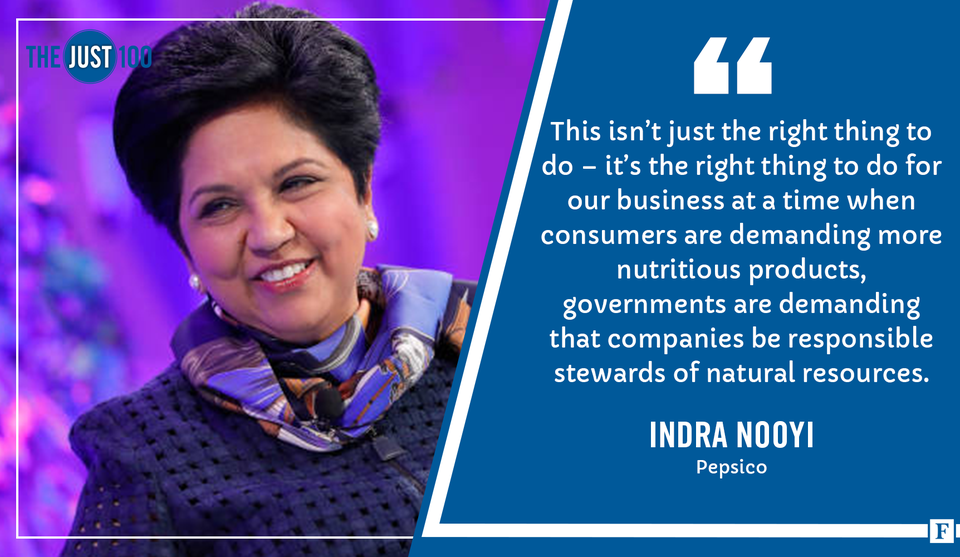 14 CEOS on Why Treating Workers Well is Good For Business
JUST 100 leaders talk about why workers are their top priority when it comes to creating and running a successful business.
An interview with the CEO of Intel, Brian Krzanich, on being America's Most JUST Company, and how capitalism can be a sturdy force for good.
Why Amazon, NVIDIA, and Microsoft are among America's Best Corporate Citizens
Forbes breaks down which companies earned the highest marks on the different issues we track, and why. 
Good Neighbors Make Good Investments: Behind the Bull Case for Zillow
A look at how JUST 100 company Zillow's stellar management and employee treatment has helped them outperform estimates and triple their stock price since their 2011 initial offering.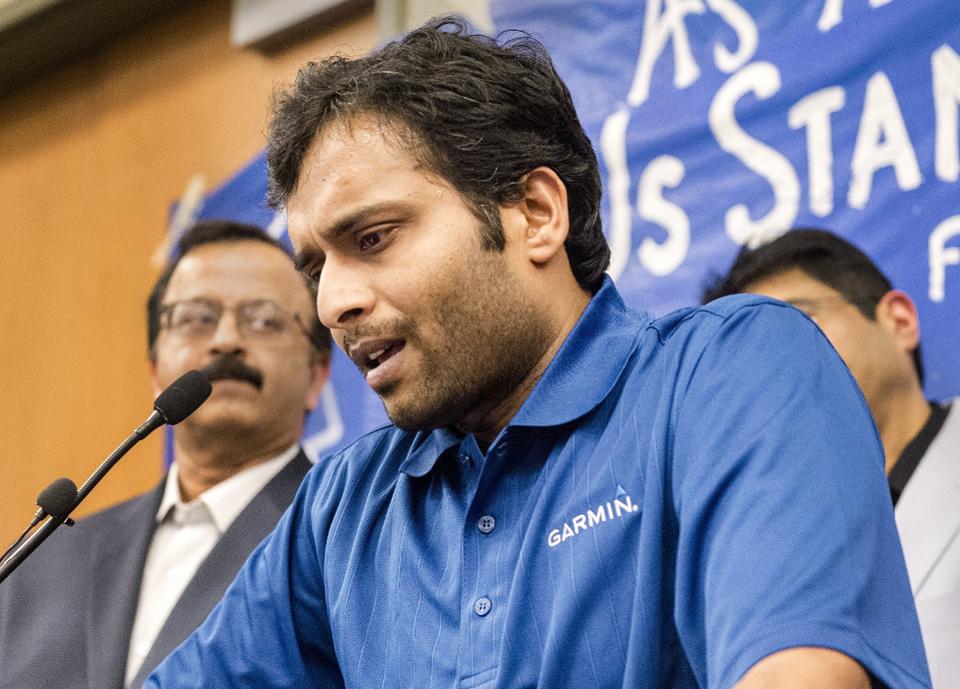 How Garmin Responded to a Hate Crime with Humanity
A special look at how Garmin responded to a crisis that threatened their community, and how it helped them earn high marks on our JUST 100 list. 
A Sweet Scheme: How a 108-Year-Old Vision Helps Hershey Look Beyond Profit
How does a successful company like Hershey give back? From their involvement in helping Hurricane Maria victims to the history of Founder Milton Hershey himself, Forbes takes a look at the company's commitment to doing good. 
Goldman's Green Inspiration? The Marketplace
An in-depth look at the green energy investments Goldman has made, and how being the #2 company for environmental efficiency in the U.S. has also led them to be incredibly profitable.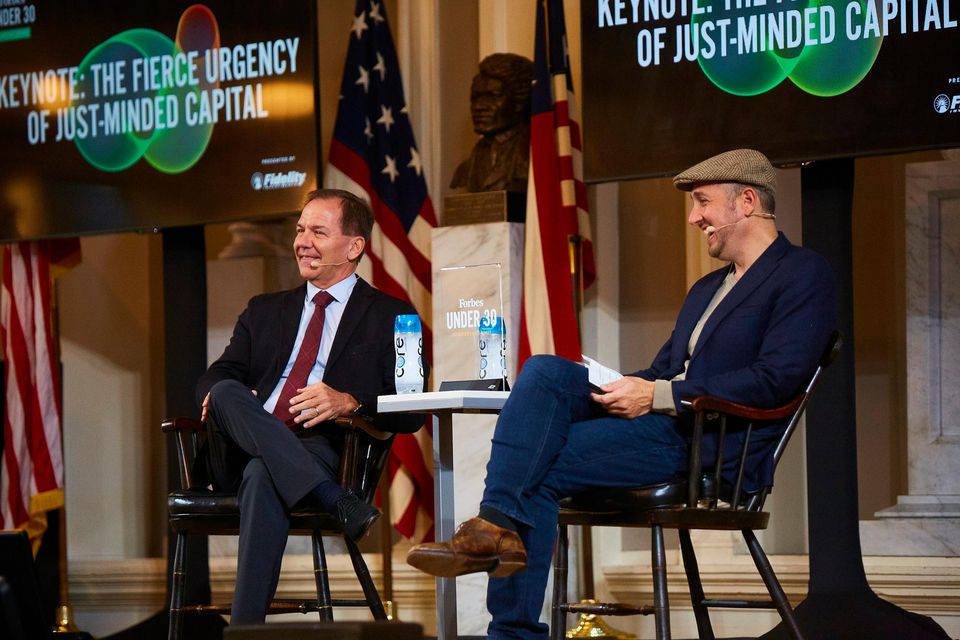 Billionaire Paul Tudor Jones: You Can Work For a Corporation and Keep Your Humanity
An interview with our founder about the mission of JUST Capital.
Generous 401(k) Matches Helped Scott Scherr Build the Ultimate Software Stock
A look at how a forward-thinking 401(k) match became the basis for an incredibly successful "employees first" company that has beaten stock market targets year after year.
Bottom of the Barrel: America's 88 Worst Corporate Citizens
While we like to emphasize the companies that lead on the issues that matter most to Americans, this article takes a look at the companies at the bottom 10 percent of our rankings.