Chart of the Week: Companies Embracing Full Disclosure on Workforce Diversity Continue to Outperform Peers
This week, in light of Labor Day this Monday, we revisit our Chart of the Week from earlier this summer to reevaluate how companies who fully disclose their EEO-1 reports have performed throughout the trailing three months (the Equal Employment Opportunity Commission requires companies to categorize employment data in these reports  by race/ethnicity, gender, and job category).
Looking once again at the Russell 1000 companies we rank, we compared the 32 companies that fully disclose their workforce demographics to the 558 corporations that don't disclose any data. We saw a continued relative outperformance of 22.5% over the trailing one year through Aug. 31 by the companies embracing transparency on employee diversity and wage breakdowns.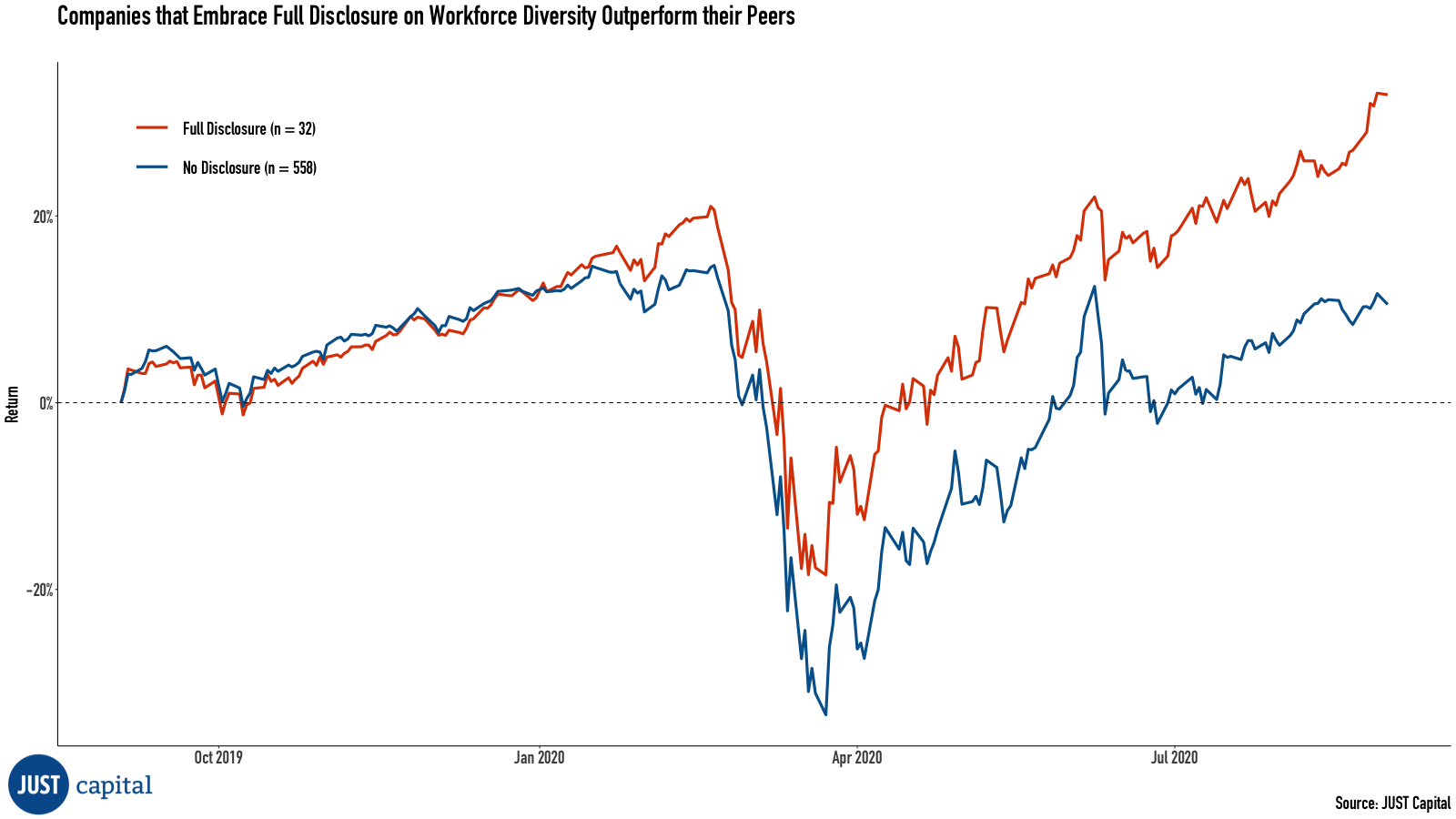 This Labor Day, this type of data takes on particular relevance. Social issues have risen to center stage as companies begin to address their own systemic inequity and how they treat and advance workers across ethnicities and gender. Publicly disclosing EEO-1 data is the first step to employee wage equality as it not only produces better results for shareholders but makes for a healthier, more sustainable company. 
While the stock buyback freeze has thawed and S&P 500 companies have reduced the number of their outstanding shares in Q2 by an average of 0.3 percent from the previous quarter, per Credit Suisse, we hope to see our largest companies continue the push to embrace workforce transparency and redirect free cash flow towards addressing systemic pay inequity.
If you are interested in supporting our mission, we are happy to discuss data needs, index licensing, and other ways we can partner. Please reach out to our Director of Business Development, Charlie Mahoney, at cmahoney@justcapital.com to discuss how we can create a more JUST economy together.
If you have questions concerning the underlying analysis, please reach out to our Senior Manager for Quantitative Research, Steffen Bixby, PhD, at sbixby@justcapital.com.