Chart of the Week: JUST Businesses Have a Higher Return on Equity
This week, we are excited to present the first analysis leveraging our newly released 2021 JUST Rankings. 
On October 14th, we debuted the 2021 Rankings of America's Most JUST Companies based on data compiled in 2020. We also held the Forbes JUST 100 Virtual Summit – featuring insights from this year's JUST 100 leaders. Watch the full event here, and stay tuned for key takeaways from panels featuring Ken Chenault, Satya Nadella, Pharrell, and more. 
In our 2021 rankings, we once again see Americans prioritizing workers issues above all others.  The Workers stakeholder makes up 41% of our rankings model this year, up 6% from the 2020 Rankings. In a year where employee health, financial security, and workplace inequality continues to take center stage, it is easy to see why it is so important to the American public that companies invest in their workers.  
In a past Chart of the Week from May 2020, we analyzed ROE specific to the companies that score highest on our Workers stakeholder to find a 1.5% outperformance of median 5-year average ROE when comparing the top quintile of highest workers scores to the bottom quintile.
Revisiting ROE once more in light of our 2021 Rankings, we see the data continue to disprove the notion that balancing the needs of all stakeholders leads to lower returns. Splitting the 931 companies we rank in the Russell 1000 into five quintiles from the highest to lowest JUST score, there is a 5.7% return on equity premium the top quintile exhibits relative to the bottom quintile when looking at 2019 median ROE. The quintile breakout is as follows: Q1: 16.3%, Q2: 13.1%, Q3: 11.4%, Q4: 9.6%, Q5: 10.6%.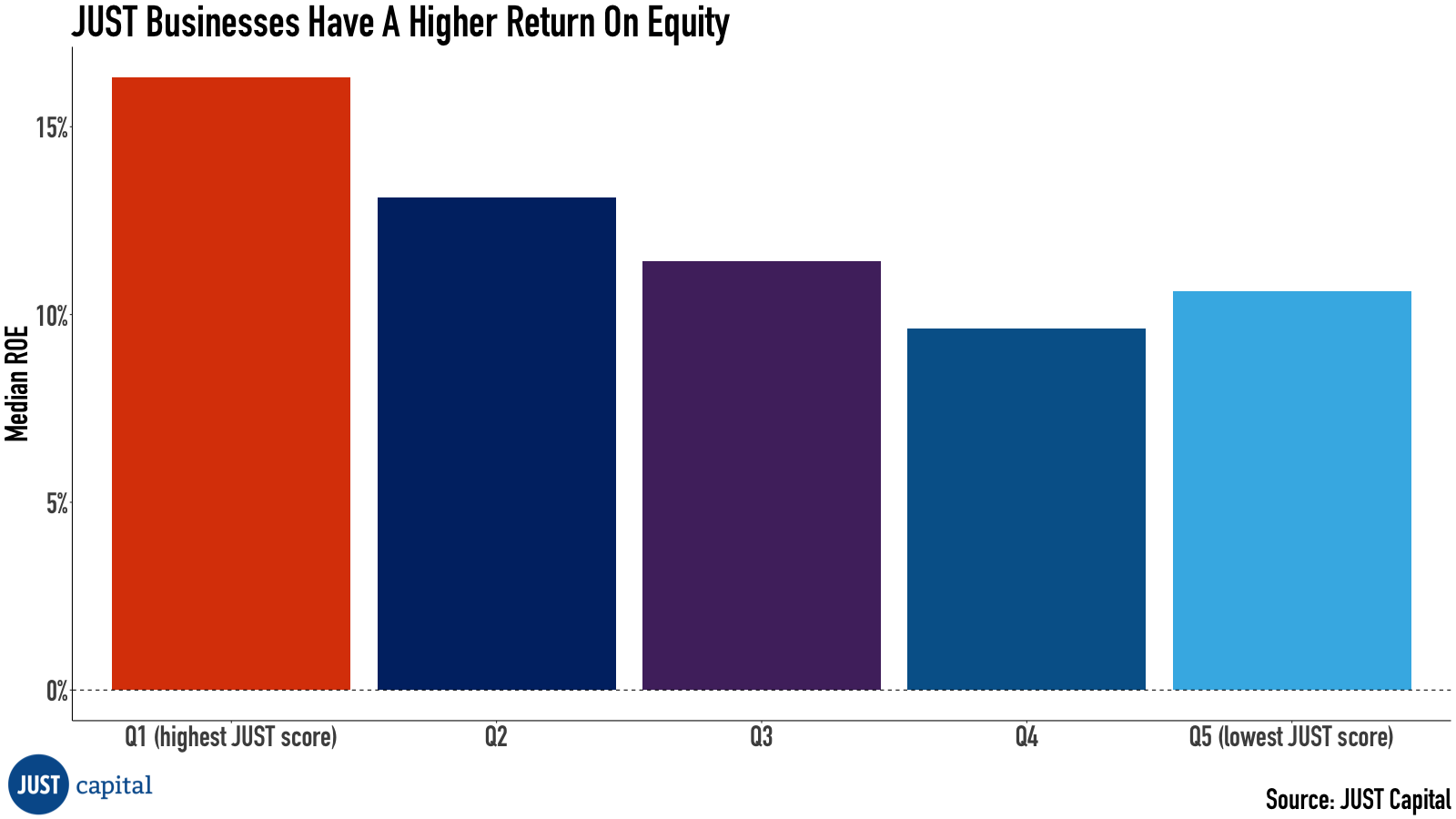 If you are interested in supporting our mission, we are happy to discuss data needs, index licensing, and other ways we can partner. Please reach out to our Director of Business Development, Charlie Mahoney, at cmahoney@justcapital.com to discuss how we can create a more JUST economy together.
If you have questions concerning the underlying analysis, please reach out to our Senior Manager for Quantitative Research, Steffen Bixby, PhD, at sbixby@justcapital.com.