Here's How 5 Companies Are Fostering Black Leadership
This post includes analysis conducted by Hernando Cortina, JUST Capital Director of Indexes & Analytics.
Earlier this month, having served as the CEO of American Express for 16 years, Kenneth Chenault retired. Chenault was one of just a few African American CEOs leading the largest publicly-traded corporations in the United States and, without him, there are only three remaining (that we are aware of) in the Russell 1000 companies we evaluate: Craig Arnold of Eaton, Arnold Donald of Carnival, and Kenneth Frazier of Merck.
With Black Americans comprising an estimated 14% of the U.S. workforce, their under-representation in the C-Suite is clear. However, studies have demonstrated a connection between diversity and financial performance – including a recent McKinsey report which shows that, globally, diverse executive teams are 33% more likely to outperform their peers on profitability. As Black History Month comes to a close, we've taken a closer look at the companies we rank to better understand how they are tackling this issue.
In 2017, JUST Capital polled the American public on the issues most important to them when it comes to just business behavior, and initiatives in anti-discrimination are chief among them – with 82% of Americans agreeing that companies should not discriminate in pay and 83% agreeing that companies should not base personnel decisions on race, religion, gender, age, ethnicity, sexual orientation, or disability status.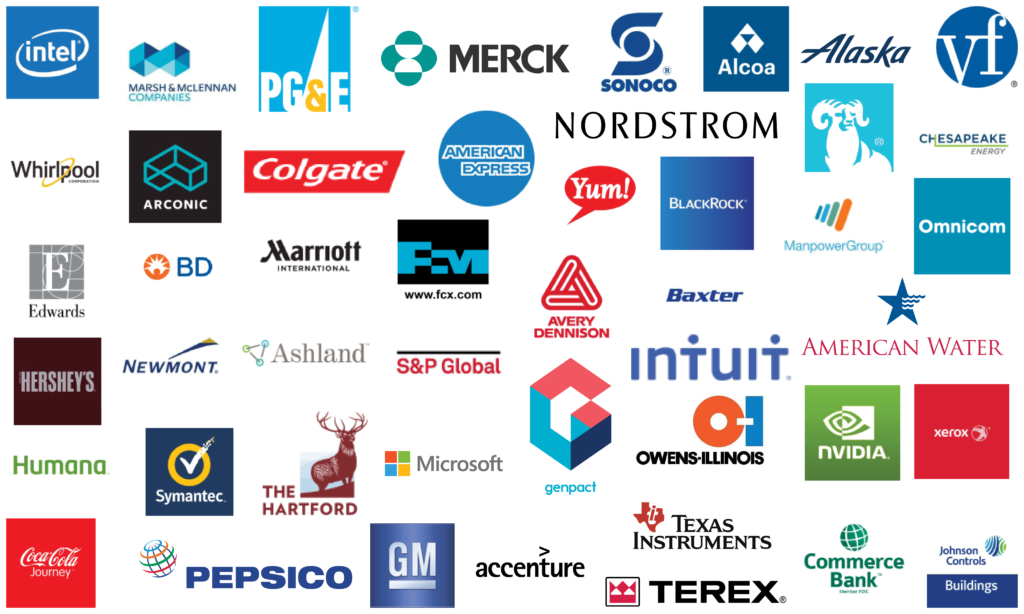 Of the companies in the Russell 1000, there are 47 that stand out for their efforts in creating equal opportunity and working to eliminate discrimination for both their employees and customers. These companies:
Have a policy to drive diversity and equal opportunity.
Have set targets and objectives on diversity and equal opportunity.
Have had no fines over the past 3 years by the Equal Employment Opportunity Commission.
Have had no controversies pertaining to discrimination in employment over the past three years.
Have had no controversies pertaining to discrimination in customer treatment over the past three years.
Further, our own analysis supports McKinsey's report. In looking at these 47 companies, we found that they perform well not only on issues of diversity and inclusion, they are actually more profitable than the other companies we analyze, with a 5-Year median Return on Equity (ROE) of 19.2% versus a 13.8% ROE for the rest of the Russell 1000.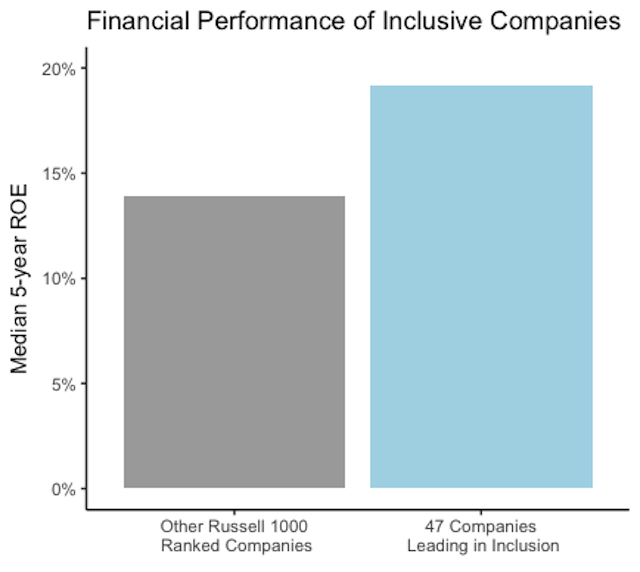 Of these 47 companies, we've identified five in particular that have created opportunities specifically for Black employees, both within their workforce and in the larger community through training and scholarships. The programs initiated by these corporations provide an example to other companies on the journey toward cultivating more future-forward, diverse, and profitable workforces, in greater support of Black Americans:
With so few Black Americans in top executive positions today, the programs initiated by these companies are essential to helping create more diverse leadership tomorrow. Not only can these efforts improve opportunities and workplace conditions for Black employees, studies are beginning to indicate that their effects on leadership can positively influence corporate financial performance. It stands to benefit any company to grow initiatives supporting employees of diverse backgrounds – not for those employees to then instigate change themselves, but for inclusive and diverse strategy to be embedded in a company's long term growth. With the Black community representing a considerable percentage of our national workforce yet so few in leadership positions today, these programs have the potential to spark positive change across corporate America.
This article was originally published on Forbes.com.