Here's How the Business Roundtable Stacks Up on Serving its Stakeholders
Back in August, the Business Roundtable, an association of the chief executive officers of nearly 200 of America's largest and most influential companies, released a new Statement on the Purpose of a Corporation. After 41 years of endorsing a governance model of shareholder primacy, the organization boldly committed to focus on delivering value to all its stakeholders, "for the future success of our companies, our communities and our country."
181 CEOs signed the Statement, committing to lead their companies for the "benefit of all stakeholders – customers, employees, suppliers, communities and shareholders."
Critics of the shift generally fell into two camps – those who believed the Statement went too far, undermining fiduciary duty, and skeptics who believed it didn't go far enough, representing mere words, not actions. 
For the converted, many saw the Statement as a reflection of how many top CEOs currently run their companies, while others saw it as a historic paradigm-shift that would help companies, boards, and investors chart a new course for the future of capitalism. 
Regardless of where you stood on that skeptic-to-convert spectrum, everyone started asking for a scorecard that would help us understand how these companies were actually performing on key stakeholder issues. 
JUST Capital has the answer. Our mission, as a nonprofit organization, is to openly and transparently measure, in a data-driven way, corporate performance on stakeholder issues, as well as to incentivize improvements. We have been doing this for four years. We are also the only organization tracking how the American public thinks about stakeholder performance, and which issues they prioritize. 
Today we are pleased to release a stakeholder analysis for the Business Roundtable Signatories, based on the analysis that fuels our 2020 Rankings of America's Most JUST Companies, as well as our own framing for how companies can optimize the creation of value in this new era of stakeholder capitalism. 
JUST Capital has polled more than 96,000 Americans over the past five years to intimately understand which issues the public wants corporations to prioritize to restore trust and create an economy that serves all Americans. We also have four years of corporate performance data on those issues, as well as market analysis that shows the business and investment case for adopting these business behaviors. 
By the Numbers
Overall, a healthy majority of the Roundtable's signatories scored well this year. They are not performing quite as well as the top companies, the JUST 100, but are close. And 34 of the signatories are, in fact, featured in the JUST 100, including Apple, Salesforce, Anthem, P&G, Cisco, GM, IBM, AT&T, Accenture, and Xylem. 
Our analysis is based specifically on 134 of the 181 signatory companies, as we track, measure, and rank Russell 1000 companies each and every year. If a company is not included in the Russell because they are a private corporation or for other rules-based reasons, we do not yet have data on those companies. For the 134 signatories that were included in our universe, we analyzed those companies across five stakeholder groups – including Workers, Customers, Communities, the Environment, and Shareholders – covering 29 Issues – like whether companies pay a living wage or protect the environment, and over 400 data points – from paid parental leave to veteran hiring and supplier policies.
Here's how 134 of the Business Roundtable signatories stack up: 
68

ranked 1-200.

35

ranked 201-400.

19

ranked 401-600.

8

ranked 601-800.

4

ranked 801-922.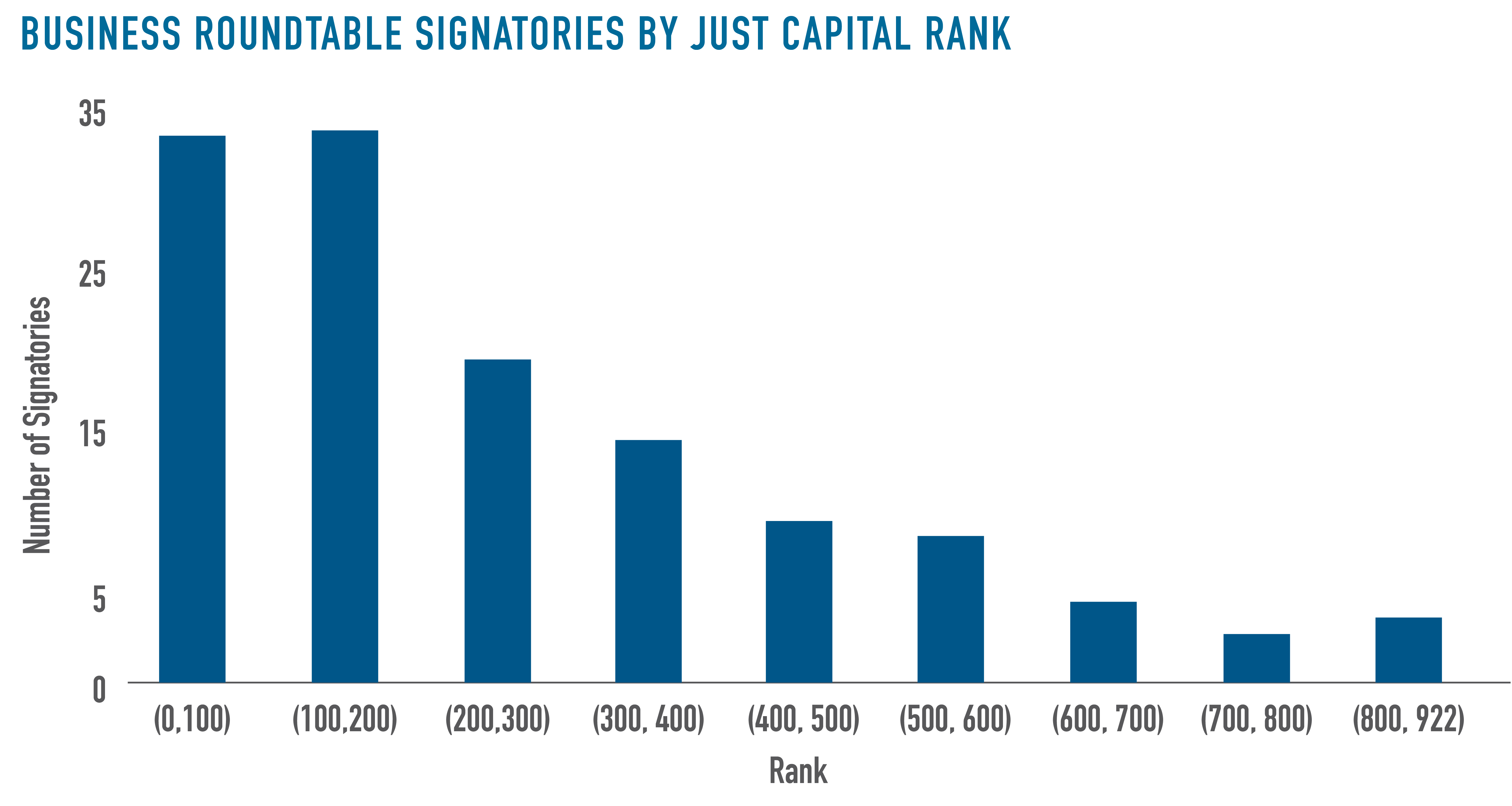 Serving Stakeholders
So aggregate performance was high. We next explored how the Business Roundtable signatories performed regarding key issues relating to each stakeholder. 
First a note to explain that our stakeholder definitions are modestly different than the Business Roundtable's purpose statement framing. We think similarly about employees (which we categorize as "Workers"), Customers, and Shareholders. The Roundtable considers issues relating to the environment and sustainable business practices as a component of how they serve communities, whereas the American public sees the Environment as a separate stakeholder. JUST combines supplier issues that matter most to the public – like upholding human rights standards in the international supply chain and supporting local, diverse, and veteran suppliers in the communities in which they operate – within our Communities stakeholder, rather than breaking suppliers out as a separate stakeholder.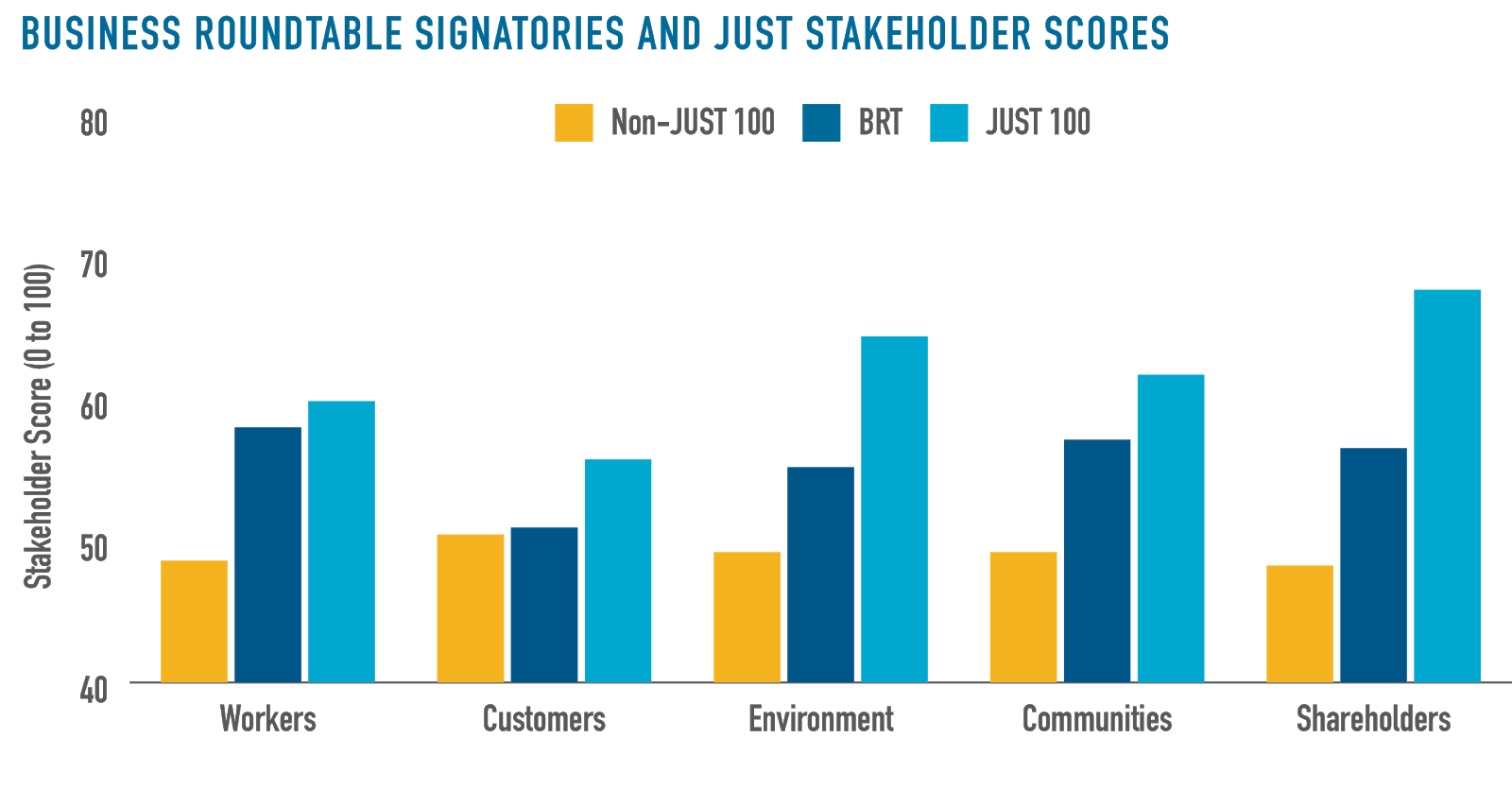 Overall, you can see that the 134 Business Roundtable signatories are performing well above average when it comes to serving their stakeholders, except for Customers, where we are measuring issues like creating quality, safe products that do not harm health, the environment, or society, and protecting privacy. 
Specifically, compared to other Russell 1000 peers not in the JUST 100, the Business Roundtable signatories perform:
22% better on Worker issues

(vs. 23% for JUST 100)

1% better on Customers issues

(vs. 11% for JUST 100)

13% better on Environmental issues

(vs. 31% for JUST 100)

20% better on Community issues

(vs. 25% for the JUST 100)

17% better on Shareholder issues

(vs. 40% for the JUST 100)
Note: the "Non-JUST 100" category above includes all of the Russell 1000 companies we rank minus the JUST 100. 
Impacting the Future
While the current performance of the Business Roundtable signatories shows that many of the top companies are already operating with a stakeholder-focused mindset compared to their peers, increased investments by this incredibly influential community of corporations could have massive ripple effects throughout our economy.
For instance:
Currently, 50% of Business Roundtable companies (compared to 17% of non-signatory companies) conduct a pay equity analysis. If all 134 Business Roundtable companies were to conduct —  and disclose — a pay equity analysis, 8.9 million workers would benefit.

If all 134 Business Roundtable companies gave at least 1% of pre-tax profits to charitable causes, it would raise an additional $4.5 billion in charitable giving. 

If they reduced GHG emissions by the initial U.S. Paris Agreement pledge of 26%, it would be the equivalent of taking 500,000 cars off the road per year. 
In the coming year, we will continue to track the actions they make toward their commitment – to support their workers, customers, communities, and more – in an effort to understand how this shift toward stakeholder capitalism impacts our economy, and the lives of all Americans.