Companies Want to Earn the Trust of the American Worker. Here's How They Can Do It.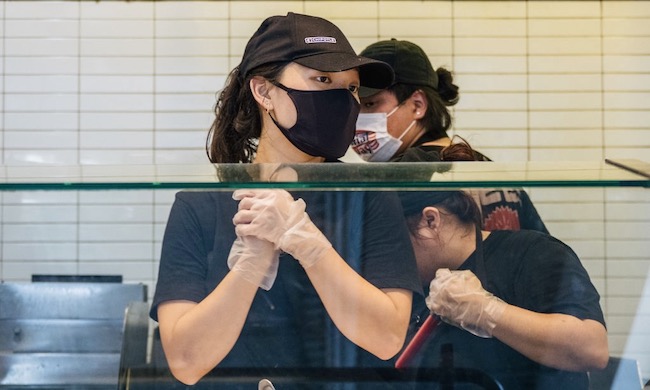 The last two years have required America's corporations to confront an unrelenting series of large-scale, complex, and interrelated new challenges. Many have done so with aplomb (as our work at JUST Capital has showcased) and with financial indices setting new records, you'd be forgiven for thinking all is well in the world.
For the American worker, however, things aren't so straightforward. The Omicron variant of the coronavirus has led to cases climbing across the country, with businesses temporarily shutting down, companies scrapping or delaying return-to-office plans, schools going remote, and flights being grounded. Supply chain disruptions, inflation, political infighting, ongoing social and cultural division, climate chaos, and, of course, an unprecedented labor market dislocation have all piled on the pressure.
Many workers continue to grapple with staff shortages at their companies. The Department of Labor recently reported that more than 4.5 million people voluntarily left their jobs in November, yet another record, with hospitality and other low-wage sectors seeing especially high quit rates. These numbers don't yet reflect the impact of Omicron but, as its effects unfold, workers are clearly at the end of their rope. Their message to companies is clear: Do more!
At JUST Capital, this accords with what we've heard from the American public over the last seven years. Since 2015, we've been asking Americans to identify what issues matter most when it comes to just business behavior. Their responses form the basis of our annual Rankings of America's Most JUST Companies, with our 2022 edition to be released next week with our partner, CNBC.
Each and every year the Americans we poll have been consistently united across demographics – liberal and conservative, high-income and low-income, men and women, millennials and boomers – in wanting companies to put workers first.
This is the case once again. As companies battle through what you might call the "Great Reset," and with seemingly no end in sight to the pandemic and its economic and political ramifications, the good news is that the American public stands firm and united on what they believe companies should prioritize.
In our latest Issues Report, the foundation of our annual Rankings weighting, Americans chose "Pays a fair, living wage" as the year's most important Issue, representing over 15% of our model for scoring companies' stakeholder performance. This is followed by "Creates jobs in the U.S.," making up 13% of our scoring model. This Issue rose from the number eight spot in last year's report, reflecting the hemorrhaging of jobs from the U.S. economy in the early stages of the pandemic – and, now, a reconsideration of what jobs workers are willing to take. Rounding out the top three Issues is "Prioritizes accountability to all stakeholders," which comprises over 10% of companies' scores and is up from the number 11 spot in last year's report.
This jump in importance for accountability aligns with findings from our latest annual survey results, which hint at a growing frustration among the public with corporate America's perceived lack of action.
Only 49% of those we polled believe companies are having a positive impact on society. Respondents were also more than twice as likely to believe that companies are having a positive impact on their shareholders (78%) than on the financial well-being of their lowest-paid workers (36%). Just 22% said they believe business is heading in the right direction.
Americans appear to be losing patience with corporations' willingness to act on their priorities. For example, to attract workers in a tight labor market, many employers have raised starting wages, but it remains unclear if recent wage hikes are part of a larger investment in long-term worker financial security – what JUST polling has shown Americans are looking for from companies – or merely short-term expediencies.
Companies participating in our Worker Financial Wellness Initiative – including Chipotle, PayPal, Prudential, and Verizon – are showing what this long-term leadership looks like through holistic assessments of workers' financial security, and continuous peer-to-peer learning. At the same time, the concept of a "JUST Job" is emerging: One that allows for not only financial security for workers, but for opportunity, training and advancement; that prioritizes diversity, equity, and inclusion as core tenets; and that allows workers to protect their own health and safety and that of their families.
Underpinning all of this is trust and accountability. It should be no surprise that holding executives accountable to the interests of all company stakeholders finished so high on the list of priorities. Of the Americans we surveyed this year, 84% agreed that companies "often hide behind public declarations of support for stakeholders but don't walk the walk." Greater transparency and disclosure can help here. For example, if raising wages is the company's stated priority, then sharing more information on the current company minimum wage and how it relates to local living wages will help. If prioritizing retention is the goal, companies should disclose more on internal promotion rates. Sharing information like this is an important part of the trust-building process.
At the end of the day, it's only by showing genuine progress on the issues that matter that companies can build and maintain trust. We know what those issues are, and we know what leadership looks like. With financial markets hitting all-time highs, the onus is now on corporate America to act.
With our 2022 Rankings of America's Most JUST Companies, we'll be highlighting the country's largest employers that are taking action on these issues. Join us next week to learn how those that are leading the way are helping shape a new definition of corporate success and, ultimately, forge new trust with their stakeholders.