The JUST Report: Leadership Insights From JUST 100 CEOs Satya Nadella, Ken Frazier, Dan Schulman, and More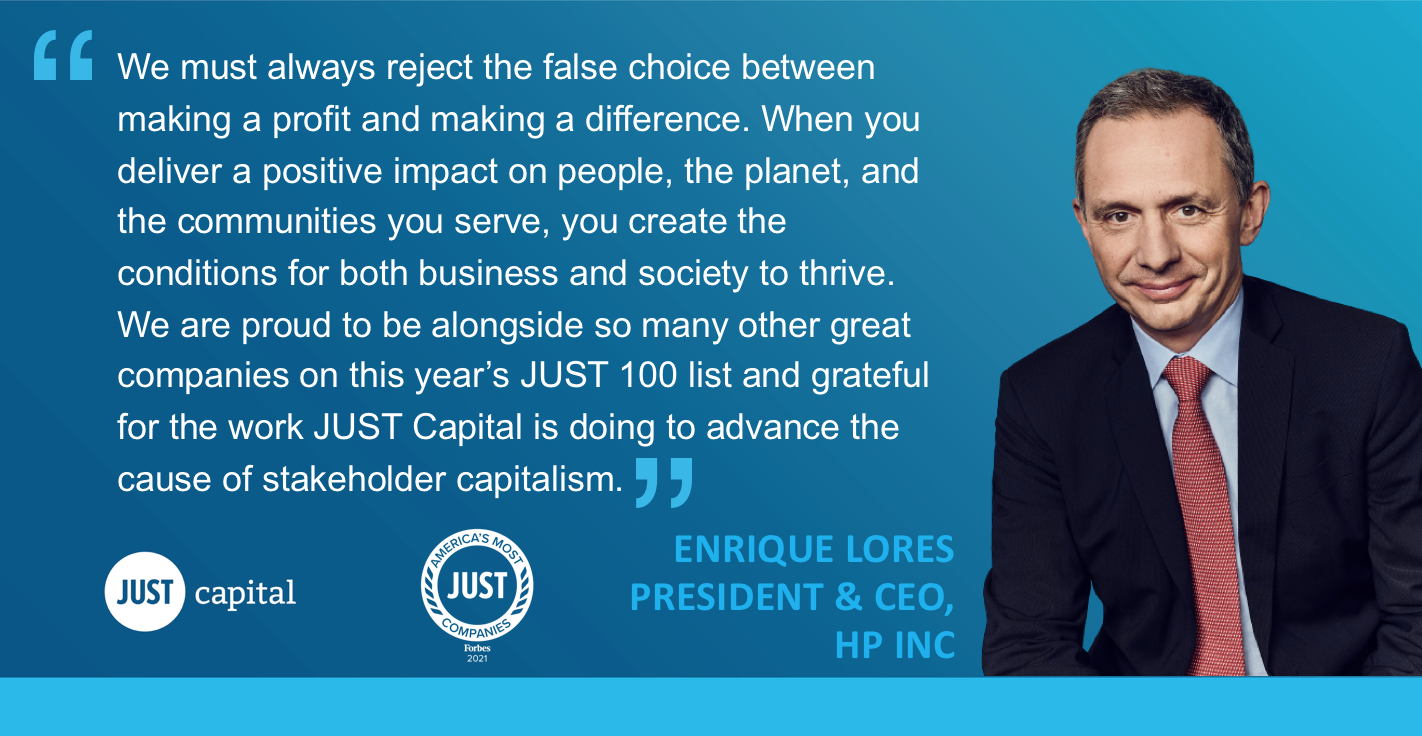 This week saw the release of our new annual rankings of America's Most JUST Companies and our celebration with Forbes of the new JUST 100 list. It's a big occasion for the organization, and a chance to spotlight our mission and hear directly from corporate leaders on why all this matters. The event did not disappoint. (And you can watch the replay here.)
Ken Chenault, former CEO of American Express and Chairman & Managing Director of General Catalyst, discussing how to lead through a crisis, explained that "reputations are made or lost in times of crisis." On racial inequity, he advised, "This is not rocket science. There has to be focus, persistence…This is not something that can be a flavor of the year. It has to be an ongoing effort."
Satya Nadella, CEO of Microsoft, speaking about stakeholder capitalism more broadly, observed: "I think it's fair, in 2020, in the midst of this pandemic, to essentially have a referendum on capitalism…We all have to recognize: What is the core social purpose of a corporation?" He also noted businesses' connection to democracy itself: "There is a wide gamut of things that we should do to ensure democratic institutions continue to thrive, as all of us as citizens and as businesses depend on these institutions on being strong."
Ken Frazier, CEO of Merck, struck a powerful note in his remarks on equity: "If you're complacent with the status quo, you're complicit in the structural racism and inequality that the status quo hides," and discussed the steps corporate America not only needs to take within, but also in support of addressing deep structural disparities in society – in education, in criminal justice, in health equity, and more. And Risa Lavizzo-Mourey, board member of Intel, Merck and GE, highlighted the importance of worker health and safety from factory floor to hospitals: "It also needs to extend beyond what we do in a corporation, and that requires us to use our influence and make sure that safety extends out beyond into society."
A major focus for JUST right now is the Worker Financial Wellness Initiative, with PayPal and other partners. Speaking about this, our Chair Paul Tudor Jones emphasized that "having companies understand and measure how many of their employees aren't making a living wage is the first big step towards reducing that inequality gap." Dan Schulman, PayPal's CEO, elaborated: "When we don't have financially healthy and safe employees, they start to question the system. Our whole democracy relies on rising above your own self-interest. Creating a healthy economy, a healthy capitalism, and a strong democracy…that's crucial for our future."
Pharrell Williams had the last word: "I love my country for its progression, but I REALLY love it for its untapped potential."
The JUST movement is on a roll, and I invite everyone who reads this to reach out, forward the invitation to others and join us.
Be well,
Martin Whittaker
P.S. I'd be personally honored if you would consider making a gift today to support JUST's work and mission so that we can continue to push forward on building an economy that works for all Americans.
This Week in Stakeholder Capitalism
This week, we wanted to highlight some of the standout policies of our JUST 100 leaders. Here are a few:
Microsoft, America's Most JUST Company, led on financially supporting workers through the COVID-19 crisis by continuing to pay contract workers during facilities and store closures.
JPMorgan set quantitative targets to increase representation of women, veterans, and employees with disabilities, demonstrating a commitment to equity across the organization. In 2019, JPMorgan committed to hiring over 4,000 Black students into entry-level roles over five years, and invested in Black talent retention with its Advancing Black Leaders initiative.
Target prioritized frontline workers during the pandemic by providing hourly wage increases and by offering $250-$1500 bonuses to hourly store managers, the highest amount among retailers. In addition, they were one of the few companies to permanently extend hazard and raise wages $15 an hour.
Mastercard helped individuals and companies weather COVID-19 with financial and in-kind support for small businesses and frontline workers, including $250 million in support for small businesses, and $10 million in emergency grants to frontline workers.
AT&T rewarded frontline workers with hazard pay in the form of a 20% hourly wage increase during the pandemic. They also extended its existing emergency PTO  from 80 hours to 160 in order to meet varying employee needs.
JUST Events
Wednesday, October 28th at 2PM to 3PM ET – How to Make Worker Financial Wellness a C-Suite Priority
Participants will hear from JUST, the Financial Health Network, and the Good Jobs Institute on how and why companies should conduct an assessment of wages, benefits, and employees' overall financial health, and also hear how PayPal increased the net disposable income of workers to 16%, up from as low as 4% in some regions. Join our webinar here.
Thursday, October 22nd at 1PM ET – Business Elects to Lead
Tune into Episode 3 of 3BL Virtual Forum to hear Martin in conversation with Simon Mainwaring on ESG, corporate purpose, and what to expect in the next year. Register here
What's Happening at JUST
For this week's release of America's Most JUST Companies, our media partner Forbes explored the leading companies in depth – discussing what stakeholder leadership looks like with CEOs of the JUST 100, highlighting the Women Leading America's Best Corporate Citizens, and unpacking why America's retail giants – like JUST 100 leader Target – are being hailed as heroes. Business Insider showcased the Top 10 unpacking scores on worker pay, racial justice, and climate change.
If you are curious about how Business Roundtable signatories on the revised Statement on the Purpose of a Corporation stacked up on stakeholder performance, we have the analysis here, featured in yesterday's Fortune CEO Daily.
Rounding out this week of coverage, CEO Martin Whittaker was featured in Reuters discussing the importance of disclosure in advancing racial equity across corporate America and last week's release of our Worker Financial Wellness Initiative was highlighted in the Journal Transcript.
Chart of the Week
As we celebrate the 2021 Rankings of America's Most JUST Companies, this week's chart looks closely at what it actually means to be a leader in the stakeholder economy. JUST 100 companies not only pay 18% to their median workers, use 123% more green energy, and give 6 times more to charitable causes, they had a 7.1% higher return-on-equity, as well as 56% higher total shareholder return over the past five years, showing that doing right by all stakeholders is good for shareholders.