Chart of the Week: Companies That Focus on Their Customers Outperform Their Peers During The Recovery
This week we're focusing on companies that excel in their Customers stakeholder. In our evaluation, we measure the degree to which companies produce non-harmful and quality products, emphasize privacy, use fair pricing, offer equal treatment, have transparent communications, and provide an overall excellent customer experience. 
When we split our JUST Rankings universe of Russell 1000 companies into five quintiles from highest to lowest Customers score (full list here), we see significant outperformance of the top quintile, returning 20.7% in the trailing one year. Looking at the chart below, it becomes clearer each day that the higher the priority a company places on its customer base, the greater its financial outperformance relative to its peers. Rounding out the other quintiles, we see Q2 returning 16.6%, Q3 at 8.8%, Q4 at 4.7%, and Q5 at -4.6%.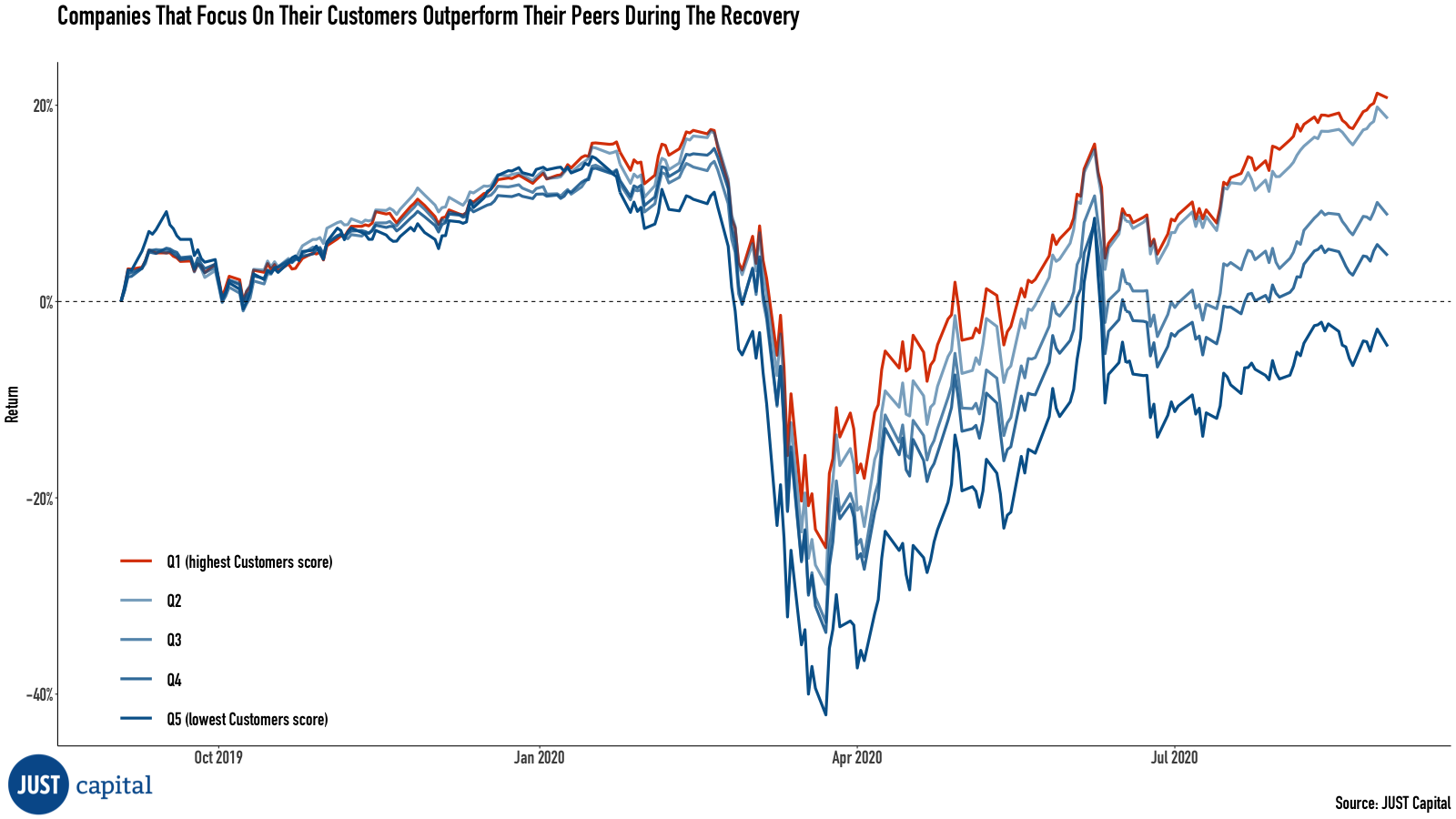 As an example of how a company can do well by its customers, we look at our third highest-weighted issue: whether or not a company protects a customer's data privacy. With recent headlines around the TikTok US acquisition and how data privacy is becoming a national security issue, the importance of this issue continues to gain prominence. Apple, which ranked No. 1 on data privacy collection among the JUST 100, is continuing to link its brand to the issue, debuting a new set of privacy protections for customers this week in its iOS 14 update for iPhones. Apple is up 53.8% this year, driving a material portion of our first quintile, and its emphasis on customer privacy is an example of why the companies in that top quintile are generating significant alpha. 
Protecting your customers' information, embracing transparency with them, and making products with a social benefit build trust. And it's ultimately brand loyalty that serves as the bedrock for generating long-term value, through ups and downs.
If you are interested in supporting our mission, we are happy to discuss data needs, index licensing, and other ways we can partner. Please reach out to our Director of Business Development, Charlie Mahoney, at cmahoney@justcapital.com to discuss how we can create a more JUST economy together.
If you have questions concerning the underlying analysis, please reach out to our Senior Manager for Quantitative Research, Steffen Bixby, PhD, at sbixby@justcapital.com.