The JUST U.S. Large Cap Diversified Index Continues Strong Performance
This week's chart is timely as the Goldman Sachs JUST U.S. Large Cap Equity ETF (JUST ETF) recently hit its three-year anniversary on June 13, 2021. The fund, which began trading on the NYSE Arca in 2018, seeks to track the JUST U.S. Large Cap Diversified Index (JULCD), constructed and managed by JUST Capital and composed of the top 50% of Russell 1000 companies in each industry, based on JUST Capital's annual Rankings.
Looking at the JULCD Index that the ETF seeks to track, we see it has outperformed the Russell 1000 cumulatively by 6.17% since inception in the 4.5 year period ending in May (Dec. 1, 2016 to May 28, 2021). Additionally, over the past year, the tracking error of the JULCD index relative to the Russell 1000 is 1.54. This indicates the benchmark is closely tracking the returns of the Russell 1000 to provide market beta, but sees additional alpha on a cumulative basis from JUST Capital's Annual Rankings and methodology.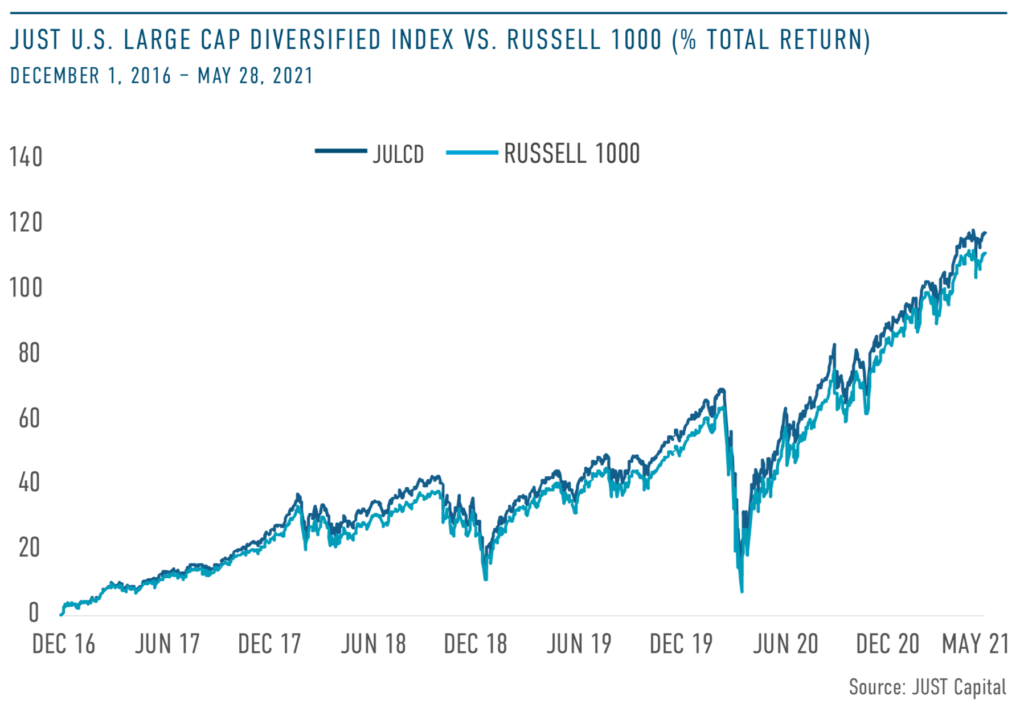 Given the JUST ETF anniversary and the past year's surge of flows to ESG funds, we wanted to resurface a speech that JUST Capital's Co-Founder and Chairman, Paul Tudor Jones, gave at the 2019 Inside ETFs conference. In his keynote, Jones highlights that the companies working to build a more just and equitable economy are also those that continue to deliver lasting value to shareholders. You can watch the full talk below:
Furthermore, companies in the JULCD are driving positive change on the issues our polling shows the American public expects a response to,including worker pay and well-being, customer treatment and privacy, environmental impact, job creation, and investing in communities.Compared to Russell 1000 companies excluded from the Index, 2021 JULCD constituent companies on average:
Have 1.3x as many women on their boards of directors.
Are 6.2x more likely to have conducted a pay equity analysis.
Emit 39% less carbon emissions per dollar of revenue.
Are 2.1x more likely to have a human rights policy.
Are 2.6x more likely to link executive compensation to performance on ESG risks.
As the JUST ETF continues into its fourth year, we have seen the fund reach $238 million in assets under management (AUM), be named the Best New ESG ETF and a finalist for ETF of the year from ETF.com, and receive a Morningstar Analyst Rating of Bronze in December 2020.
The Investor Solutions team at JUST Capital continues to expand the suite of products tracking our in-depth company research and polling of the American public. We firmly believe that together we can create a more just and equitable marketplace that works for all Americans. Please reach out using the link below if you have an interest in partnering with us to launch the next stakeholder-driven strategy.
If you are interested in supporting our mission, we are happy to discuss data needs, index licensing, and other ways we can partner, please fill out our request form to answer a few questions, and someone from our Investor Solutions team will reach out to you within two business days.