These Were JUST Capital's Most Popular Stories of 2022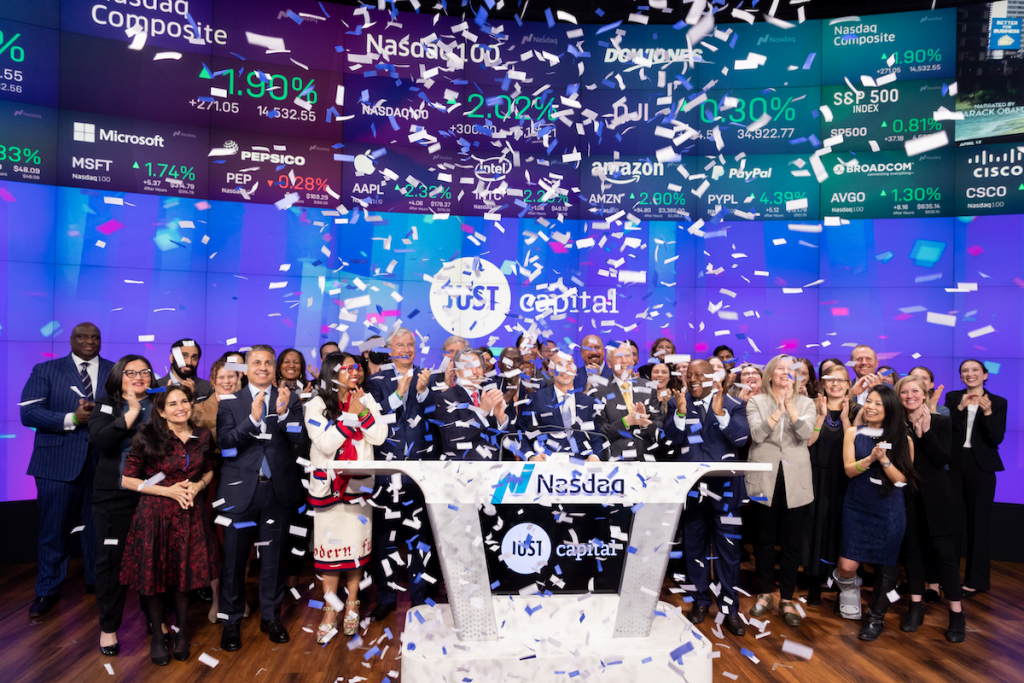 This was a big year for JUST Capital when it comes to how we show up in the world and the impact we drive – arguably our biggest yet.
Two fundamental developments spurred that growth. As the United States began to mostly move on from COVID-19 pandemic restrictions, inflation simultaneously rose to a 40-year peak, the labor market remained tight, and companies had to determine new ways to recruit and retain talent. We also saw – with the combined forces of a war that upended energy markets, a midterm election, and a Securities and Exchange Commission with an ambitious agenda – ESG (environmental, social, governance) investing and the related stakeholder capitalism movement rise into mainstream political culture wars.
Both of these issues are, of course, incredibly complex, but we remained centered on the polling of the American public that defines our work. Our top articles, collected below, include the analysis, reports, Rankings, and interviews that positioned JUST Capital as the champion of pragmatic and popular business leadership.
1. JUST Capital and CNBC Release the 2022 Rankings of America's Most JUST Companies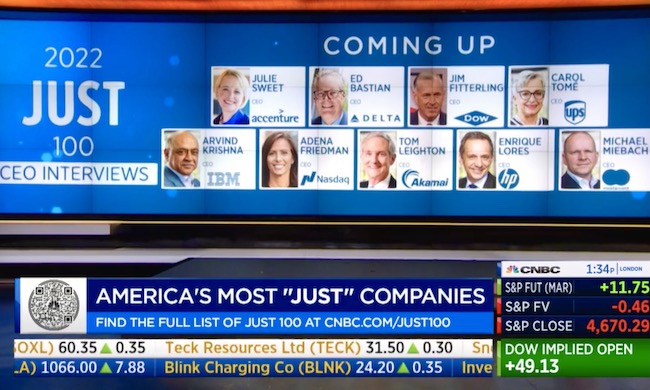 We kicked off the year with our biggest Rankings launch yet, with our new media partner CNBC. Alphabet took the No. 1 spot this year.
2. The 2022 Corporate Racial Equity Tracker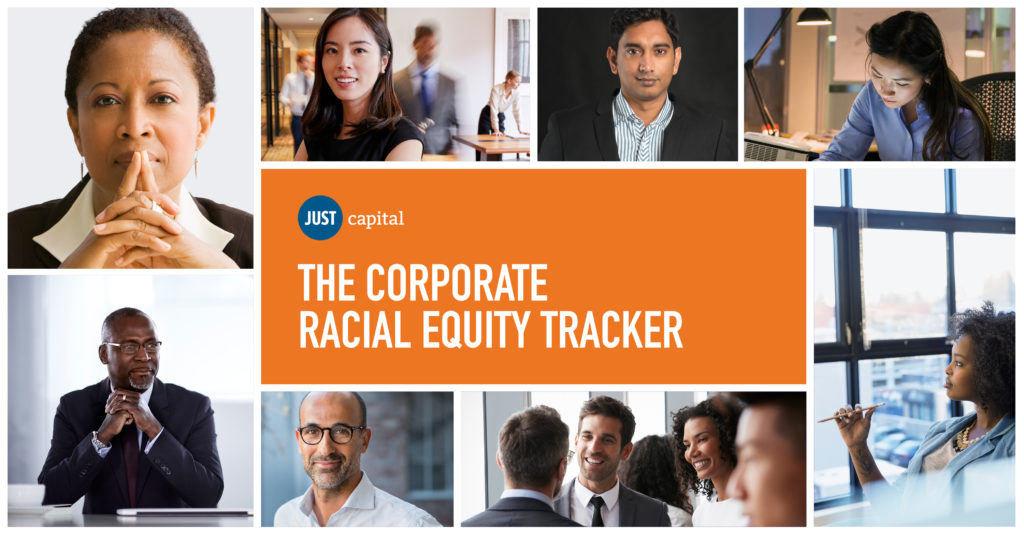 We checked in on how America's largest companies are doing when it comes to their racial equity commitments of the past two years, with a more robust version of the Tracker we launched last year.
3. The Top Five Companies Leading on Paid Parental Leave in 2022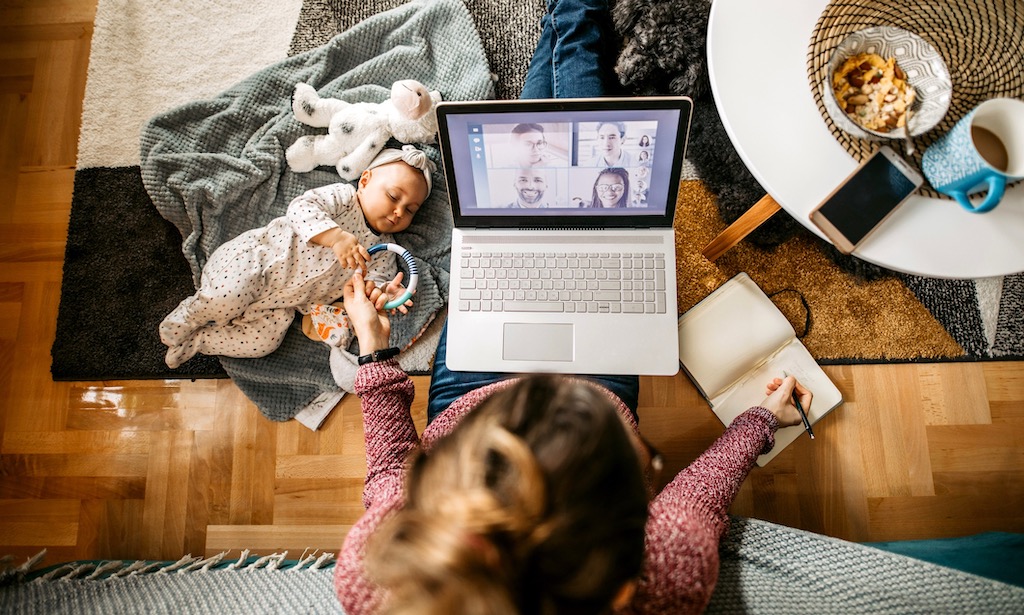 As the COVID recovery progressed, we took a look at the companies that offered a wide array of parental benefits, including six months of paid leave for two parents.
4. JUST Capital's 2022 Workforce Equity and Mobility Ranking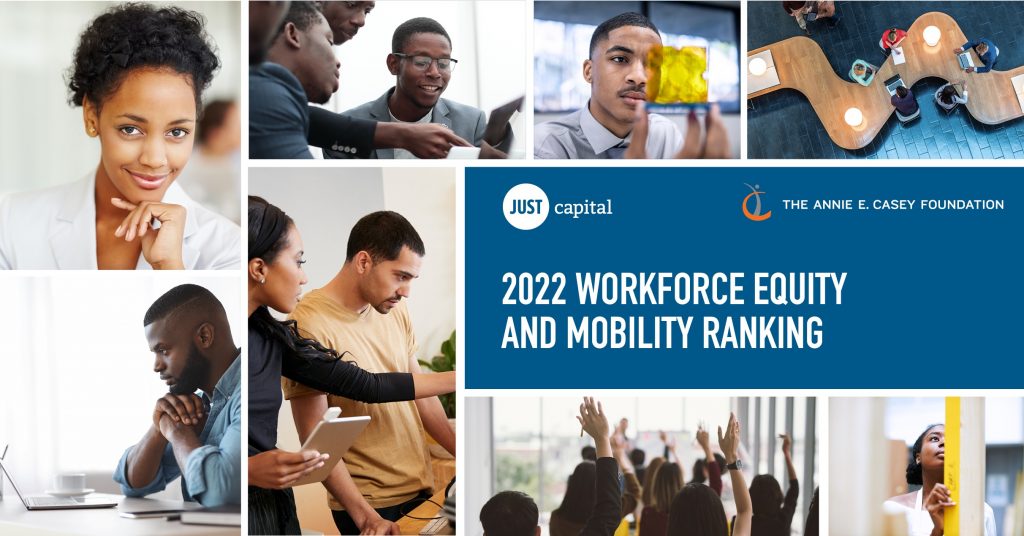 With support from the Annie E. Casey Foundation, we identified the companies that are offering their employees not just good wages, but access to opportunities for growth in an inclusive way.
5. America's Top 10 Companies for Environmental Performance in 2022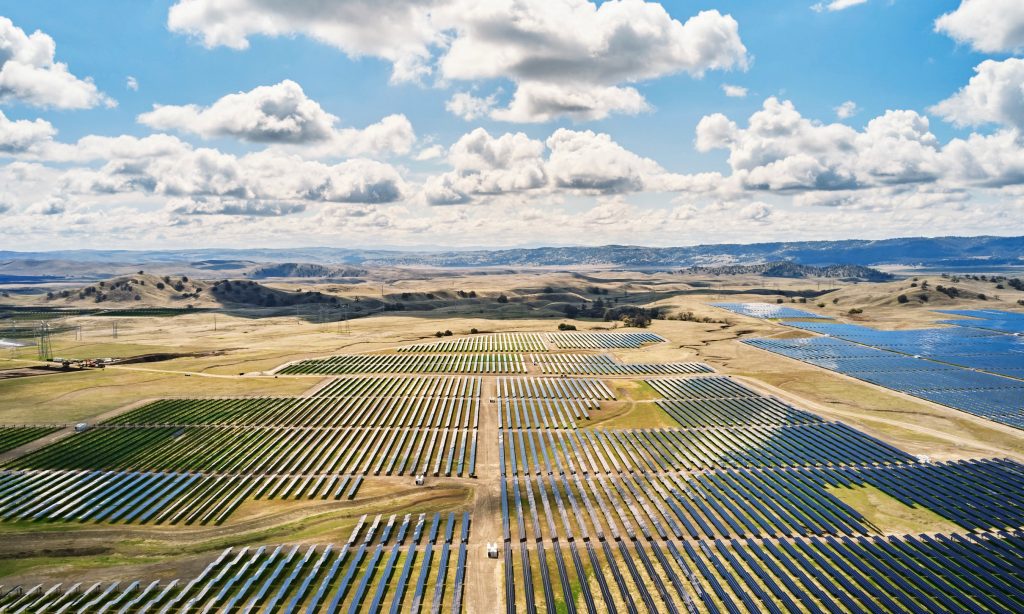 This year's ESG debate was largely driven by the question of whether companies should be mandated to disclose environmental policy information, and to what degree. Regardless of how that plays out, these companies are already showing what's possible.
6. How Companies Are Responding to Russia's Invasion of Ukraine
When Russia invaded Ukraine in February, it threw the world's political dynamics and economies into a frenzy. We quickly began tracking how the largest U.S. companies, many with business ties to Russia, responded.
7. The 2022 Top 100 U.S. Companies Supporting Healthy Families and Communities
With support from the Robert Wood Johnson Foundation, we ranked the companies that are having positive impacts on the communities in which they operate.
8. Just Over Half of the Largest U.S. Companies Share Workforce Diversity Data as Calls for Transparency from Investors and Regulators Grow
The SEC indicated last year that it would consider mandating enhanced reporting of human capital metrics as the largest institutional investors increasingly call for that information. We took a look at the state of play.
9. America's 32 Industry Leaders for Environmental Performance in 2022
In honor of Earth Day, we showcased the companies leading their industries in transparent and ambitious climate policies and sustainable business practices.
10. Bank of America's Head of Diversity & Inclusion Explains How Its Hiring and Retention Practices Prioritize Equity and Upward Mobility for Workers
Bank of America scored well on our 2022 Workforce Equity and Mobility Ranking (link above), and to discuss the policies behind that performance, we reached out to Cynthia Bowman, the bank's head of DEI.
11. SURVEY ANALYSIS: Americans Want to See Greater Transparency on ESG Issues and View Federal Requirements as a Key Lever for Increasing Disclosure
At this point, a broad interpretation of what ESG means is now solidly part of America's culture wars, but in February we found that large majorities of Americans support more transparency around how companies are impacting society, and even support federal reporting guidelines.
12. The 5 JUST 100 Companies Leading on Gender Board Diversity
Companies prioritizing gender equality do so at all levels of the organization, and we found that the average representation of women on Russell 1000 boards rose from 23.8% to 28.2% between 2019-2021. These are the JUST 100 corporations that stood out.
13. JPMorgan Chase's Head of Corporate Responsibility Breaks Down 4 Lessons From Overseeing the Firm's $2.5 Trillion Sustainability Initiative
We spoke with JPM's Demetrios Marantis, who was put in charge of the bank's highly ambitious $2.5 trillion sustainability initiative, and whose team has brought transparent updates on it into the firm's annual ESG report.
14. In 2022, These 3 Companies Are Leading the Way for Women in the Workplace
As part of our partnership with CNBC, we determined the companies that excel on the women's issues our polling found Americans value most, including access to childcare, equal pay, and paid family leave.
15. State Street Global Advisors' CEO and Head of Asset Stewardship Talk Proxy Season, the State of Energy Amid Ukraine War, and the Future of ESG
State Street, as one of the Big Three institutional investors, holds significant influence over the fate of ESG investing, and we discussed SSGA's "Value, not values" philosophy with then-CEO Cyrus Taraporevala and Benjamin Colton.