January 19, 2022
In our 2020 survey insights roundup, we predicted that the pandemic would have ripple effects across society into 2021, and indeed 2021 proved to be another unprecedented year. Americans have withstood a number of challenges – from the attack on the U.S. Capitol, to labor disruptions across the country, to navigating challenges with the new Delta and Omicron variants. And this year's Edelman Trust Barometer showed that respondents both trust business more as an institution and want to see more, not less, engagement from business leaders on the critical social issues of our time.
Throughout the last year, we turned to Americans to learn their opinions on what they believe companies should do to address these challenges and move toward a recovery that serves all their stakeholders. Looking back over the past year of polling, we've identified seven key imperatives for corporate America in 2022, including:
Focus on action over words.
Put workers at the heart of just business practices.
Accelerate action on diversity, equity, and inclusion.
Don't let up on worker health and safety protections.
Invest in childcare to support an equitable recovery.
Take a stand on the most important issues of our time.
Get specific on climate commitments.
These findings – compiled from a year of survey research with our partners at The Harris Poll and SSRS – provide not only a roundup of the public's views, but also a roadmap for action for corporate America in the year to come.
Focus on action over words
Last year, 80% of Americans agreed the pandemic had opened their eyes to acceptable and unacceptable corporate behavior and 89% agreed the crisis presented companies with the opportunity to hit "reset" and focus on doing right by all their stakeholders. This year, we're seeing the social, economic, and political dislocations of the last 18 months manifest themselves in supply chain disruptions, roiling labor markets, and an erosion of faith in business as a genuine force for the greater good.
Our most recent polling demonstrated that Americans are losing patience, with 84% agreeing that action from corporate leaders is lacking: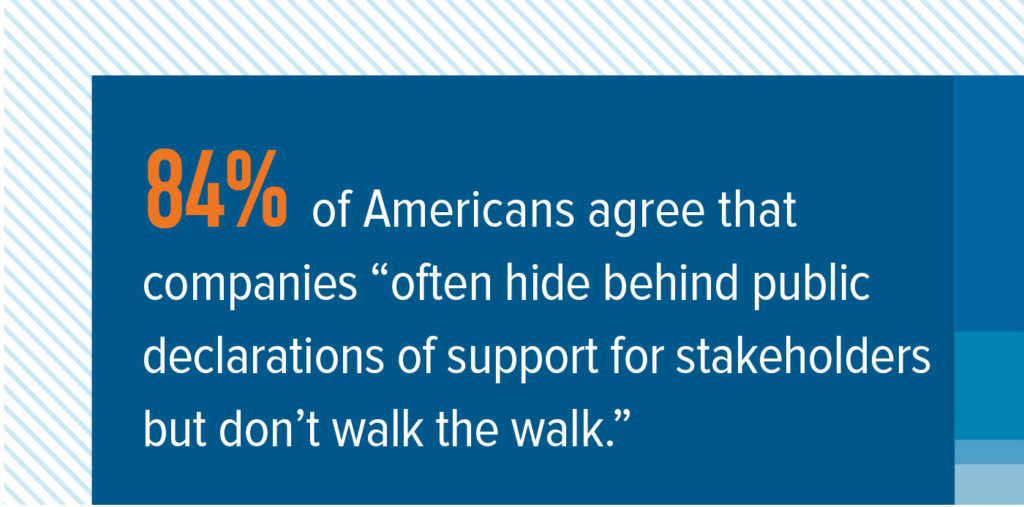 To restore trust with the American public, now is the time for companies to respond with concrete action – especially regarding wages, equity, opportunity, and overall accountability to stakeholders.
As we've recently seen from the tight labor market and the Great Reassessment, it's clear that Americans are willing to vote with their feet for better wages and benefits, safe working environments, and more flexibility and opportunity – especially if they don't see concrete action on these critical issues.
Put workers at the heart of just business practices
Our annual survey shows that once again, all five Worker Issues – paying a fair, living wage, protecting worker health and safety, providing benefits and work-life balance, investing in workforce training, and cultivating a diverse and inclusive workplace – among the top 10 priorities of the public, underscoring that companies' number one task in 2022 is to prioritize the treatment of their workforces.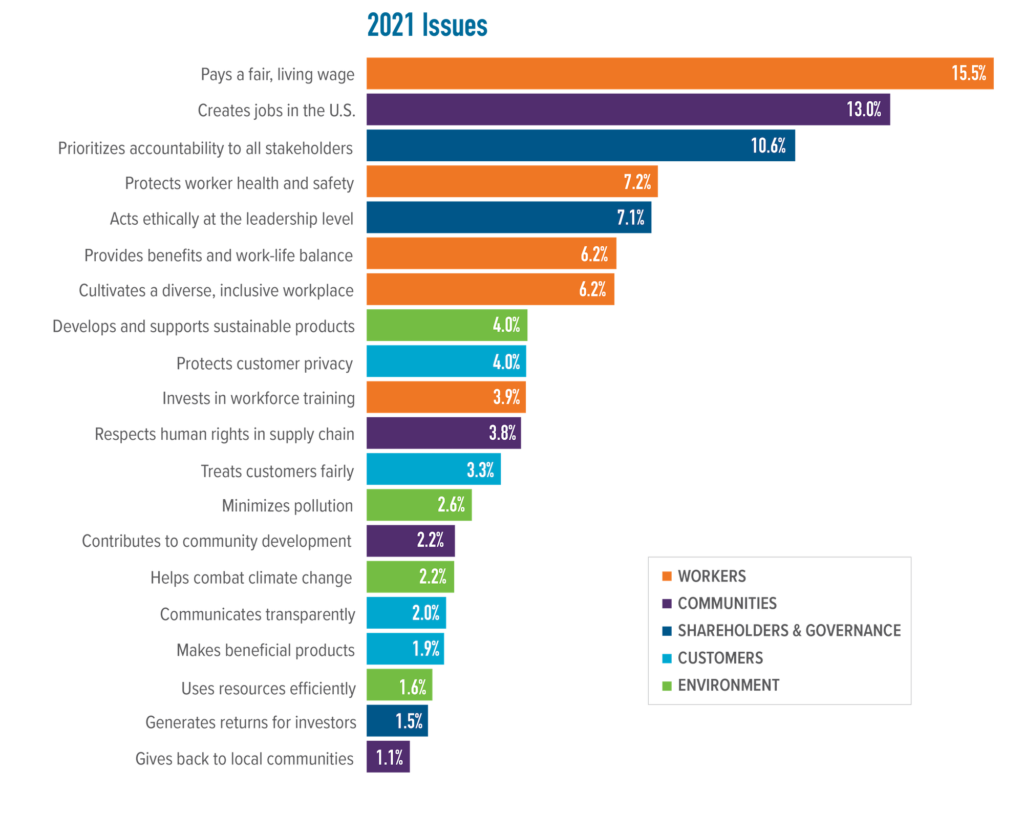 Looking ahead to 2022, various and multiple sources note that employers' primary concern for the coming year is hiring and retention. The labor crunch is not only felt by corporate leaders: Nearly two-thirds (63%) of respondents to our July 2021 survey say they have seen, read, or heard about a "tight" labor market. Workers are making their voices heard by striking or staging walkouts, citing their discontent with working conditions and level of pay.
When we asked them what companies should do to compete for workers in a tight labor market, respondents let us know that they agreed corporate leaders should offer higher starting wages (55%) and provide comprehensive benefits (47%).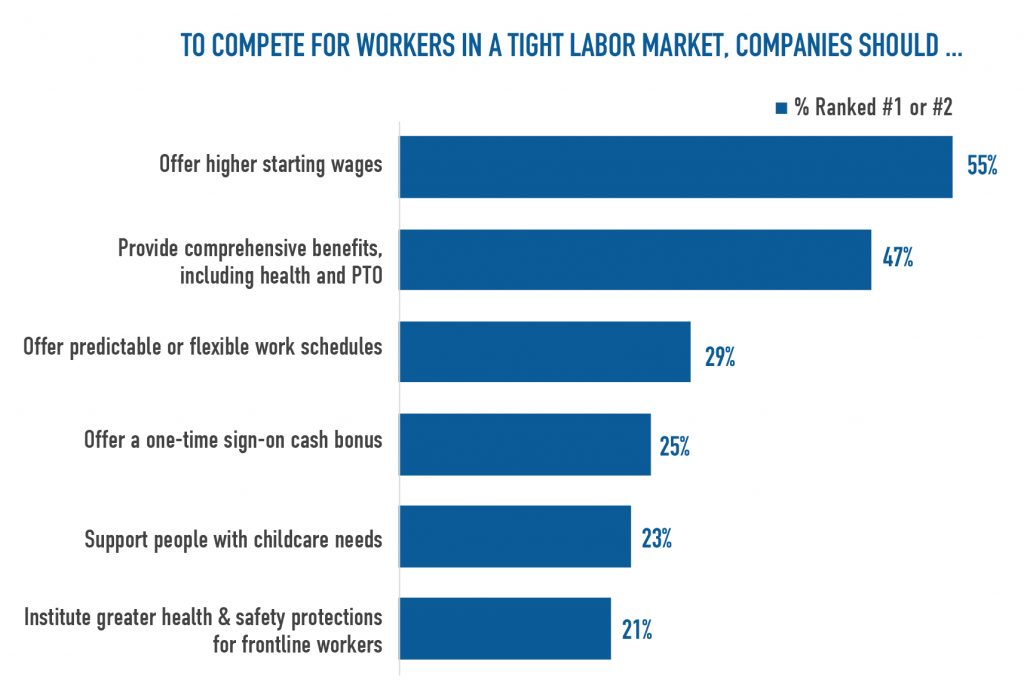 For almost every action, from raising wages to offering more predictable or flexible work schedules, substantially more respondents said this should be a long-term policy change rather than a short-term solution. As part of our Worker Financial Wellness Initiative, JUST provides guidelines for how to begin the journey toward improving employee financial health – undertaking an assessment of whether workers are able to make ends meet. Making financial wellness a C-suite priority in 2022 will help ensure fairer treatment for companies' most valuable assets – their workers – and ultimately build more equitable standards for worker wages across corporate America.
Accelerate action on diversity, equity, and inclusion
After George Floyd's death and ensuing protests shone a spotlight on the pervasiveness of racial inequity in the U.S., the public continues to say that companies play a role in promoting equity both in the workplace and more broadly in society by instituting various corporate diversity, equity, and inclusion policies and practices.
Our April poll found that a vast majority of respondents – even across demographic and party lines – say it's important for companies to promote racial diversity and equity in the workplace, and that number skyrockets to near universal agreement among Black Americans (95%). As part of our efforts to support companies in their work to live up to these expectations from the public, JUST Capital collaborated with PolicyLink and FSG to create the Blueprint for Corporate Racial Equity – outlining concrete steps corporate leaders can take to build more equitable, antiracist practices into their operations, from paying all employees a living wage to cultivating inclusive hiring pipelines to conducting racial equity audits, and more.
Looking more closely at the public's recommendations, the chart below shows that Americans widely agree that companies should conduct annual pay analyses across different demographic groups as part of their efforts to advance racial equity: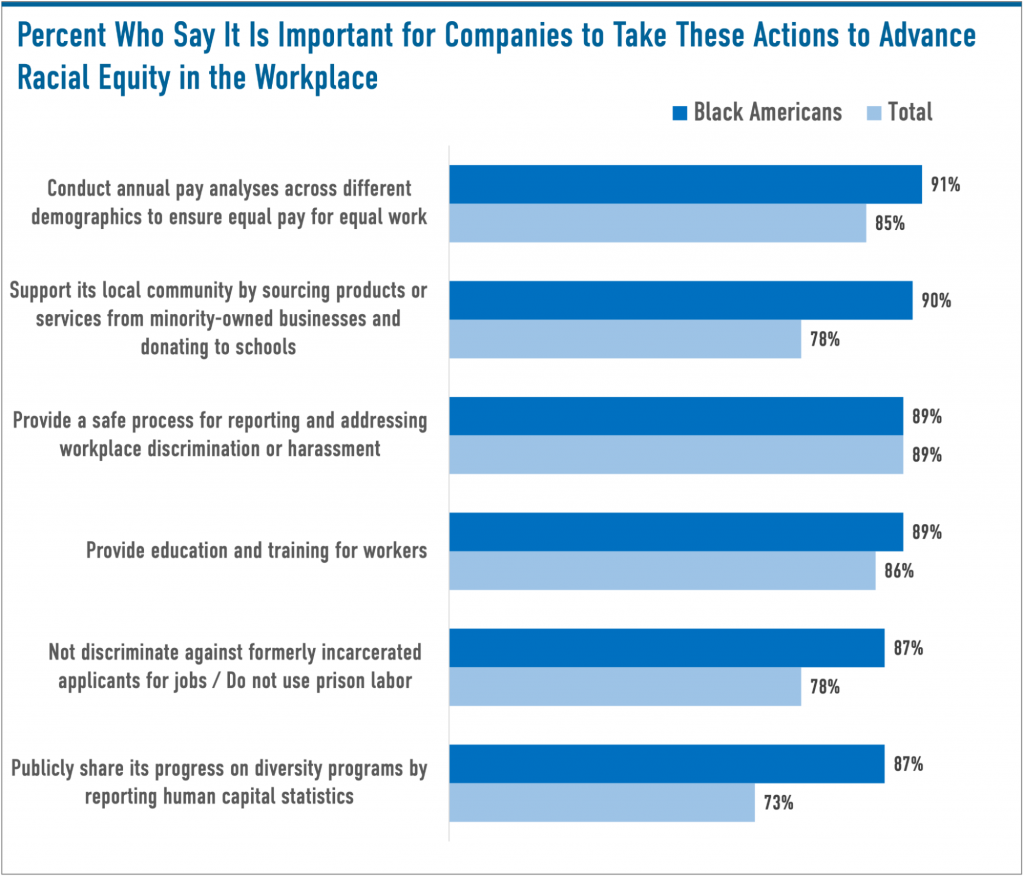 Another three-quarters of respondents report that providing statistics about the demographic makeup of a company's workforce — including leadership and the board — is also a key step to improving representation. And in our 2022 Rankings, we saw demographic disclosure improve considerably among the 1000 largest public U.S. companies: disclosure on board diversity by race or ethnicity increased from 20% in 2021 to 52% in 2022, and detailed workforce demographic disclosures by race and gender (e.g. EEO-1) increased from 4% to 11%. Though these increases are heartening, corporate America still has work to do when it comes to disclosing demographics and providing a clearer portrait of the state of representation today.
And though we have seen forward momentum of DEI programs in the workplace, there is clearly additional work to be done in firmly establishing and communicating organizational programs and goals. In November we surveyed American workers and employers to determine how effectively diversity, equity, and inclusion efforts are going after more than a year of bold commitments. We found that, while majorities of both workers and employers agree that their companies had committed to establishing workplace DEI programs, there is less consensus between the two groups about how far along their company is in the process of creating clearly defined goals to drive diversity, equity, and inclusion in the workplace.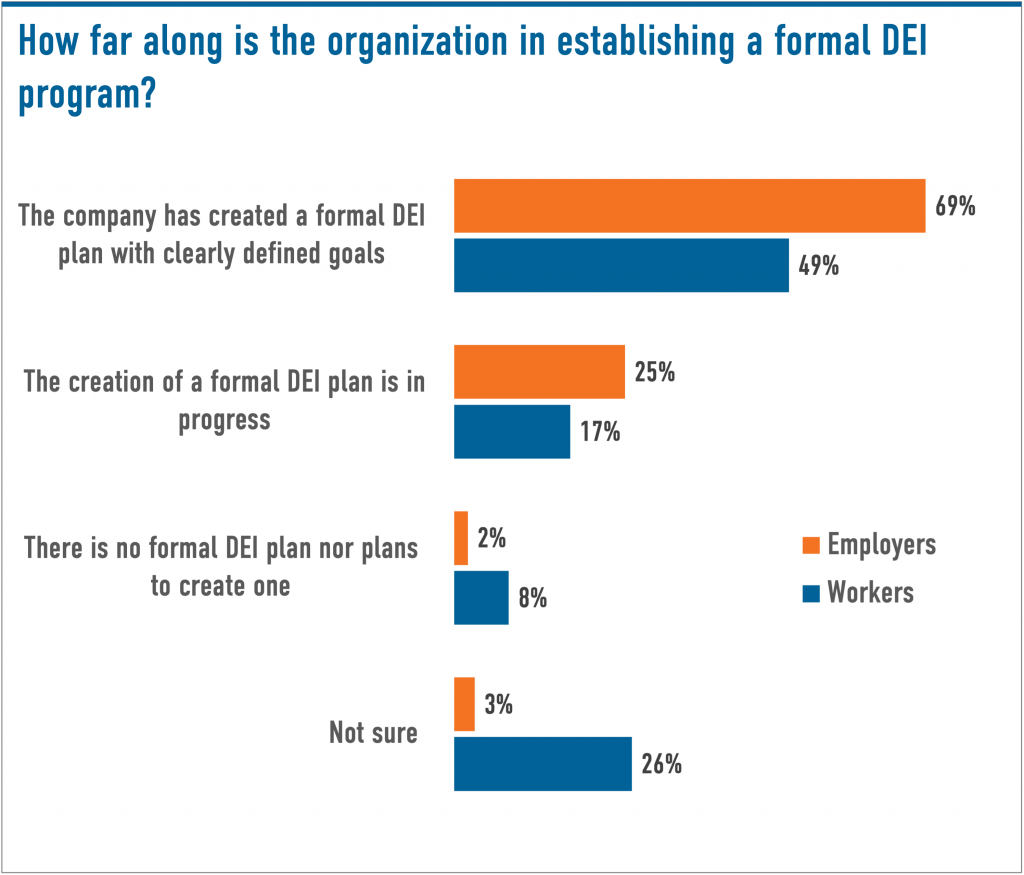 The 20 percentage point difference between employers and workers who say their "Company has created a formal DEI plan with clearly defined goals," (in addition to the one in four workers who say they're "not sure" where the organization is in the process) indicates that corporate leadership can improve how well enterprise-wide DEI goals and progress are communicated throughout their organizations.
Don't let up on worker health and safety protections
2022 marks two years into the COVID-19 pandemic, and the arrival of the Omicron variant in late 2021 has renewed concerns for employers and workers alike around how to address rising health and safety challenges in the workplace. Early this month, United reported that 3,000 employees – more than 4% of its workforce – had tested positive for the coronavirus over the holidays. Retail companies have been hard hit as well, with many front line workers contending with rising health risks while their employers decline to provide hazard pay or implement vaccine and testing mandates. Meanwhile, following CDC guidance that individuals who contract COVID-19 need to quarantine for just five days, employers from CVS to Ikea to Walmart have shortened paid sick leave for employees, meaning that many workers face the choice of working sick or going without pay.
In a survey we fielded in March 2021, in partnership with The Harris Poll and the Ford Foundation, we turned to employers and employees to understand how COVID-19 was shaping the workplace one year into the pandemic – and found that one in five workers reported going to work sick since the start of the pandemic, and of that group, 67% did so because of either a lack of sick leave, fear of losing their jobs, or fear of employer anger. Since that time, the nation's labor force has withstood two variants and still faces similar impossible decisions – and is looking for corporate leaders to continue to prioritize their health and safety over other logistical concerns.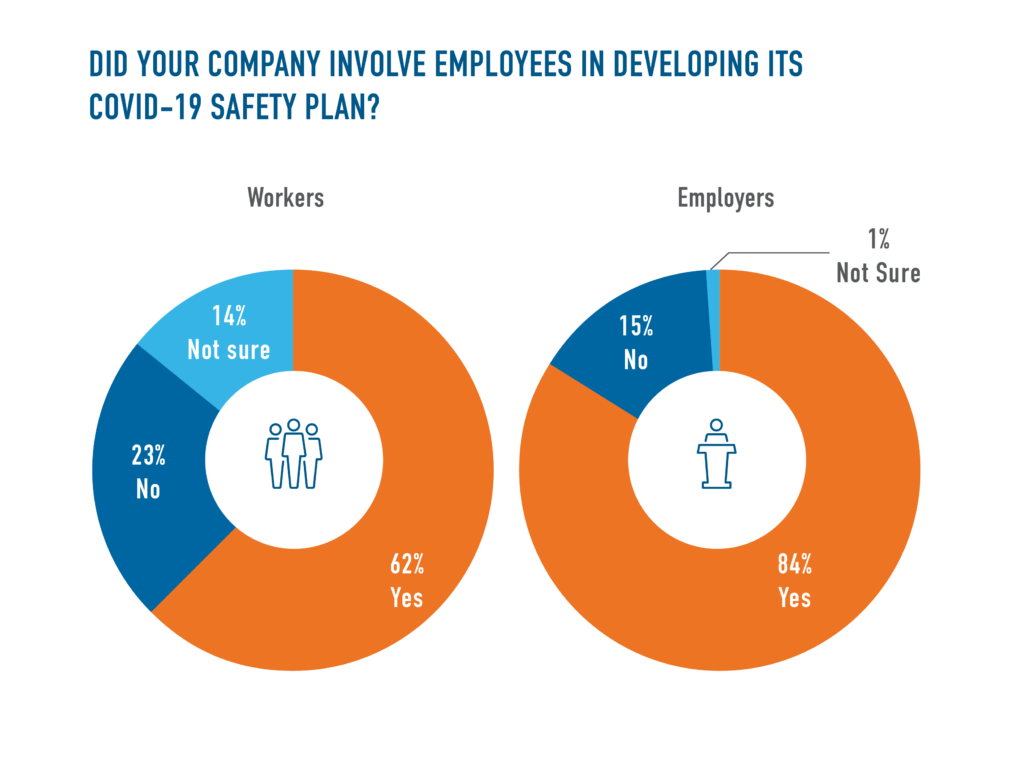 As part of that same survey, we asked respondents whether their companies involved employees in developing their COVID-19 safety measures – and while 84% of employers said yes, only 62% of workers agreed, suggesting that workers' voices have not been consistently heard as safety considerations are planned for and implemented.
As we continue to contend with impacts of the highly contagious Omicron variant, and with workers increasingly vulnerable on the front lines, corporate leaders must reconsider their COVID-19 policies and procedures and consult their employees on how best to ensure their health and safety. Corporate vaccine mandates have proven effective in this new wave of Omicron cases – at least when it comes to staving off serious illness, hospitalization, and death: to wit, despite its high numbers of sick employees, United reported that there has not been a single virus-related death among vaccinated employees since implementing its mandate.
Invest in child care to support an equitable recovery
While some people are quitting their current jobs for better opportunities, others are leaving the workforce altogether. One key driver affecting departures is the lack of availability of adequate child care while we navigate the latter stages of the pandemic. With parents leaving the workforce – including more than 2 million women in 2020 alone – there could be ongoing, negative implications for the health of the economy. Our September polling found that more than one-third (36%) say that either they have, or they know someone who has, left a job or switched to part-time work in order to provide child care for their families.
Companies can offer assistance to their employees overcoming child care issues. A solid majority of respondents — parents and non-parents alike — agree that companies should allow a greater degree of flexibility in work schedules, as well as offer financial assistance through pre-tax mechanisms such as FSA accounts, or through discounts or subsidized solutions for backup or after-school care.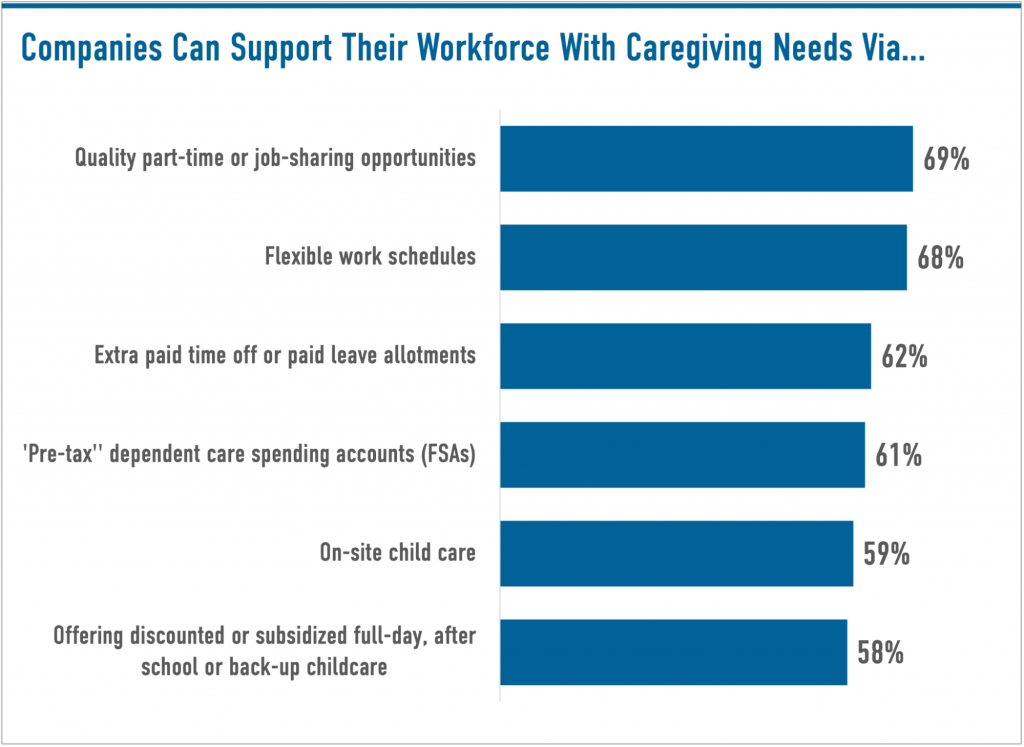 In February 2021, in collaboration with AARP, JUST Capital developed Corporate Guides to Dependent Care, Paid Sick Leave, and Working from Home, outlining the critical importance of providing robust caregiving benefits and elevating best practices in how to support employee work-life balance throughout the pandemic and beyond.
Take a stand on the most important issues of our time
America's largest companies have outsize influence on issues concerning the economy, but a substantial proportion of the public believes that companies also have significant influence on broader society: our annual survey of Americans' Views on Business shows that almost two in three Americans (63%) say that CEOs of large companies have a responsibility to take a stand on important societal issues.
In a May 2021 survey, we found that strong majorities agree that CEOs have a role to play influencing lawmakers on societal issues such as racial equality (65%) and voting rights (59%). Additionally, polling fielded in January after the attack on the U.S. Capitol shows that 62% of respondents said they were likely to hold companies accountable for not speaking out or taking any action – signaling their expectation that the private sector step up in a time of crisis.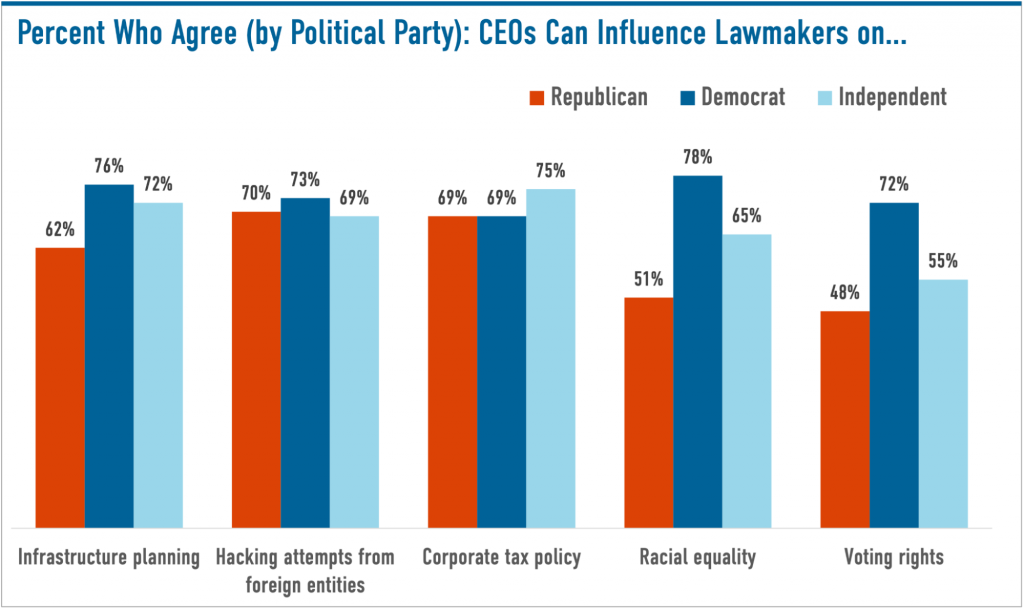 However, for corporate leaders, navigating a commitment to social issues while avoiding partisanship can be a delicate dance. Fewer Republicans (45%) than Democrats (81%) or Independents (63%) say CEOs have a responsibility to take a stand, or influence lawmakers on important societal issues like racial equity and voting rights.
Get specific on climate commitments
In conjunction with our analysis of corporate climate commitments during Climate Week 2021, we asked the public what large companies can do to mitigate the effects of climate change. Two-thirds of respondents (66%) say that one of the key ways companies can positively affect climate change is by tracking and publicly reporting their progress on various climate goals. Additionally, there is significant agreement (75% or more) that companies can make a positive impact on the environment across a number of factors. JUST's analysis on climate commitment trends, common language, and factors to consider to set a credible commitment provide additional insights into the landscape.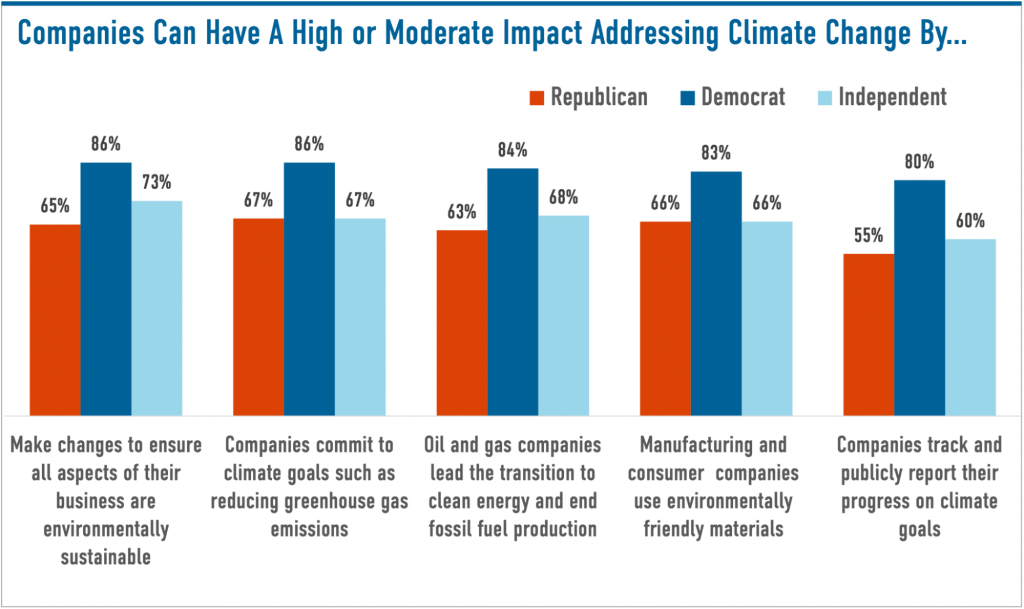 With a critical mass of the survey's respondents saying they're concerned about climate change – 71% collectively, which includes 52% of Republicans, 89% of Democrats, and 68% of Independents – action on climate change has never been more urgent.
Americans continue to ring the same bell: corporate America has both a responsibility and an active role to play in addressing some of society's most challenging issues. With 81% of respondents agreeing that business can be a force for positive societal change, and about 75% saying they have taken some action in the past 12 months to show support for a company they believe has behaved positively, we see that the public pays attention to – and rewards – companies that take action on the issues that matter most.
As we look ahead to 2022, the message from the public is clear: the time for talk is over, and the time for action is now. On issues from climate change to racial equity to economic security, Americans want to see companies step up to the plate to do right by their stakeholders – their workers, their communities, the environment – with action that builds a more just, equitable future for all. In the months to come, JUST will continue to turn to the public to get their latest take on how corporate America is measuring up and to inform how we incentivize companies to act on the issues that matter most.
Methodology
Our body of polling work for 2021 includes ten omnibus and survey polling projects conducted in partnership with The Harris Poll. Omnibus surveys are not based on a probability sample, are not representative, and therefore no estimates of theoretical sampling error can be calculated. The Annual Views on Business Survey was conducted with SSRS using a probability-based sample; the margin of error is +/- 2% at the 95% confidence level.
Methodological details for each survey can be found on the Polling section of our website, where you can also learn more about how polling and survey data drives JUST Capital's analysis and rankings of the largest publicly traded U.S. companies. For more information, please contact Jennifer Tonti, Managing Director, Surveys & Polling at jtonti@justcapital.com.